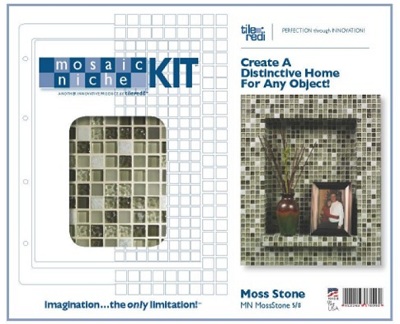 Mosaic tiles are the latest trend in design offering stunning accents to walls and fixtures in home, office and commercial settings.  For the do-it-yourselfer, the Tile Redi Mosaic Niche Kit™ is a dream product because it includes everything you need to create your mosaic niche.  With 11 tile choices: glass mosaics, ceramic tile mosaics, and natural stone and glass blends –  all on mosaic tile sheets for easy tiling – there is a color, pattern, and texture choice to complement any room you choose to create a functional and beautiful recessed shelf.  The Mosaic Niche Kit™ includes Redi Niche®, the premier tileable niche, known for being easy to install and ready-to-tile directly on the surface.  Not just for the bathroom any longer, create a Mosaic Bedroom Niche, Mosaic Dining Room Niche, Mosaic Foyer Niche, Mosaic Kitchen Niche, Mosaic Shaving Niche, Mosaic Office Niche … name the room, choose your tile and you've got a designer recessed wall shelf kit to display your treasures or hold the items you need to access quickly every day.  Mosaic Niche Kit™  Imagination … the only limitation!™
Product Description:
The Mosaic Niche Kit™ provides a stunning accent piece to any room in a home, office, or commercial setting. This designer piece is so attractive, functional, and yet flexible, it's hard to believe it's a kit!
11 tile choices
Glass shelf can be positioned at virtually any height
Whether you are a DIYer or a building professional, Mosaic Niche Kit™ fits any room, any décor; whether it's for display or for everyday use, you'll show it in style!
The Mosaic Niche Kit™ includes everything needed to create your mosaic niche:
16"x20"x4" Redi Niche®
Mosaic Tile Sheets
Thinset, Grout, Caulk
Trowel, Sponge, Spreader
Glass Shelf, Shelf Hardware and Screws
Niche Sill and Glue
Furring Strips and nails
Easy-to-follow instructions
Tiling Schematics for both the interior and exterior
Of course, it offers all the Tile Redi® features you expect – fast and easy installation, ready-to-tile™, and for wet areas, no mildew and no leaks!
Where do you display a treasured heirloom? The Mosaic Living Room Niche™. Your loved one's trophies? The Mosaic Family Room Niche™. A favorite photo? The Mosaic Hallway Niche™.
What do you do with your keys and the mail when you walk in the door? Put them in your Mosaic Foyer Niche™. How do you keep your frequently used cooking spices handy, but off the counter? In the Mosaic Kitchen Niche™.
The options are endless … see our display below for a few ideas on how this versatile product will become an essential fixture throughout your home or office.