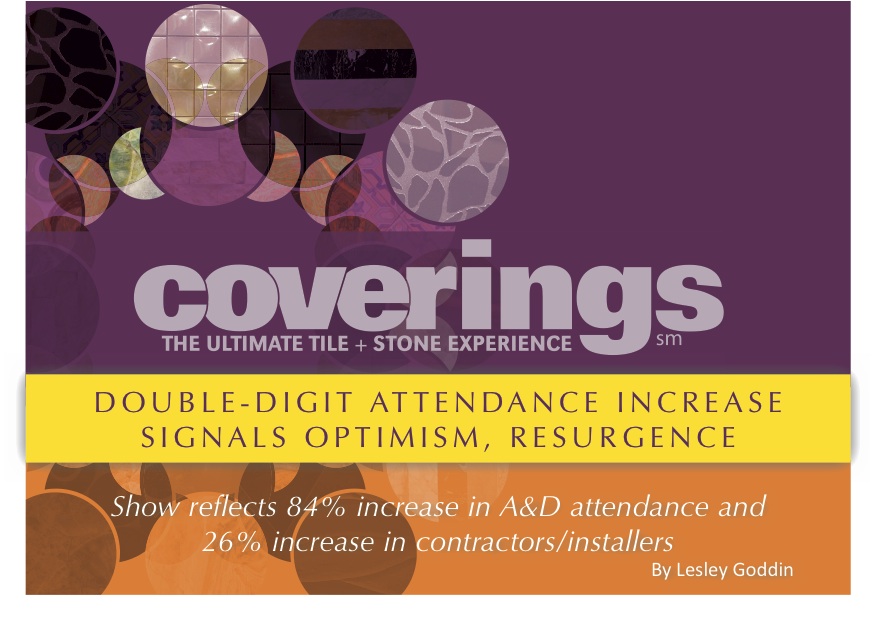 Though the economy may have a ways to go, if Coverings was any indication, a sense of optimism and substantial recovery is starting to creep back into the tile industry.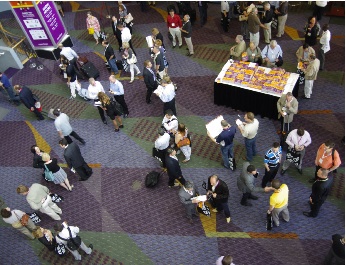 Attendance at Coverings was up by 19 percent over last year's show, with registration totaling over 22,000, signaling a halt to a decline in attendance over the last three years. Architects and designers attended the Orlando-based event in droves – attendance among that sector jumped 84 percent over 2011 figures. Strong A&D attendance is expected to continue next year, when Coverings debuts in Atlanta amidst a robust regional community of architects and designers.
Other market segments saw a rise at Coverings 2012, as well, with fabricator attendance up 69 percent from last year, distributor attendance up 16 percent and the installer/contractor presence up 26 percent.
"These numbers are valid indicators that the tile and stone industry is in a recovery mode," said Karen Fendrich, show director of Coverings. "No way has the dust fully settled from the economic turmoil, but there are decided improvements in business, with building projects re-booted and remodeling on the upswing – all good signs for anyone involved in this product category."
An aggressive marketing campaign, fueled by embrace of social media, helped boost attendance figures. On the show floor, the Coverings Central area allowed attendees to digitally interact, network with one another, and get digital-networking tips in 15-minute seminars throughout the show.
Contractor tours: a hit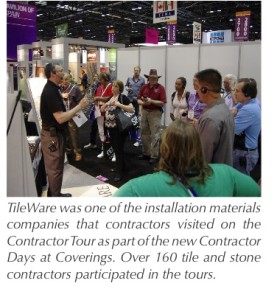 More than 160 contractors took advantage of a specially-guided tour of top setting material and tool resources on the show floor as part of the new Contractor Days. This program, in collaboration with the NTCA, helped contractors and installers maximize their time at Coverings without second-guessing which of the 800-plus exhibitors to see. Contractors also got to personally meet and hear from company executives during booth visits, direct access they might not ordinarily have experienced on their own. Tours included lunch, and a happy hour on the show floor in the Contractor Lounge, which afforded additional networking opportunities.
Designers + contractors = stunning projects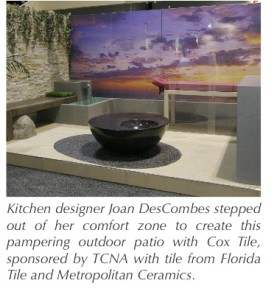 Another growing attraction for attendees was the Installation Design Showcase. The 2012 project was a tour-de-force of three room settings starring tile. Three renowned designers partnered with three NTCA Five Star Contractors, who brought the vignettes to life in full view of attendees over the course of the show.
Nationally-known Florida-based kitchen designer Joan DesCombes created a pampering patio setting with magnificent materials sponsored by Tile Council of North America and provided by Florida Tile and Metropolitan Ceramics. She was teamed with Cox Tile of San Antonio, Texas, which faithfully translated her vision, including construction of a working tiled fountain.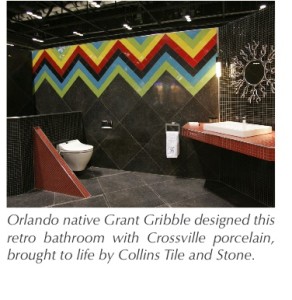 Orlando native Grant Gribble, ASID, IIDA, partnered with Collins Tile and Stone of Aldie, Va., in a 70s-inspired bath that emphasized wall art formed from colorful Crossville porcelain.
Foreman Rogers, ASID, a senior designer with tvsdesign, Atlanta, created a boutique hotel guest room. Practiced in hospitality design — having recently completed the Gaylord Palms in Orlando — Rogers was paired with David Allen Company, Raleigh, N.C. This team met the design challenges, creating a visual treat of unorthodox cuts and skilled applications with materials sponsored by Ceramics of Italy, promoted by Confindustria Ceramica, tile provided by Ceramiche Coem, Emil Ceramica, LEA Ceramiche, Architectural Tile Solutions /Marazzi, Naxos Ceramiche and Sicis, and a special thanks to Ceramic Technics. Other sponsors included MAPEI, H.B. Fuller, TOTO, USG Corporation, RUBI Tools, European Tile Masters and QEP.
Green Squared products debut at Coverings

The Tile Council of North America (TCNA) announced the inaugural class of Green SquaredSM Certified products (www.tilethenaturalchoice.com). Green Squared (ANSI A138.1) is the multi-attribute industry standard for sustainable tile and tile installation products that establishes criteria for environmental and social issues alike, and subjects products to third-party certification through NSF International, Scientific Certification Systems, and UL Environment.
The eight manufacturers with Green Squared Certified products at Coverings included: Crossville, Ironrock, and Porcelanite Lamosa. Daltile, Interceramic, Laticrete International, Mapei, and Marazzi are awaiting certification, and Bonsal American, Florida Tile, Quarry Tile Company, StonePeak, TEC, and Vitromex expect to have Green Squared Certified products by year end.
New developments from TCNA

In addition to Green Squared, TCNA announced a new testing method and standard for dynamic co-efficient of friction (DCOF) to replace the familiar static co-efficient of friction (SCOF) tests and measurements. The new version of ANSI A137.1 Specifications for Ceramic Tile will include the new DCOF AcuTest method, which uses the more accurate BOT 3000 portable testing device. Additionally, for the first time there will be a minimum COF requirement of 0.42 for level interior tile surfaces expected to be walked upon when wet, compared to the old .60 SCOF (static coefficient of friction) wet measurement. For information, see the May issue of TileLetter, page 70, visit www.tileusa.com/test_main.htm or contact TCNA at 864-646-8453.
TCNA announced the availability of the world's first standard for glass tile, ANSI A137.2 American National Standard Specifications for Glass Tile, which categorizes and defines types of glass tiles and establishes aesthetic and performance standards within each category. This standard criteria establishes a consensus baseline for manufacturing quality and a valuable tool which can aid in the development of new installation standards and in the general specification of glass tile. Contact TCNA at 864-646-8453 for more information.
The Porcelain Tile Certification Agency (PTCA), launched in 2008 by TCNA and the Ceramic Tile Distributors Association (CTDA), establishes a 0.5% water absorption criteria for porcelain tile. The following companies have PTCA certified products with a total of 367 product lines qualifying for certification since the start of the program: American Marazzi, Bedrosians Tile & Stone, Ceramica del Conca, Crossville, Inc., Daltile, Emser Tile, Exceptional Surfaces, Florida Tile, Inc., Florim USA, GranitiFiandre USA, Interceramic, Mannington, Ragno USA, Royal Mosa, StonePeak Ceramics, The Tile Company, Tile Optima, and Vitromex.
A new program now allows tile retailers and distributors to use the PTCA logo if they first register with PTCA and sell PTCA certified tile.  Lowe's is the first retailer to take advantage of this program.
Since its establishment with five founding members in 2005 to today, TCNA – Mexico's membership has grown to 36 companies supporting Tile Council projects in Mexico. This total includes 11 tile manufacturers (representing 98% of the tile manufactured in Mexico), 11 associate installation materials members, and 14 associate raw material supplier members. For complete information on TCNA-Mexico activities, visit www.tcna.com.mx.
New developments from CTEF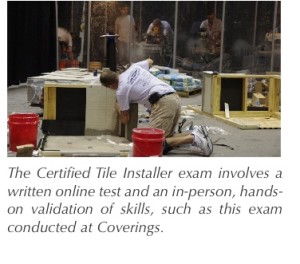 The Ceramic Tile Education Foundation (CTEF) announced the total number of CTEF Certified Tile Installers (CTIs) has grown to 752, with certified installers now in 27 states. The goal is to have a total of 1000 installers certified by the end of 2012. The new one-day test format and online written test have contributed significantly to the growth of the program.
The online test has also allowed CTEF (www.tilecareer.com) to launch the Fundamentals of Thin Bed Knowledge (FTBK) exam for non-installers such as sales staff, technical staff, estimators and superintendents who want to boost their knowledge of product and installation standards and best practices. Those who receive an 85% or higher score are recognized by CTEF as FTBK professionals. The FTBK credential is valid for three years; re-testing is required to maintain the credential. A valuable Field Manual is provided as a study guide, "which explains how to use the TCNA Handbook and ANSI standards," said Scott Carothers, CTEF executive director. "The Field Manual is something you keep and can refer back to over and over again."
NTCA demos, seminars and awards abound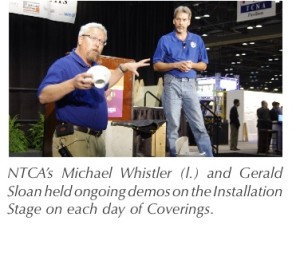 NTCA training director Gerald Sloan and NTCA Tile & Stone Symposium presenter Michael Whistler had a robust schedule of demonstrations ongoing at the TCNA Installation Stage throughout the show.
In addition, NTCA members and staff participated in a number of seminars and workshops as part of the Coverings Conference Program.
NTCA celebrated 65 years as an association. NTCA president Nyle Wadford and NTCA executive director emeritus Joe Tarver recounted NTCA history and accomplishments over the last 65 years and vision for the future.
NTCA's TileLetter and TADA co-sponsored the Coverings Installation Design Awards, a celebration of synergy between the A&D community and tile/stone installers and contractors, exhibited in stunning projects. See more detailed information on this award ceremony on page 26 in this issue.
Exhibitors applaud Coverings ROI
Exhibitors expressed their satisfaction with the ROI delivered by Coverings 2012, and expect more of the same in the Atlanta edition in 2013.
"We've exhibited for eight years now, and are happy to report another very busy and successful show," said Darren Caraway of Vidrepur, a Spanish producer of glass tile that uses 100% recycled content. "We saw a variety of attendees. Most strongly represented were distributors. It's great to see distributors you currently work with, and, of course, show product to those who are learning about your company. We look forward to exhibiting next year, for sure."
Esther Halferty of Lilywork – a handmade tile producer from Quakertown, Pa. – was pleased with this year's show. "We did have good foot traffic this year, and are looking forward to exhibiting next year in Atlanta, which we know is rich with architecture and design professionals."
"We will definitely be back next year," said Enrico Guazzi, area manager of Italian tile producer LEA Ceramiche. "We had a very good show this year, with great response to the very design-oriented products."
Next year Coverings is scheduled for April 29 to May 2, 2013, in Atlanta at the Georgia World Congress Center.