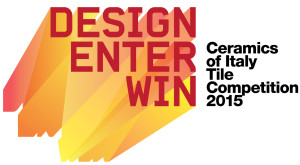 The Italian Trade Commission and Confindustria Ceramica (the Italian Association of Ceramics, comprised of 150+ ceramic tile manufacturers) has extended the submission deadline for the 2015 Ceramics of Italy Tile Competition  to January 23, 2015. We're searching for the most original and imaginative spaces designed by North American architects and designers using Italian ceramic/porcelain tile for the chance to win $4,000 + a trip to Italy!
The 2015 edition is open to architects and designers based in North America who have used Italian ceramic or porcelain tile in their residential, institutional and commercial/hospitality projects compeleted in the past five years (January 2010 – January 2015). Projects can range from hotels and hospitals to offices and apartments – we want to see them all!
The competition is completely digital and FREE to enter! The winning architect or designer in each category will be awarded $4,000 and a five-day trip to Bologna, Italy to attend Cersaie – the world's largest exhibition of ceramic tile and bathroom furnishings. An additional $1,000 will be awarded to the tile contractor/distributor team who worked on each winning project.
2015 Ceramics of Italy Tile Competition
$15,000 in prizes. 3 Trips to Italy
NEW Deadline: January 23, 2015
www.tilecompetition.com