In 2015, wedi welcomed its North American "Blue & More Awards Program" Distribution Partners at wedi's international headquarters and production plants in Emsdetten, in North Western Germany.
Over the course of three days, the group of wedi partners, from various regions in North America, enjoyed highly-productive networking, educational events and tour through the wedi manufacturing plant. The tour afforded the visitors a first- hand experience and insight into latest technologies in manufacturing , testing, QM and R&D around waterproofing tile underlayment and shower systems. The group also enjoyed historic sightseeing and culinary events.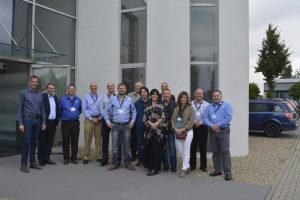 Bryan Teague from Morris Tile in Baltimore, Md., one of wedi's top U.S. distributors on the East Coast said, "Thank you for the outstanding time I had In Germany this past week. More importantly I found it extremely educational. I now have a clearer understanding of wedi and its abilities and future goals. This new information will allow us to continue to grow market share as partners in the Washington, Baltimore and Norfolk markets."
wedi extends its thanks to all travel group participants, with gratitude that they took time to break bread with company personnel and make this trip a great event!