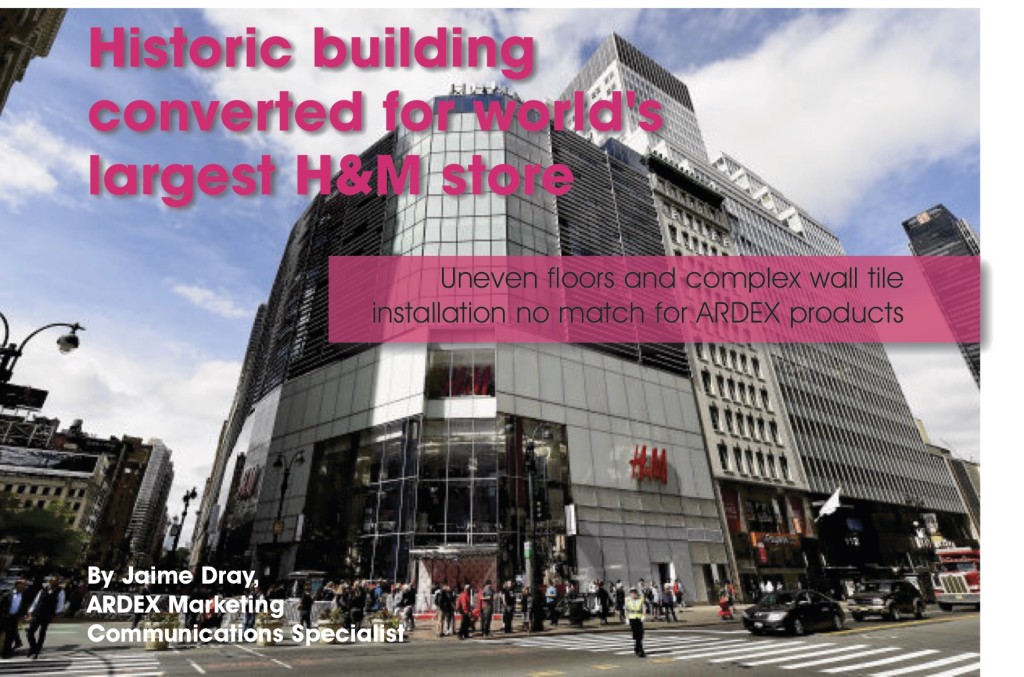 When Manhattan's Herald Center building owner began renovations on the decades-old, historic structure for the H&M store opening, some serious floor issues were discovered. Uneven and cracked wood subfloors were unsuitable for tile installation. General contractor Schimenti Construction of Ridgefield, Conn., sub-contracted all tile work to L&L Stone and Tile, LLC of Hicksville, N.Y., because of their experience and pristine track record working with H&M for more than five years.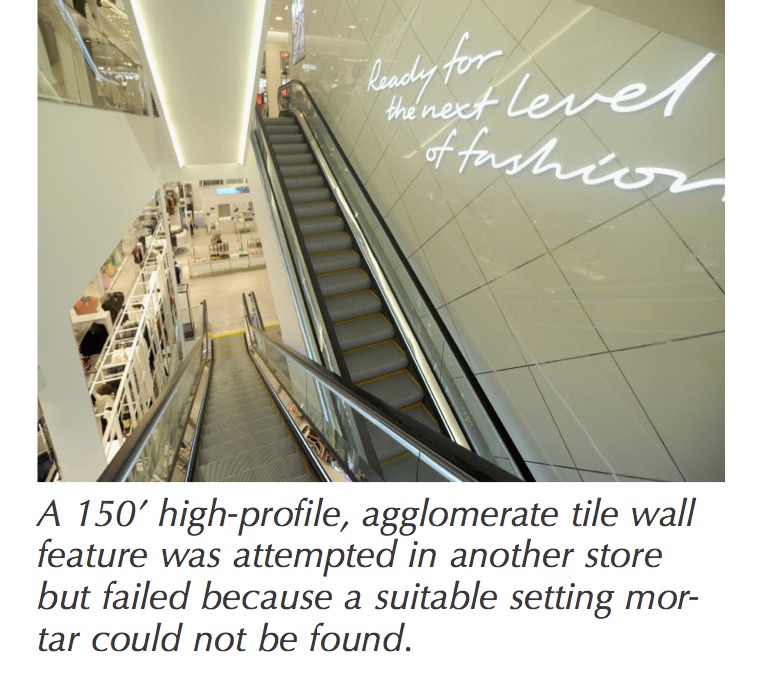 Phase one required the leveling of decrepit floors on three stories before new large-format porcelain tiles could be installed. Phase two was a 150' high-profile, agglomerate tile wall feature that was attempted in another store but failed because a suitable setting mortar could not be found.
Installers raced against the clock to meet the required three-month installation time frame, and ARDEX rapid-performing products saved the day.
ARDEX sales professionals Dan Costanza, Kevin Manning and John Lutkowski, the ARDEX National Accounts team and ARDEX field technical representatives supported this high-profile installation at various stages. The building owner had previously installed six truckloads of ARDEX GS-4™ Self-Leveling Repair Underlayment for distressed gypsum and wood subfloors to address leveling concerns. ARDEX GS-4 can be installed up to 2" neat or 5" with aggregate. Three days later, the floors were dry and ready for tile installation.
ARDEX's Costanza was then contacted by L&L Stone and Tile, LLC to suggest appropriate products that would qualify the project for a full ARDEX SystemOne™ warranty.
"Manufacturer warranties are crucial in commercial applications," said Lenny Saftchick, vice-president, L&L Stone and Tile, LLC. "Recent advances in tile sizes, shapes, designs and heaviness require setting materials to be reliable and warranteed to avoid liability."
The floor was primed with ARDEX P 51™ Primer, then ARDEX 8+9™ Rapid Waterproofing and Crack Isolation Compound was installed as an anti-fracture remediation measure. "ARDEX 8+9 was superior to all other anti-fracture membranes L&L Stone and Tile installers tried," stated Saftchick.
Forty-six thousand square feet of variously-sized, large-format porcelain tiles were installed by as many as 40 union L&L Stone and Tile, LLC crew members using ARDEX X 77™ MICROTEC® Fiber Reinforced Mortar.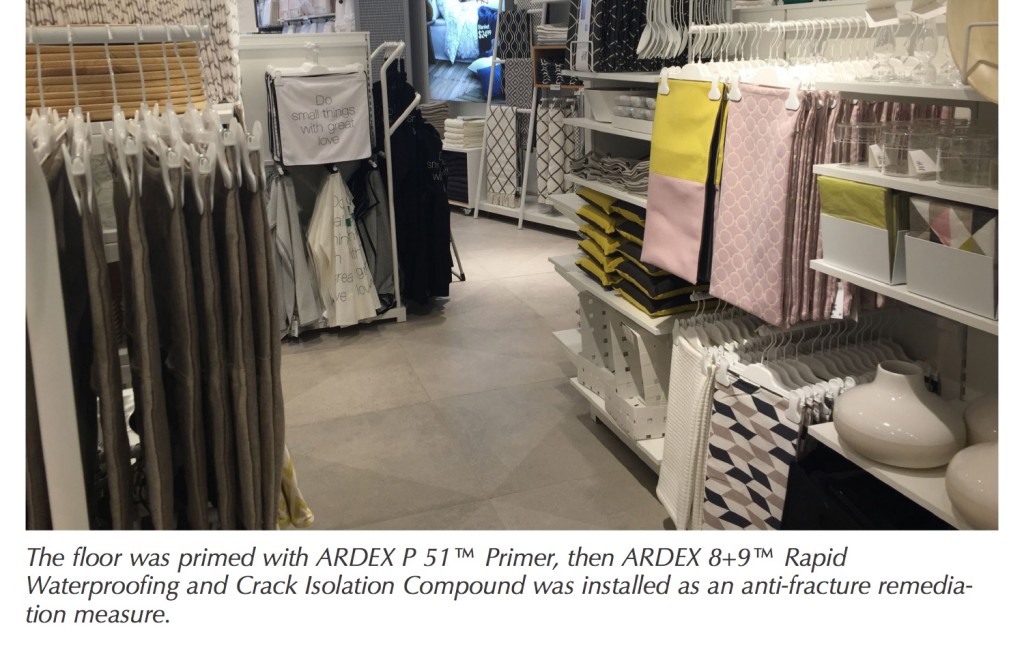 "My installation crews continue to request ARDEX X 77 for our commercial installation jobs," said Saftchick. "The 60-minute extended open time and 30-minute adjustment time are supremely impressive."
To finish the floor tile installation, ARDEX FL™ Rapid Set, Flexible, Sanded Grout in Silver Shimmer, Cast Iron and Irish Crème was applied.
Four thousand square feet of 24"x 24" x 1/2" agglomerate terrazzo tiles placed at a 45-degree angle in the escalator area of the store required a rapid-setting mortar that would not slump, stain or warp. L&L Stone and Tile, LLC sent the tile for testing to the ARDEX Technical Service Department. ARDEX N 23™ MICROTEC® Rapid Set Natural Stone and Tile Mortar was approved for the complex job because its proprietary self-drying formulation prevents warping, staining and discoloration of moisture-sensitive tile and stone.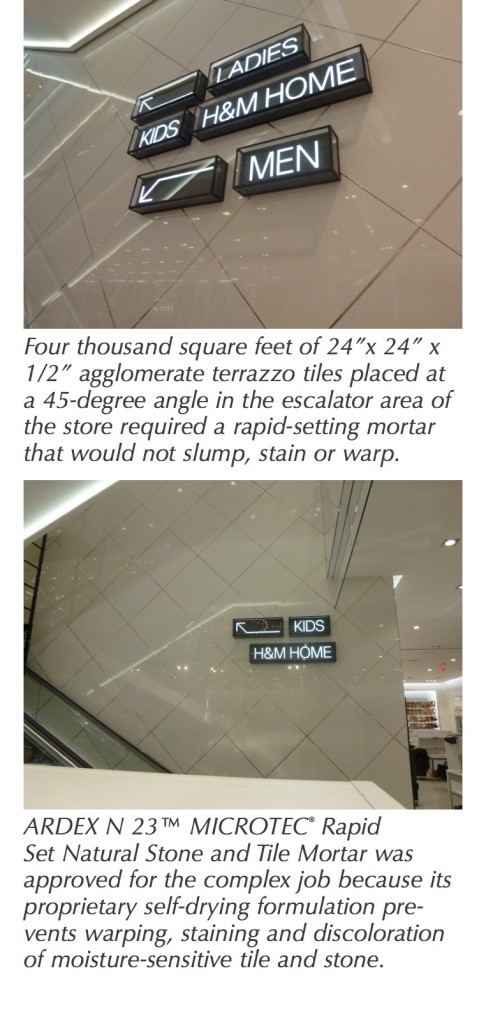 "This product can hold heavy tiles, be built up to smooth uneven walls, and it dries quickly," said Saftchick. "Most importantly, it did not curl or warp the agglomerate terrazzo tile."
Instead of installing traditional grout, L&L Stone and Tile used a 3/16" stainless-steel U channel in all joints.
H&M received a full-replacement 10-year SystemOne™ warranty for this impressive installation. L&L Stone and Tile, LLC stated that ARDEX tiling products were exceptionally easy to use and the support from the ARDEX team made the job a success.
"I would definitely use ARDEX products in the future," stated Saftchick. "We would use them on every jobsite."
The new flagship H&M clothing store located at Herald Center in Manhattan, New York, is currently the largest in the world.