Ricky Cox
Memphis Tile and Marble Co., Inc.
Memphis, Tenn.
By Terryn Rutford, Social Structure Marketing
Memphis Tile and Marble Co. Inc., specializes in high-end, high-quality residential and light commercial work, offering expert craftsmanship in a range of tile installation, including Mexican, porcelain and brick pavers, as well as bathroom vanities, cultured marble tops and natural stone products. It provides skilled installation of whirlpool tubs and radiant floor systems for the Memphis and Midsouth areas, as well as full-scale kitchen and bathroom remodels. Founded in 1968 by Thomas Cox, the company now employs 12 full-time employees and in addition to installing tile, fabricates counter tops.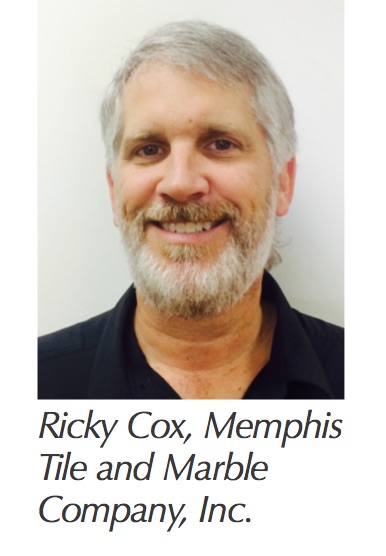 Five years ago, Thomas's son Ricky Cox took the CTI certification at BPI in Memphis in order to separate himself from the competition. "The written test was not difficult for me," Cox said. "The hands-on test was a different story. I took the test with four of my employees and needless to say, I was the last one done. The most challenging part of the hands-on work was the layout."
Having been involved with NTCA before the certification, Cox was well schooled in the proper methods to install tile. He pointed out, "This certification is not for the do-it-yourself homeowner or the novice installer. It is a challenge." But Cox encourages installers to take the certification. "It will definitely set you apart from your competition."
Obtaining CTI certification is also one step towards becoming a NTCA Five Star Contractor, a mark of installation excellence that Memphis Tile and Marble Co. boasts.
Memphis Tile and Marble Co. posts the CTI logo in its office, on letterhead, and on their website. Having the CTI certification, "reassures our customers that we know what we are doing." Going through the written and hands-on tests can raise awareness not only of installation skills, but also of all-around job operations, as it did for Memphis Tile and Marble Co. After numerous employees took the CTI certification, Cox said, "We started taking safety more seriously."
CTI and ACT certification is good for the tile industry. Cox said, "I also took the test with some of my competitors. I would rather bid a job against those guys than someone that is not certified because I know that [the certified competitors] are not cutting corners."