NTCA expands its role in education with CEFGA, Career Quest
By Lesley Goddin
It's no surprise that NTCA is involved in education at every level, but this year the association and its members have expanded their involvement in reaching young students with information about tile contracting and apprenticeship programs. The eventual goal? Promoting online education and hands-on training as a NTCA initiative.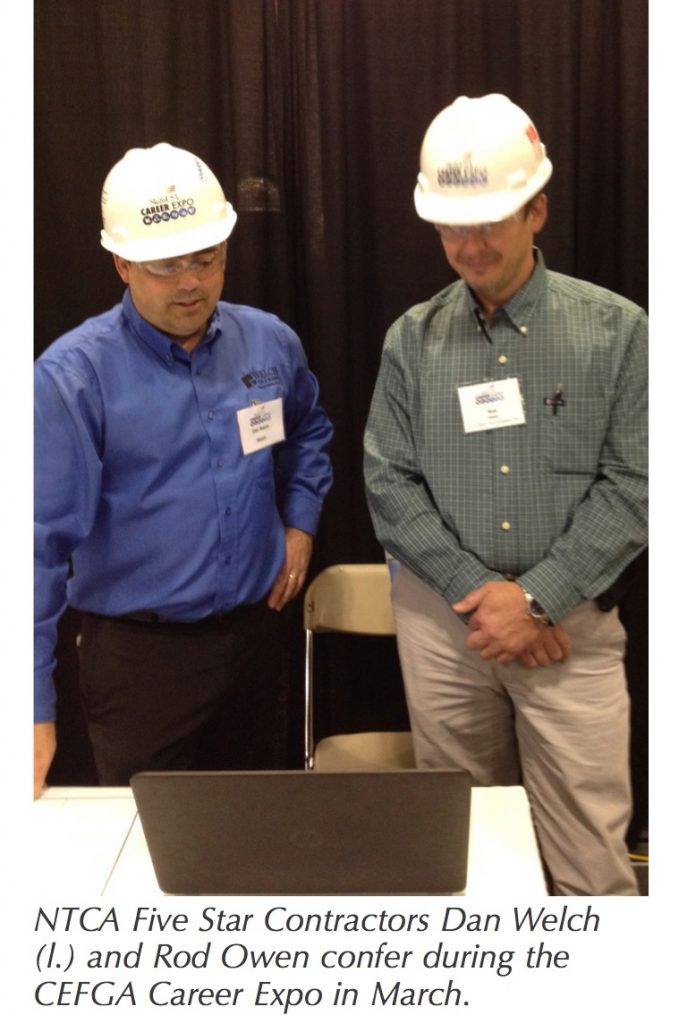 CEFGA
The first outreach was NTCA's ongoing involvement in the 2015 Construction Education Foundation of Georgia (CEFGA) CareerExpo and SkillsUSA State Championsips, held March 26-27 at the Georgia International Convention Center. The event drew in record numbers: 7,307 total attendees; 5,179 students; 920 influencers (teachers, counselors, parents, school administrators) and 1,208 industry volunteers, exhibitors and guests all assembled in a space that was as large as six football fields.
NTCA and co-sponsors Rick Payne with Specialty Tile Products, Tod Canfield with Custom Building Products, and Craig Hoffman with Daltile participated in a 40' x 40' booth. NTCA was represented by Rod Owen of NTCA Five Star Contractor C.C. Owen Tile Co. of Jonesboro, Ga., and NTCA past president Dan Welch, along with NTCA trainer/presenter Gerald Sloan.
The perimeter of the space displayed a range of tile-related exhibits: tile types, safety equipment, tile cutting tools, plan table and specs, job titles and descriptions and a PowerPoint of finished installations, said Owen. The center of the space featured opportunities for students to install small tile designs on a 12" square Durock® board they could take with them.
Dan Welch of Welch Tile & Marble in Kent City, Mich., is chairman of the NTCA Apprenticeship Development Subcommittee. He was on hand to show and explain his Career Path Matrix. "The Career Matrix worked great because we were able to show the students how the knowledge and skills acquired within the tile industry equate in compensation over time. It was a road map to success as a tile mechanic," Owen observed.
Owen continued, saying "convincing the students of the opportunities in tile is just part of the challenge. The students, peers, parents and counselors are the second part of the hurdle. With the Career Matrix we have a better chance of legitimizing ourselves. The tile industry has been so fragmented for many years with everybody training and doing their own thing. The matrix helps 'defragment,' or give the industry a unified standard to visibly see, gauge, and execute proper career development for a tile mechanic. It's going to be an exciting time to be in the tile industry."
A wide-eyed 11th grader who was attending his first CEFGA CareerExpo and SkillsUSA State Championships exclaimed, "I'm speechless. I thought it would be something where you could look at a lot of things, but there are a lot of opportunities where you can actually work the equipment and really have a hands-on experience. It's mind-blowing."
The next 2016 CEFGA CareerExpo and SkillsUSA State Championships will be held March 17-18, 2016, at the Georgia International Convention Center, College Park, Ga.
Career Quest
The following month, on April 28, Welch Tile & Marble partnered with Daltile, Virginia Tile and Genesee Tile at the Grand Rapids, Mich., Career Quest at DeVos Place, an initiative of Michigan Works! Kent, Allegan and Barry counties. The one-day event provided 5,400 students from 6th through 12th grades the opportunity to learn about four industry sectors: construction, health science, advanced manufacturing and information technology. Tile industry participation in Career Quest was sponsored by Welch Tile & Marble, TEC/H.B. Fuller and The Noble Company.
The tile sector had a 30' x 30' booth that showcased a range of important areas: career path and apprenticeship opportunities, safety, showroom design, industry-sanctioned Handbook and certifications, and thin tile. Actual modules used in Advanced Certifications for Tile Installers (ACT) were on display for students to observe.
"Career Quest offers a look into the different industries for middle and high school students," said Dan Welch, of Welch Tile & Marble. "Our focus was to show [students] that this trade can offer a path to success, both educationally and financially. Apprenticeship today needs a fresh look involving technology, and the work force is in need of a clear career path. As young people move into the work force, education needs to be factual, visual, competency-based and rewarded. Those days of 'just do it because I told you so' are long gone," he said.
Michigan governor Rick Snyder sent a message via video to Career Quest, saying the event fostered a real synergy between educators and industry, and predicted that it will result in increased resources for career counseling in the schools.
A follow-up meeting about the flagship event resulted in a majority of educators saying Career Quest was "valuable, helpful, needed and engaging;" and a majority of students responding that employers were "prepared, interesting and engaging," and that they "learned about education opportunities that will help them in high school classes and plan for after high school. "
There was another bonus that Welch discovered – an opportunity to market to general contractors and other contractors about what the tile industry is doing and the emphasis on certifications and qualified labor, Welch said. In addition, other industry segments such as glaziers, plumbers, etc., got to learn about tile apprenticeship programs and new technologies like thin tile, he said.
Full speed ahead
Events like these are just the tip of the iceberg, confirmed Bart Bettiga, NTCA executive director. "Our goal is to develop an apprenticeship program, offer it to our members, and submit it for consideration for community colleges, vocational schools, colleges and online curricula," he said. "The program will be promoted at local career days and job fairs like these, and will be supported by contracting companies who can either use it themselves through NTCA staff support, or who will partner with a trade school to offer the curriculum and self-source the needed hands- on training component."
For more information, visit www.tile-assn.com, www.cefga.org or http://michiganworkska.org/
careerquest/.