Owning up on safety
We are in the midst of what I call "silly season" here in Phoenix. It's the 75-day window for us as tile installers to complete all of the school projects before classes begin again the first week of August. The maxed-out schedule on a condensed time frame is an opportunity to outperform my clients' expectations. Hopefully, our performance will lead to more work.
It is also more important than ever to make sure everyone on our team at Artcraft stays safe on jobsites.
I was having a conversation with one of my GC clients a couple of months ago on a jobsite for a project we were finishing up on a Sunday. The GC is stringent on safety and I was bragging about how good our experience modification rate was to him. He turned and asked me, "Are your people safe because of your practices or are they on the edge of a cliff because they have not embraced safety as a personal responsibility?"
This question stopped me in my tracks.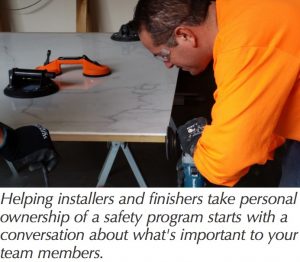 I always thought our teams were listening to me and taking our jobsite talks seriously, but as the GC nonchalantly pointed out, not all of our team members were following company safety practices and policies. We turned our heads to see one of our tile installers cutting a piece of tile without safety glasses. The GC said, "Here's an opportunity to talk about safety as a personal responsibility. Don't yell at him; just explain to him why he needs to care about safety."
As I approached this team member and asked why he was working overtime on a Sunday, he explained that he was earning extra money for his daughter's birthday party. I complimented him for being such a good father and explained that I wanted him to go home to his family safely that night. He looked a bit puzzled. I then asked him what would happen if I had to call his wife to tell her that he lost his sight in a workplace accident. I didn't scold him, for as the GC said, he would have just tuned me out. What I tried to do was help him understand that he is an integral part of our team, his efforts to help his family are commendable, and his welfare is vital to both his family and to Artcraft.
Shortly after our conversation, I called a company meeting. Instead of lecturing about safety practices, I asked our team members to tell me what would make them feel safer on the job. Some of the answers surprised me, such as: making sure the other trades were treating safety seriously; making ear plugs mandatory when cutting tile; wearing dust masks when mixing dry products like mortar or grout; and providing mini first-aid kits in addition to the comprehensive ones on the jobsite. The ideas were great and we instituted changes immediately. Team members are happy that they affected change and, in turn, feel safer on the jobsite.
What I learned was that installers and finishers wanted to be part of the plan. They were happy to take on safety as a personal responsibility when we discussed why it's important to work safely – and the people counting on them to do so are one of the main reasons why they are there in the first place. I also realized that even when we have solid plans in place, safety will require diligence no matter what the season.
James Woelfel
NTCA President