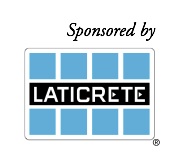 QUESTION
I'm interested in using mosaic tile on an upcoming project. Do you have any recommendations to ensure a successful job?
ANSWER
There are quite a few very important criteria to ensure long-term success for this project.
Use a mosaic that is rated for exterior use. Porcelain is excellent because it is considered impervious. But almost more important is the mounting method for the mosaic sheets. No paper-mesh, back-mounting should be used. Your course of least risk would be to specify a mosaic that could be used in a submerged application as well as for exteriors.
Work with a mortar manufacturer to come up with the best system to suit your project needs, including possible waterproofing and a mortar suited to your climate's exterior rigors.
Application of mortar and mosaic sheets must be well done. Mortar should be flat-troweled into substrate, additional mortar applied and notch-troweled in one direction, then notches flattened with flat side of trowel. Apply mosaic sheets to fresh mortar and beat in with beating block. This method gives best coverage, minimizes mortar squeeze-up between tiles and gives a flat, uniform installation.
Expansion joints are vital and must be specified into the project according to EJ-171 in the TCNA Handbook.
– Michael Whistler, NTCA technical consultant
QUESTION
Recently an installer removed tile and installed new tile over the existing mortar/thinset. He said it's a normal practice, and any tiles that are uneven (in terms of height), are within the industry standard of 1/16". Does that make sense to you?
ANSWER
I think he is only telling part of the story. There's no problem installing over old mortar, tile, or thinset as long as it is well-bonded and crack free. That does not change the tolerance which is 1/4" in 10' with no greater than a 1/16" variation in 12" for tile under 18" and an 1/8" in 10' with no more than 1/16" in 24". The 1/16" he is referring to is a lippage allowance. Lippage allowance for installation is the height minus (or plus) the actual warpage. That allowance is 1/16" for grout joints 1/4" or greater and 1/32" for less than 1/4".
– David M. Gobis CTC CSI, fee-based consultant responding on behalf of TCNA.
QUESTION
Natural stone was installed as part of a renovation at our home. However, now there are muddy spots that appear to be staining the stone. Can you determine what would be discoloring our beautiful new stone and how it can be fixed or eliminated?
ANSWER
Without making a site visit and undergoing extensive testing (some of which would be destructive to the areas that are stained), I will not be able to give you a definitive answer to what is causing these "muddy spots."
All natural stone has some risk of minerals leaching and or metal oxidation. Metal oxidation occurs most often with softer stones such as travertine. It is caused by iron oxide that is found naturally in these softer stones and reacts to the oxygen in the air or from exposure to water (which also contains oxygen). When the oxidation occurs, usually a reddish / brown color is produced – sometimes orange colors may appear when there are free minerals mixed with the oxide metals and water is introduced. These colors are looked upon as desirable by many that choose natural stone but sometimes they are not wanted. In those cases, a manmade porcelain tile may be a better choice, especially when installed in a wet area.
For more information, check with the consultants listed on our website, since these professional do make site visits and can determine causes and possible prevention measures. Visit https://tile-assn.com/Member/RecognizedConsultants.aspx?mid=125 to view a list of consultants.
– Gerald Sloan, NTCA technical consultant