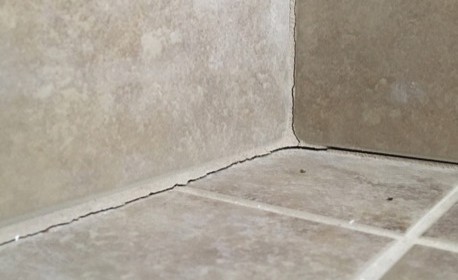 QUESTION
I have a project in Park Ridge, Ill., which requires replacing the ceramic tile on the floor. Originally the owner decided to install a 12" x 24" tile, but due to sloping issues, such tile cannot be installed. Therefore the owner switched to a smaller tile, a 3" x 3" mosaic. Would the labor to install either size tiles be the same? If not, which one costs more? Please advise. Thank you!
ANSWER
Installing mosaic tile typically requires additional time for the cutting, straightening and handling of many individual tiles and grout joints even if, or sometimes because, they are mesh-mounted.
Installing large format tile such as 12" x 24" on a substrate that does not meet minimal acceptable flatness requirements of 1/8" in 10' can require additional labor and materials for such activities as grinding and flattening the substrate with appropriate patch or self-leveling underlayment and their primers. Large-format tile (any tile with one side longer than 15") will also require setting material designed for large-and-heavy tile. Due to any inherent warpage, this may require the use of a larger gauged trowel to assure required minimum bond coat coverage, which may result in the need for additional mortar.
I hope this helps.
– Mark Heinlein,
NTCA Technical Presenter
[email protected]
QUESTION
Our rectified porcelain wall tile is three years old. We need to re-grout or caulk these thin grout lines. Which is better: silicone caulking or unsanded grout? For both I would use the caulking gun. Thank you!
ANSWER
Grouting is a complex and integral component of any tile installation. Grouting requires a degree of knowledge and experience with materials, environmental conditions, tile types, tools and techniques. Qualified professional tile contractors possess these traits.
I do not recommend using caulk in the joints between the tiles.
When removing the existing grout, take care not to chip the edges and corners of the tiles. You will want to ensure that you end up with a joint that is at least two-thirds the depth of the tile. Sharp utility knife blades, high quality grout rakes and oscillating tools with carbide grout removal blades are some of the tools you may want to consider using. It often requires a combination of all these tools to do the job.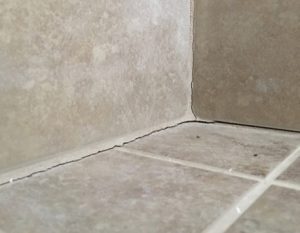 Depending on the width of the joints you will want to select a grout that will adequately fill the joints. If using a portland cement-based grout:
Use unsanded grout for joints 1/8" wide and less.
Use sanded grout for joints 1/8" and wider.
Many manufacturers now make an acrylic, siliconized-acrylic or urethane based "single-component" or "ready-to-use" grout that may be acceptable for all ranges of grout joints. This information will be listed on the grout packaging. Whether the wall is in a dry or wet area, such as a shower, may make a difference for your grout selection.
You will want to grout the joints using an appropriate type of grout float making several passes at 45-degree angles to the joints to ensure you pack the joints full of grout. Then hold the float at a 90-degree angle to scrape the excess grout off the face of the tiles and across the joints, again at a 45-degree angle to the joints to avoid dragging any grout out of the joints. Based on the type of grout you are using, allow it to set up per the manufacturer's instructions before forming the joints with an appropriate sponge. Then, based on the manufacturer's instructions, clean the tile with single passes of a lightly damp sponge, once again at 45-degree angles to the tile. Change your grout cleaning water frequently. Again – read and closely follow the grout manufacturer's instructions for the type of grout you have selected.
I do strongly recommend using a 100% silicone sealant (caulk) in the perimeter joints and any changes in plane (such as where your wall meets the floor and ceiling and where it meets an adjoining wall). Many grout manufacturers make 100% silicone sealant that color matches their grouts. Be sure to use a sealant (caulk) and grout from the same manufacturer.
Depending on the size of the wall, you will want to consider the need for expansion joints (soft joints) within the tile field.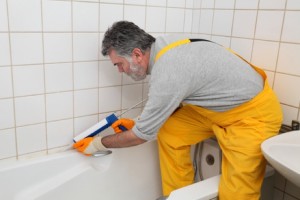 I suggest you consider hiring a qualified tile contractor to perform this work. In addition to performing the work, a qualified contractor will be able to analyze the existing installation and help you determine the best materials for the job, saving you the hassle of trying to become an expert on your own. You may do a zip code search on either the NTCA or CTEF websites located at these links.
http://www.tile-assn.com/search/custom.asp?id=2759
https://www.ceramictilefoundation.org/find-certified-tile-installers
I hope this helps.
– Mark Heinlein,
NTCA Technical Trainer/Presenter
[email protected]