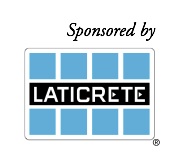 QUESTION
I'm contacting you regarding talc on the back of tiles. Since there are no standards or guidelines regarding talc on the back of tiles from the manufacturer, what does your organization suggest for the tile installer? Are they required to clean this off, or can it be installed as is?
ANSWER
The talc is actually called "kiln release" and is used to stop tiles from fusing to the conveyor belts in tile firing kilns. Usually there is not enough to create a problem, but when there is too much, which will create bonding failures, you have two choices: wash the backs of all the tiles and allow to dry, or back butter all the tiles with the flat side of the trowel.
– Michael Whistler, NTCA presenter
QUESTION
I have a question regarding the TCNA Handbook. Is it required to have a soft joint between the floor tile and the vertical tile bullnose base?
ANSWER
According to Method EJ- 171 in the TCNA Handbook, you must provide movement accommodation at all perimeters as well as all changes in plane. So if you install your floor tile first, you must provide an open space (or sealant-filled joint) between the floor tile and the wall (or cabinet, toe kick, tub, etc.). Then set the tile base on top of the floor tile, thereby covering the visible gap.
If you are installing the base first, you still must have perimeter movement accommodation, accomplished by leaving the joint empty of mortar and grout and filling with compressible backer-rod and sealant, or use a pre-manufactured perimeter movement joint (available from a number of manufacturers). These details are shown in Method EJ-171 in the TCNA Handbook.
– Michael Whistler, NTCA presenter
QUESTION
We are dealing with a 70-plus hollow-tile issue. Our villa was built and the tile installed in 2011. The hollow tile started in January 2015 with two hollow tiles. As of May 2015, there are 70-plus hollow tiles. We would like to know the cause of the problem and the appropriate resolution.
ANSWER
Hollow tile is usually caused by bond loss. The timeline you describe is relatively common when tile is not provided with appropriate movement accommodation, an important part of any tile installation.
– Dave Gobis, CTC, CSI, Ceramic Tile Consultant
INQUIRY, continued
The original installer concluded the installation was good but the concrete settled, therefore the tile detached and became hollow. With this being the situation, he said this is what is supposed to happen (meaning the tile should become hollow rather than cracking) and that we are lucky we don't have more cracked tile (about 10 now). He wants to inject the 70-plus hollow tiles with epoxy and replace the cracked grout and drill holes from the injection. This view is supported by the builder with whom the floor is under warranty until December 2015.
The two independent tile companies both concluded that the tile was improperly installed and needs to be replaced to address the underlying problem and that when tile is installed properly this should not happen (meaning 70 hollow tiles).
Our villa is in Venice, Fla. There is about 900 sq. ft. of ceramic tile. There are hollow tiles in all six tiled rooms with one room not being connected to the others. The hallway is where two hollow tiles started and now nearly all the tile in the hallway are hollow with cracked grout.
If you could advise as to the proper procedure to correct this tile issue, we would greatly appreciate it. Please contact us if you have any questions or need any clarifications. Thank you for your help.
ANSWER, continued
Your original installer is uneducated, ill informed, and incorrect.
I can't speak for the other two tile contractors but they know more than the first one.
Injecting is something done to mask installation shortcomings. Based on your pictures, there is minimal bond to the surface, plus I still believe, a lack of movement accommodation. This is a very common problem and one that occurs frequently in Florida. I have been to Florida numerous times for this issue for several years now. Based on what I see replacement is probably appropriate.
– Dave Gobis, CTC, CSI, Ceramic Tile Consultant