Leadership and Management:
working together for your good
By Wally Adamchik, president, FireStarter Speaking and Consulting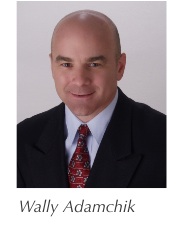 You remember the commercial, "Tastes great, less filling?" The one about the beer that tasted great and didn't fill you up – combining two fine qualities into one beer.
In your business, you also need to demonstrate multiple abilities. Whether you are just getting started or have been in business for decades, to be successful in business today, a combination of both leadership and management skills is required.
That sounds easy, but there is one problem: leadership and management are two separate skills. I once had a speaker before me at a convention assert that they are arch enemies. I took the stage after him and totally disagreed. I contend that they are intimate allies.
To understand the difference, we first need to change them. Leadership is about change for better results; it challenges the status quo and looks at the long term. It is about people. Management is about consistency for better results; it maintains the status quo, focusing on short-term results; it maintains the status quo, focusing on short-term results. It is about structures and procedures. Leadership and management seem to contradict each other but they don't.
Skills can be learned
Usually, when we think of leaders, we consider larger-than-life historical figures and we don't include ourselves. Give yourself some credit. You can lead too. Take a look at the things leaders do. Ultimately, these things revolve around "soft skills." These intangibles do not come naturally to many people in construction. It is not how you are wired. The critical few things that leaders do are set direction, align resources, and motivate and inspire people. These are skills that can be learned.
Management, on the other hand, is about "hard skills." Management focuses on the business of the business, the black and white, not the gray. It involves planning and budgeting, organizing and staffing, and controlling and measuring. There are far more managers than leaders. Even though these skills are essential to the success of any business, they are not instinctive either.
One of the best tools at your disposal for leading and managing in the field is the daily huddle. Done well, this short but important investment of time insures high production for the day. Done poorly, it is a waste of time that simply puts the crew farther behind. Ideally, the huddle is a conversation about production targets and techniques, safety issues and overall opportunities for improvement from the day before. The huddle sets the direction for the day, gets the crew working together and gives a goal to shoot for.
Research shows, and experience confirms, that the higher you go in the organization the more you must lead. In fact, depending on the size of the firm you might be leading 50% of the time if you are the president. Very large firms will see that number move to 80%. Conversely, at the crew level we expect to see 80% management and 20% leadership. The sad fact is that we don't see much leading at the crew level. We see orders being given and plenty of controlling and problem-solving but precious little motivating and aligning.
Rather than being mutually exclusive, these two skills are, in fact, interdependent. The successful tile business person of the future must respond to the new reality. The labor situation is not getting any better. Just because you were good once doesn't mean you will continue to be successful today. Customers are more demanding, there is no labor waiting on the bench, and margins are thin. However, the person who can blend the seemingly contradictory skills of management and leadership is poised to bring their company into a more competitive and profitable position.
NTCA has partnered with Wally Adamchik to bring his interactive virtual training system at www.firestartervt.com to NTCA members. Contact him at [email protected] to learn more about how the NTCA/FirestarterVT partnership can save you training dollars while improving your leaders at all levels.