Business Tip – November 2015
By Wally Adamchik, president FireStarter Speaking and Consulting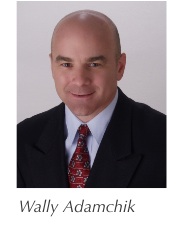 Unless you have been under a rock lately, you've probably heard about a guy named Jordan Spieth. He had a Hall of Fame golf season as a 21-year-old. He is the PGA Tour Player of the Year – but he actually had a tough time along the way. His record-breaking season and his struggles are an example for us all.
Spieth played in 25 events. He missed 4 cuts. That is a 16% failure rate! Nobody is talking about what went wrong for him. Nobody is criticizing him for missing the cut in two of the final four events, because he rallied and won the last event of the year. Along the way, he managed to win two major championships and contend in two others. But when everyone thought he would sweep the playoffs, he played some really bad golf. Really bad. How often are you on a roll at work, and then things go bad? What do you do? As a leader, do you rally the troops? Or do you point the finger? Do you realize you cannot perform at a peak level all the time? I hate to admit it, but it's true.
Sportswriter Luke Kerr-Dineen offered some interesting insights when Spieth missed those cuts in the playoffs. Number one: he was tired. He had played more events (27) than Tiger Woods did in his prime (20). I can relate. I travel for my job. I like it, but after a point, it gets to be too much. Today, we are faced with too much to do in too little time. And we compound things by staying ever-connected to our smartphones. We all get tired, but we don't all deal with it well. It's simple: if you don't give yourself time to recover and recharge, you will miss cuts, too. And when you miss cuts, it costs the company – and it might cost you.
Insight number two: late in the season, Spieth changed equipment. Pros are pretty particular about their equipment. Spieth replaced the set of irons he had been using all year with a fresh set (same make, model, specs, etc.). It was the same, but… it wasn't. How often are we faced with a new technology or concept that frustrates us? Heck, just updating software on our devices can be a horror story. What about that new accounting or field productivity software?
My favorite insight regarding Spieth was number three: there was no reason. "Golf is hard. Golf is weird. Golf is maddening. Sometimes you play well for no reason and play badly for no reason. That is why golf is hard, weird and maddening." No, you cannot go to your boss and say work is hard, but you can recognize that there are times that you have done all you can do, and that next time will be better. That doesn't mean you don't analyze what went wrong and work to make it better. But you do accept that things won't always go perfectly.
Your daily goal is to do the best you can. It takes preparation and planning to execute well. Even with that prep and planning, the execution isn't always optimal. Sometimes you drop the ball; sometimes you get a bad bounce. Be like Jordan Spieth. Recommit and refocus–and win the next time.
NTCA has partnered with Wally Adamchik to bring his interactive virtual training system at www.firestartervt.com to NTCA members. Contact him at [email protected] to learn more about how the NTCA/FireStarterVT partnership can save you training dollars while improving your leaders at all levels.