Coverings 2013, The Ultimate Tile + Stone Experience, attracted an increased number of architects, designers and specifiers this year when the four-day event was held in Atlanta for the first time, April 29-May 2. The audience segment grew by three percent, drawn by the opportunity to see the latest innovations by more than 900 exhibitors from 50 countries, and attend more than 70 free education sessions, many of which offered free CEUs.  
Overall Coverings 2013 drew over 22,000 attendees, on par with last year's show.  There was something for everyone from Distributor VIP programs, Contractor Days, on-site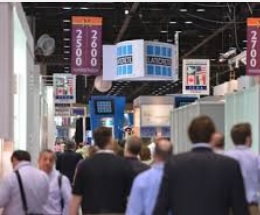 Advanced Certifications for Tile Installers (ACT) and the new Stone Zone for fabricators. All the buzz was shared at Coverings Central, the show's social media hub.
Visitors took in continuing advances in thin tiles, large format tiles and tiles that mimic other materials such as wood with increasing fidelity.
"Coverings has engaged with the robust community of architect and designers in the Southeast for the past 12 months and we are pleased that they took advantage of all the show has to offer," said Karin Fendrich, Coverings show director. "We know our exhibitors appreciate the added opportunity of reaching the growing specifier audience. At the same time, all our audience segments enjoyed robust programming and educational opportunities.
One of the many ways Coverings built support among the local design community was by sponsoring for the first time a special Best Use of Tile or Stone category in the ASID Georgia Chapter annual design competition. The Gold Award went to Jo Rabaut, ASID, and Georgia Rappole, Allied ASID, Rabaut Design Associates, for their work on the
Porcelanosa Atlanta, GA showroom. Kris Kirchner, ASID, Lisa Hatch, ASID, and Lauren Higgins, ASID, of K2J, Inc. claimed the Silver Award for the Tanner Medical Center in Carrollton, GA. Rabaut and Rappole also took the Bronze Award for their Rothbloom Residence master bath in Atlanta.  
"Our ASID chapter greatly appreciated Coverings' support of our design contest. The special category drew attention to the rich and varied design possibilities of tile and stone. We, of course, went to the Coverings show and it was fantastic. So many amazing new products to see," said Janie K. Hirsch, ASID, J. Hirsch Interior Design, Johns Creek, GA.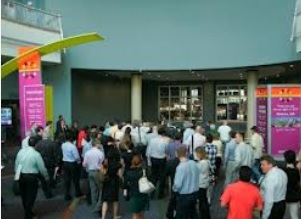 At the show itself, the daily activity at the Installation Design Showcase was of particular interest to the design community as well as installers. The Showcase matched four outstanding Atlanta-based design firms with four of the nation's finest installation teams. Design talents Michael Neiswander and Margaret Nysewander of Atlanta's ASD Inc., conjured a spectacular bar—"a conceptual art piece, really" says Nysewander. It featured all-red tiles from different Ceramics of Italy manufacturers, applied in a faceted manner by Joel Phinney, Senior Project Manager of Rimrock Design, the Lake City, FL-based installer.
Hospitality-design veterans Foreman Rogers and Allison Isaacs of Atlanta's tvsdesign evoked the grand feeling of a large hotel lobby on a small scale specifying Plane 5-foot by 10-foot engineered porcelain ceramic wall panels from StonePeak Ceramics as well as glass and mirror tiles, all installed by Rod Owen of C.C. Owen Tile Company, Inc., in Jonesboro, GA.
For an in-patient room in a women's birthing center, Mary Porter along with Craig Anderchak—both of Atlanta's VeenendaalCave Healthcare, set a serene, relaxed mood with Italian wall tile that resembled light-color fabric and a wood-look floor. Installer Chad Love of David Allen Company in Birmingham, AL, welcomed the opportunity to work with Strata Mat, a new coupling membrane by LATICRETE. 
Mark Williams of Atlanta's Mark Williams Design Associates designed a masculine 1920s Gatsby master bath modernized with Deco undertones, using Noble Company products, TOTO fixtures and Crossville tile. Installer Buck Collins of Collins Tile and Stone in Aldie, VA, appreciated working with Crossville's Laminan very thin wall tile.
Attendee Jennifer Wood, ASID, RID, LEED GA, and President of the ASID California Central/Nevada Chapter, took advantage of the opportunity to see just how important the ongoing designer/installer partnership is to a successful project. "It was exciting to see real-time grassroots designing in accordance to team building," she said.
Coverings 2013 offered excitement for every audience segment. Participants in the VIP Distributor Program brought customer groups to the show including builder/contractors as well as specifiers. Traditions in Tile, Robert F. Henry Tile Company, and Crossville Tile & Stone were among the distributors who hosted personalized tour groups at Coverings.
For installers, this year's show offered qualified attendees the opportunity for the first time to take the test for the new Advanced Certifications for Tile Installers. One of the most popular features at Coverings were the Live Installation Demonstrations offering an up-close look at how top contracting pros handle a variety of challenging tile installations.
As the premier event for tile and stone contractors, Coverings 2013 offered free education, live demos, networking opportunities and the return of Contractor Days that offered tours of the show floor with lunch and happy hour as well as access to the Contractor Lounge.
The new Stone Zone offered stone fabricators the opportunity to experience the latest in equipment, tools, accessories and supplies. In the Stone Zone, the Stone Fabricators Alliance (SFA) presented ongoing demonstrations and educational "how-to" topics for fabricators and installers on everything from seam polishing to honing and antiquing.
With so much going on at the show, Coverings Central was a vibrant interactive area offering Tweetups, new Quick Fire sessions on how to best use social media, plus complimentary sessions on creating harmony between tile and stone, and other elements such as fixtures, paint  and appliances. Coverings Central was also the perfect place to take in the PROJECT: Green display of outstanding environmentally respectful projects.
As the largest international exposition dedicated to tile and stone, the 900-plus exhibitors offered an unrivaled view of the most current industry trends including thin tile, large-format tile, and antibacterial and self-cleaning ceramics, among others. Further advances in high-definition digital inkjet printing resulted in tiles that mimic stone, wood, fabric, leather, metal and other materials with amazing precision and realism.
Thanks to all the activity at the show, exhibitors reported their investments paid off. First-time exhibitor InnoDeck doubled its space for next year.  Rodolfo Jacobsen, export manager for Portinari, noted, "It's important for us to be at Coverings not only for the American market, but also because we have our clients here from the Caribbean, Central America and Canada."
"Exhibiting at Coverings is the thing to do. Coverings is the only show we do," said Robin Vojak, owner, CR Studio 4, Inc. "It's a great opportunity to find new clients."
Lindsey A. Waldrep, VP Marketing, Crossville, said her firm comes to Coverings not only to see distributors, but also to support TCNA, and to reach out to contractors. "We're really big on training, education and demos and Coverings gives us the opportunity to do all those things," she added.
Hector Narvaez, executive vice president, Marazzi USA, agreed that it's important for his firm to be at Coverings to show new products and to partner with distributors.  Aparici Tiles has been exhibiting at Coverings for 15 years, said Carlos Aparici, because the American market is very significant for his firm and the show is the ideal place to introduce new designs to dealers and distributors.
Coverings 2014 will be held in Las Vegas, April 29-May 2, 2014. Registration will open this fall.
To learn more about Coverings, visit www.coverings.com.