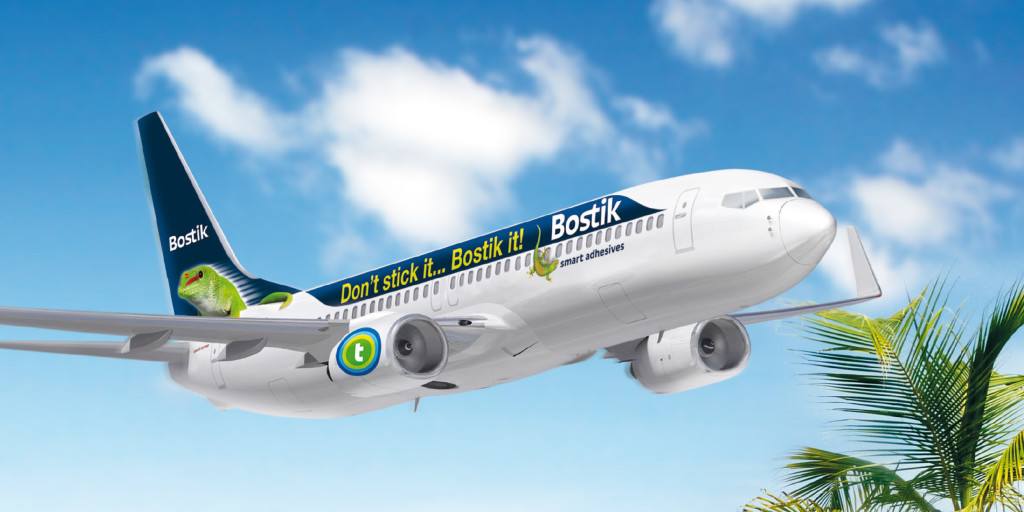 Bostik, Inc. (bostik-us.com), one of the world's largest manufacturers of adhesives and sealants, has announced the debut of the Bostik-branded Boeing 737-800. This sleek aircraft will begin promoting Bostik brand awareness, flying four times per day to 47 destinations across 20 countries.
Michael Jenkins, Business Director for Bostik's Consumer & Construction Business Unit – Americas, stated, "Bostik high-performance adhesives are being successfully used worldwide for a diverse variety of applications dependent upon products people use each day.  We believe it's important that consumers in the Americas know of the global acceptance our products enjoy.  Globalizing the distinct image of our brand is a good 'step one' in getting everyday people to become even more familiar with the Bostik name and range of solutions our company provides."
Bostik is the first company to sign a contract with a European airline, Transavia (a subsidiary of Air France-KLM) to re-brand a Boeing 737-800. This unique project incorporates the aircraft's exterior brandishing Bostik's new brand identity, introduced in early 2014.  It includes a prominent image of the Bostik omnipresent gecko on its tail fin. This distinctive initiative is one of many activities designed to globalize the Bostik brand.
Scott Banda, Director of Marketing for Bostik's Consumer & Construction Business Unit - Americas, added, "This is an out-of-the-box program, which really shows the entire world how Bostik is  aggressively on  the  move, beginning to build its brand. Today, our products are on the shelves of roughly 2,000 retail locations across the Americas. This is just one of many exciting new promotional programs that consumers will be seeing from our company over the years to come!"
It is estimated that 145,000 passengers will travel on the Bostik airplane over the next six months… and, millions of others will have a chance to admire it during takeoffs, layovers or while in-flight.
About Bostik, Inc. 
Bostik is a leading global adhesive specialist in industrial manufacturing, construction and consumer markets. For more than a century, they have been developing innovative adhesive solutions that are smarter and more adaptive to the forces that shape people's daily lives. From cradle to grave, from home to office, Bostik's smart adhesives can be found everywhere. With annual sales of $1.63 billion, the company employs 4,800 people and has a presence in more than 50 countries. Bostik is a company of Arkema. Visit bostik-us.com for more information.