Del Conca USA, the North American subsidiary of Del Conca, one of the main Italian groups in the ceramic tile manufacturing industry, officially opened its doors with a ribbon-cutting ceremony on March 26th, hosting the firm's "Inaugural Celebration." Three hundred guests from across the country, including customers, consultants, vendors, members of the media and both state and local government officials were there to share in this joyous occasion.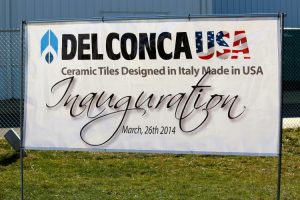 The event was highlighted by a heartfelt speech delivered by Del Conca Group CEO Enzo Mularoni, thanking all those who made his firm's "American Dream" become a reality. "Construction of the buildings, and the installation of all production machinery were completed just 10 months after the start!" he exclaimed.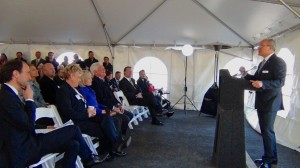 Additionally, small groups of guests were squired by company officials through the newest state-of-the-art tile production facility in this country. The new Del Conca USA (DCUSA) complex is located just south of Knoxville, and includes a 323,000 sq. ft. complex with production facilities, research labs, showrooms and administrative offices.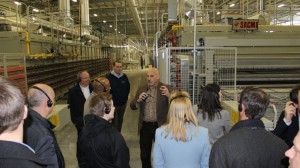 After an initial investment of more than $50 million US dollars (Of which $30 million has been invested in world-class Italian tile production technology) DCUSA porcelain tile production has begun, actually ahead of schedule. 100 workers from the region have already been employed, many of whom traveled to Italy for highly professional, hands-on training. Loudon City Mayor Judy McGill-Keller stated, "We are delighted to have such a professional and progressive company here in Loudon. Since day one, everybody has been excited about Del Conca USA, and it's almost unbelievable that a facility this big, this advanced… and, this beautiful could be built in under one year!"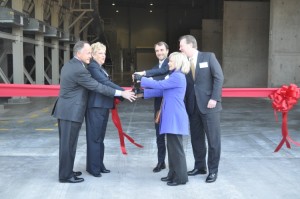 Allen Borden, assistant commissioner of business development for the Tennessee Department of Economic and Community Development — speaking on behalf of both his department and Governor Bill Haslam — added, "Del Conca USA is bringing great working opportunities to the great state of Tennessee.  And Del Conca USA will find out very quickly that the Tennessean work ethic is as strong as you'll find in any state in our nation. That's why so many fine companies have decided to locate their manufacturing facilities here. We are extremely thankful that the Mularoni family decided upon Tennessee."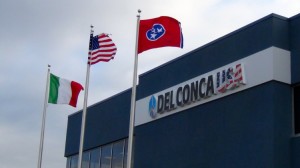 Mularoni and his son, Paolo, president of DCUSA, both emphasized the importance that their "Made in USA" tile production will continue with the very same high levels of quality and style as offered in their "Made in Italy" products over the past three decades."