LONGUEUIL, Quebec, August 25, 2016 – The floor heating leader and manufacturer FLEXTHERM celebrated its 25th anniversary on Thursday, August 18 by organizing a very special event to highlight this special milestone.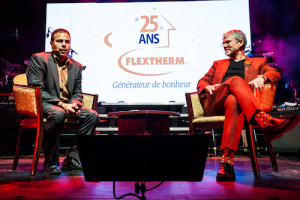 Hundreds of people from Quebec, the rest of Canada and the US attended the evening held at FLEXTHERM's head office in Longueuil, QC. "This event is a dream come true," said founding President Philippe Charron, who incorporated the company in 1991.
FLEXTHERM first introduced the surface floor heating technology that became today's industry norm. Throughout the years, the company never stopped innovating and evolving according to clients' needs, by focusing on high quality, value-added products. FLEXTHERM particularly stands out for its in-house R&D department that focuses on improving and developing product lines, as well as its professional and caring customer service specialists.
Within a constantly changing industry, the company has remained attuned to trends and has created solid and lasting partnerships with clients, suppliers and distributors across Canada and the United States.
"When we go into business, it can be quite intimidating to deal with businessmen and women who have so much experience. When I founded FLEXTHERM, I was the kid wearing shorts trying to make his way in the industry and I had a lot to learn," explains Philippe Charron. "Everything was made possible thanks to people who believed in me and in FLEXTHERM. Today, the company is what it is not only because of a devoted team but also thanks to clients who hold FLEXTHERM dear to their hearts."
Memorable evening
It is thus not surprising that Mr. Charron invited his entire team as well as many clients and partners to the August 18 event. No detail was neglected. The red carpet event started with a tour of the manufacturing plant that was expanded by 25,000 sq. ft. last spring to reach a total size of 50,000 sq. ft. In order to highlight the last 25 years, a FLEXTHERM museum was set up and showcased products from 1991 to 2016, and a large timeline banner recounted FLEXTHERM's history as well as memorable events from around the world that occurred over the last quarter of a century.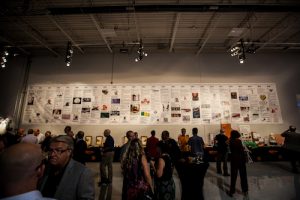 The evening continued in FLEXTHERM's backyard that had transformed into a stunning festival site where guests enjoyed various dishes offered by food stations. Entertainment was provided by musicians, magicians showcasing their sleight of hand in the crowd and a drum and dance show.
The highlight of the evening, kept secret until the last minute, was the incredible musical revue American Story Show featuring Rick Hugues, Kim Richardson and Marc-André Fortin! The show, which presents the musical history from the last few decades tied in perfectly with FLEXTHERM's 25th anniversary.
"It was an amazing event! Congratulations for your creativity, warmth and generosity. Every guest succumbed to FLEXTHERM's charm. Everything was perfect," raved guest Josée Latendresse following the event.
Founded in 1991, FLEXTHERM is a pioneer in its field and introduced electric floor heating technology as it is now known. Today it enjoys an enviable reputation based on innovation and premium quality products manufactured in its factory. FLEXTHERM products are sold throughout Canada and in the United States.