"Fashion is what you're offered four times a year by designers. And style is what you choose." — Lauren Hutton
In a few days I will fly out to Las Vegas for TISE, but I've just finished compiling content for the TRENDS issue that encapsulates what you'll see at the Coverings show. And wow, you are in for a treat. Be prepared for a burst of color to inspire and uplift you. Yes, color is becoming more of a "thing" in tile again – along with the beautiful, classic creaminess of natural Cararra and Calacatta marble and the multitude of porcelain marble mimicry you will find as you go into 2020. And color is also celebrated in our A&D story about Allison Eden, owner of Allison Eden studios, a high-end glass mosaic designer in Brooklyn, N.Y. Her story – and her whole being – exudes energy and enthusiasm and her tile designs reflect that as well.
Joe Lundgren brings a broad overview of what's shaking in tile style, as well as an exploration of the arc in the life of a trend and how that affects what's available. In our Sales Pulse story, select distributors give you insight into what's happening in their regions across the country. And Donato Pompo of CTaSC talks about the timelessness that natural stone brings to the table.
Amidst the fashions from Italy and Spain in this issue, Industry Ambassador Alena Capra's mini trend report in her welcome letter, and two product sections packed with the newest tile and stone trends on the market, we took some time to visit with NTCA contractors to determine what essential tools help them create flawless installations that stand the test of time.
And what home trends are impacting the use of ceramic and porcelain tile? Check out details from the Houzz 2020 Kitchen Study for some insight into tile applications in the coming year.
All in all, we have some exciting things percolating in the world of tile and stone in 2020. We hope this TRENDS issue whets your appetite for sampling tasty new tile treats and savory stone offerings amidst the culinary wonder that is New Orleans, home of Coverings 2020. See you at the show!
God bless,
Lesley
[email protected]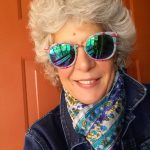 Editor for TileLetter, and TileLetter ARTISAN publications.
Lesley Goddin has been writing and journaling since her first diary at age 11, and drawing and sketching since she could hold a pencil. Her penchant for observation led to her becoming a paid professional as a trade journalist, publicist and is editor for TileLetter. She has also written for Guideposts, Walls, Windows and Floors, Floor Covering Weekly, and Low Carb Energy.