WASHINGTON, Aug. 29—The construction industry had 363,000 job openings on the last day of July, according to an Associated Builders and Contractors analysis of data from the U.S. Bureau of Labor Statistics' Job Openings and Labor Turnover Survey. JOLTS defines a job opening as any unfilled position for which an employer is actively recruiting. Industry job openings decreased by 23,000 from June but are up by 10,000 from the same time last year.
"The demand for labor is beginning to slow," said ABC Chief Economist Anirban Basu. "Across all industries, job openings are now at the lowest level since March 2021 and the rate at which workers are quitting their jobs has returned to the pre-pandemic norm. As consumer spending buckles under the weight of inflation and the effects of higher interest rates begin to weaken growth, the labor market should continue to cool.
"Unfortunately, the demand for construction workers remains elevated relative to supply," said Basu. "While the number of open, unfilled construction jobs declined in July, 4.4% of industrywide positions are currently unfilled, a greater share than one year ago and at the start of the pandemic. As a result, contractors remain reluctant to lay off workers. With a majority of contractors expecting to increase their staffing levels over the next six months, according to ABC's Construction Confidence Index, labor scarcity should remain a headwind through the end of 2023."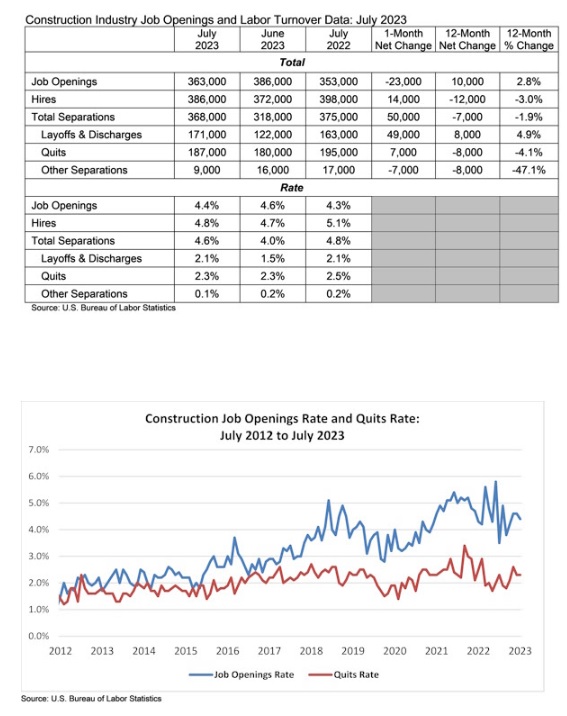 ---
Visit abc.org/economics for the Construction Backlog Indicator and Construction Confidence Index, plus analysis of spending, employment, job openings and the Producer Price Index.
Associated Builders and Contractors is a national construction industry trade association established in 1950 that represents more than 22,000 members. Founded on the merit shop philosophy, ABC and its 68 chapters help members develop people, win work and deliver that work safely, ethically and profitably for the betterment of the communities in which ABC and its members work. Visit us at abc.org.