The latest Coverings Connected was held on April 28th. The event featured sessions that celebrated artisans, discussed the tile industry, and shared ways to create digital content. This is Coverings Connected, a quarterly event, is the last before the live Coverings event in Orlando, FL, July 7-9.
NTCA celebrates tile artisans
"Celebrating Artisans in Tile", presented by the National Tile Contractors Association (NTCA), was the first session of the day, featured discussion among several artisans and craftspeople, and was led by NTCA Five-Star Program Director Amber Fox.
Panelists included NTCA Residential Tile Setter Craftsperson of the Year Leo Reynaga of Visalia Ceramic Tile; Angie Ré, Owner/Mosaic Artist of Unique Mosaics, LLC; Sal Di Blasi, Owner of Elite-Tile Company; and Stephen Belyea, Owner of JSG Tile and Stone.
The session opened with a video segment from TileLetter ARTISAN Editor Lesley Goddin that gave attendees a sneak peek at the new publication. 
The panelists portion of the session started with a discussion about how installing a custom artisan project different than a traditional installation, the skills needed to move into doing more artistic installation projects, and advantage of being a craftsperson. The panelists explained that taking on a custom artisan project requires having a solid foundation of installation fundamentals, the ability to listen and understand what the client wants, years of installation practice, and the ability to envision the project before it is complete.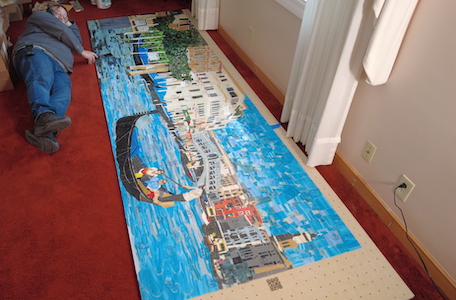 Ré, Belyea, and Di Blasi discussed the making, personalization and installation of a 12'x4' glass mural of Venice, Italy, including the instructions, materials and tools recommended for the installation.
Ré said the biggest challenge when working a mural like the Venice project is time management. She also noted that additional challenges included how to do the cuts, determining how the flow, and determining how to start the project. She mentioned that while these may be challenges, they are also pros for her. "The fun part for me is figuring it all out. I like the challenge," she said.
Ré explained that boxing the mural was a process of its own. She packaged the mural, that was to be installed in DiBlasi's living room, in a way the that made it easier for DiBlasi and Belyea to unpack and install. She also provided detailed instructions to help the process. 
DiBlasi and Belyea described unboxing the mural, the prep and installation process, and the challenges from an installer perspective. They also explained how dental picks became vital tools while working on the project.
The panelists ended the session by sharing the projects they were most proud of and answering questions from attendees.
Attendees were able to earn CEUs from attending this session.
CTDA podcast goes live, Llerena announces new role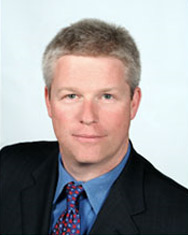 The second session of the day, "Because It's Tile Podcast Live: Distribution" featured Rick Church, Executive Director of the Ceramic Tile Distributors Association (CTDA). In the session, Church brought his podcast, Because It's Tile, live to Coverings Connected. Church and his guest, Rudy Llerena, President of D&B Tile and President of CTDA discussed the tile industry, the challenges the industry has faced in the past year, attending Coverings, and the 2021 tile market.
The session marked the first live episode of the podcast which Church said "features interviews with industry leaders sharing their insights regarding the manufacturing, distribution, design, specification and purchase of ceramic tile and related product."
During the podcast, Llerena explained how he started in the tile industry. He said he was greatly influenced by his father who was a branch manager for a division of Florida Tile and later became a partner in D&B Tile. Llerena and his brother, who is now VP of Operations at D&B Tile, often accompanied his father to the office when he had to work on a Saturday. He said he was led by the good example his father set.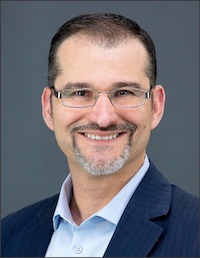 During the the podcast Llerena also announced that he is now the CEO of D&B Tile, and had predicted many years ago that he would be in the role. He explained that he had had aspirations of becoming a business owner and he wanted to work in the tile industry. Later, he told himself he was going to become CEO of D&B Tile, and even told his plan to Harold Yarborough, who at the time was the company's president. 
"And it's been a great journey ever since," Llerena said with a smile. "Fast forward to today, I'm president now, and it hasn't been officially announced but I am now the CEO and president of D&B Tile and Harold is stepping into the chairman role."
Attendees were able to earn CEUs from attending this session as well.
Creating content 
The final session of the day, "Cut Through the Noise: Content Curation to Create Customer Engagement," was presented by Dahlia El Gazzar, Idea Igniteur and Tech Therapist of Dahlia+Agency. This session was created to help the audience develop a new content curation process and to introduce tools for designing and tracking. El Gazzar said she hoped the session will "spark different ideas that can help you figure out what kind of content you can create that will support your brand, as well as be valued [by] your different audiences."
El Gazzar said the information she was presenting is based on consumer behavior, noting that consumer behavior has changed a lot, especially in the last year.
Her steps to create content included knowing your audience; owning your expertise; creating your own story, style, and specialty; and creating a cadence.
She also shared various applications that can be used to create visual and video content, including Canva, Loom, and mmhmm.
El Gazzar challenged the audience to create live content and encouraged them to invest in the right equipment.
For those who were feeling overwhelmed by amount of applications and tools offered, she suggested that they play with the different applications until they find what works for them. "You've to play," she stressed. "But you've got to deliver content, as well as get platforms and ways of engagement that appeal to different audiences.
El Gazzar will have a space, located in the Coverings Lounge, at the in-person event in July. She will offering one-on-one consultations that would allow attendees to get tips based on their specific businesses. 
"We would be able to have a conversation with you that is specifically about your brand or about your company for example," El Gazzar explained. "Or maybe you have a case scenario that you want to take a look at from not only a branding perspective, or marketing or social media [perspective]. Other tips we give is more about how to use technology and how to use digital solutions to make you more efficient and make you more effective. Because everyone right now is doing so much and multi-tasking, those one-on-one conversations will be beneficial to all."
All sessions will be available for viewing on the Coverings site.
Beyond the sessions, Coverings Connected also offer on-demand content from NTCA, CTDA and the Natural Stone Institute. Content included videos, podcasts and digital magazines.