Colors Reflect a Positive Perspective for the Coming Year

CROSSVILLE, Tennessee – Domestic tile manufacturer Crossville has released its 2021 Color Trends Look Book. This digital publication, a follow-up to its Pantone Colors of the Year Look Book, is a compilation of color trend forecasts from the paint industry and leaders in color research and analysis.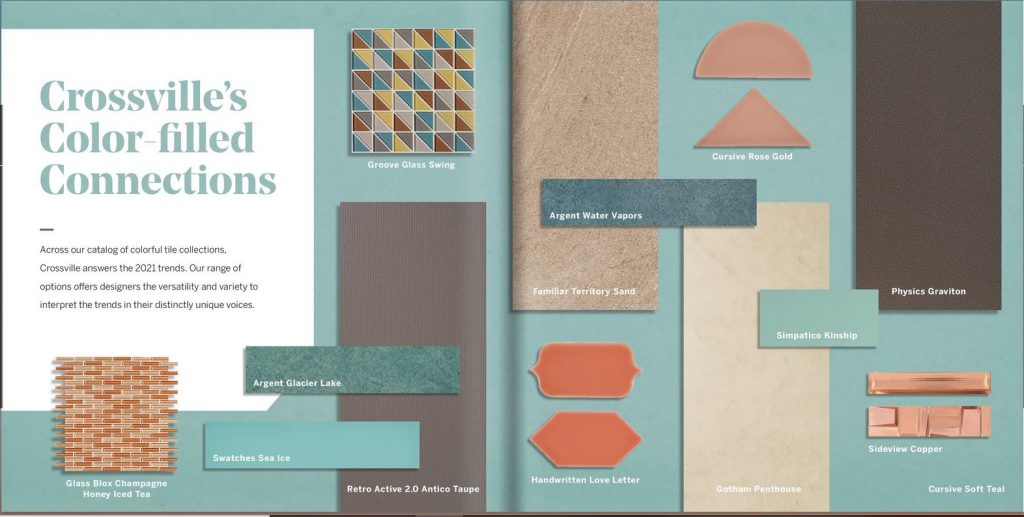 "While Pantone is the global authority on universal color, the paint industry has a very focused eye on the hues and tones we as a society want to live and work in every day. For this reason, Crossville took cues from their viewpoints to present several trends for 2021 as a look into the colors we can expect for decor and home," explained Lindsey Waldrep, Crossville's VP of marketing. In curating the top color trends as predicted by these design industry leaders, Crossville found the collection of hues to have a shared aesthetic that reflects a collective desire for hope, calm, wellness, and maturity.

"As we observed industry leaders announcing their 2021 color trends, we were amazed at the cohesive commonalities of the hues," stated Waldrep. "This synchronicity of color makes for a lovely visual story and serves as a guide for design inspiration in the coming year."


Alongside the undeniable commonalities of these trends, Crossville showcases the many ways the brand's tile collections answer and interpret the up and coming colors. Throughout the digital publication, Crossville's color-filled tile products are noted to beautifully coordinate with the color experts' predictions. The Look Book specifically highlights design trends such as biophilic elements, tonal hues, and sustainability. Crossville's extensive tile collections offer designers the versatility and variety to best interpret these color trends for their upcoming projects.

Waldrep also noted that this trend look book is a fun and notable contrast to the color story told in Crossville's 2021 Pantone Trends Look Book released just before year's end.

"There will always be curveballs in the world of design," shared Waldrep. "Before Pantone announced their Colors of the Year, we had already created this 2021 Color Trends Look Book. Because Pantone's take on 2021 hues was so contrasting and unique, we decided to showcase the various trends across two look books—rather than consolidate into just one. The colors stories are so different they merited their own digital publications."

The latest 2021 Color Trends Look Book from Crossville is now available for viewing by click here.