Spring has sprung, the birds are back, daylight saving time has returned to most parts of the county, and so has Coverings 2022 – in a big way. And, after a couple of years off, the Advanced Certifications for Tile Installers (ACT) testing returns to provide Coverings attendees with a firsthand look at what it takes to be acknowledged as qualified labor in booth N3163.
ACT was created in 2012 by the six leading tile industry entities including; the Ceramic Tile Education Foundation (CTEF), the International Masonry Training and Education Foundation (IMTEF), the International Union of Brick and Allied Craftworker (IUBAC), the National Tile Contractors Association (NTCA), the Tile Contractors Association of America (TCAA), and the Tile Council of North America (TCNA). Interestingly through support and generosity of the Coverings Board, the inaugural ACT testing occurred at the Coverings 2013 show in Atlanta, Ga.
This year, the ACT program, conducted by CTEF and IMTEF, focuses on the two methods that can provide (with the appropriate knowledge and skills) perfectly flat, plumb, and square vertical surfaces through the Mortar (Mud) Walls test and perfectly flat and level horizontal surfaces through the Mortar (Mud) Floor test. The Mud Walls test is based on the TCNA Handbook detail W222, the one coat method over a solid backing. The Mud Floor test is based on detail F111, an unbonded mortar bed on-ground or above-ground. The testing includes qualified installers from both open shop and organized labor groups and will be held Wednesday April 6th and Thursday April 7th.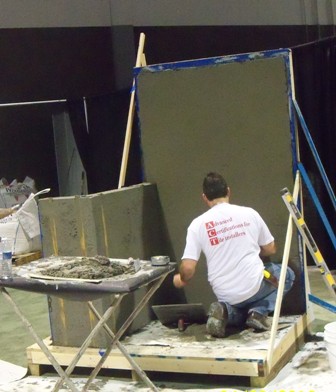 The interesting feature of both mud walls and floor methods is the ability to provide a surface that will accommodate tiles with any edge 15" or longer which require the substrate to be flat within 1/8" in 10'.  While this can be accomplished on floors by using a patch or self-leveling underlayment (SLU) — which in and of themselves work really well — the mud method allows the installer to provide a flat and level or plumb surface that is not contingent on a perfect substrate. These mud beds are designed to flatten or true the substrates that may be cracked, coated, or present bonding issues.    
While enjoying the Mud Walls and Floor testing, you will also be able to view cutaway examples of several other ACT test such as Large Format Tile and Substrate Prep, Membranes (including sheet, fabric-reinforced liquid, and single component products), and Shower Receptor detail B415, which includes cement backer board or fiber-cement backer board walls with a mortar bed floor (the water in – water out method). You'll also be able to see a cutaway of the newest entry in the ACT program — Shower Receptor detail B421C (barrier-free) mortar bed floor and solid backing walls — which utilizes a bonded waterproof membrane on both substrates.   Knowledgeable ACT staff will be available to explain the details of each test along with the Critical Points which testing installers must satisfactorily complete.
The other exciting aspect of the ACT program at Coverings will be a comprehensive overview and actual demonstration presented by Lupe Ortiz of IMTEF and Scott Carothers of CTEF. This program will focus on the safe handling, cutting, and installing of Gauged Porcelain Tile Panels (GPTP) on Tuesday April 5th during show hours (10:00 am – 5:30 pm) with the key presentations being 11:00 am to 12:00 pm and 1:00 – 2:00 pm. This relatively new and exciting product is taking both the commercial and residential markets by storm. These panels range in size from 1m x 3m (39-3/8"x118-1/8") to 1.6m x 3.2m (63"x126") – in one piece! Image being able to complete a residential shower with no grout joints, something that was not possible just a few years ago.
While at the show, stop at booth N3163, which is adjacent to the Tile Council of North America Pavilion in the North Hall of the Las Vegas Convention Center, to view these state-of-the-art products as well as gain a newly-found respect for the age-old mortar bed method of installing ceramic, porcelain, glass, and stone tile.