Dallas, TX – January 27, 2021 – In identifying the hottest current and future trends for 2021, Daltile's lead product designer, Laura Grilli, prominently highlights the "Pursuit Of Beauty / Beautiful Luxe" and categorizes this as a sub-trend of the larger design movement of Well-Being.     

The Pursuit Of Beauty / Beautiful Luxe
"Being surrounded by a beautiful context makes us feel better and contributes to our well-being," said Laura Grilli, lead product designer for Daltile.  "However, it is interesting how the concept of beauty and luxury is changing.  Beauty and luxury do not mean opulence and redundant luxe in 2021, but rather creating harmony and an aesthetic that feels lovely, not showy.  Luxury this year will be expressed through high-end materials such as expensive fabrics, marbles, and precious woods combining with good-quality craftsmanship to add sophisticated warmth to a space and a sense of intimacy."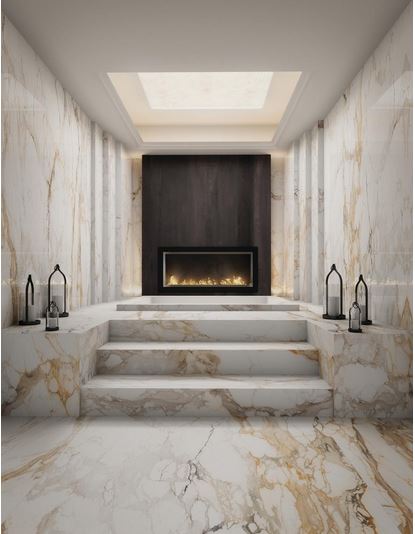 "In tile, the trend of Beautiful Luxe will be expressed through marble looks, such Daltile's beautiful and extra-large Panoramic Porcelain Surfaces slab line; the bold and darker marbles that we have seen lately; and polished finishes with golden, brass, and silver elements inserted into stone mosaics such as in Daltile's Lavaliere collection," said Grilli.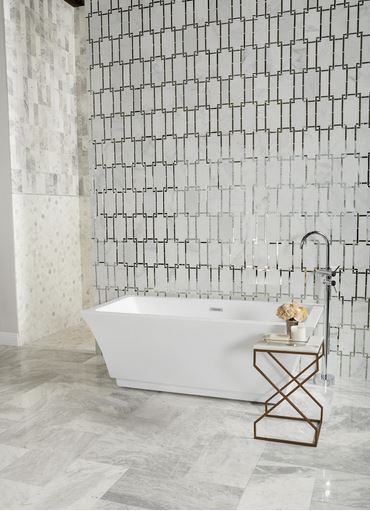 "In the Beautiful Luxe trend, we see the influence of Art Deco through rich materials and fine craftmanship," explained Grilli.  "However, Beautiful Luxe features only a few statement pieces, rather than a room full, and by doing so lets the details and the valuable finishing of individual pieces take a bow.  If the original Art Deco movement of the past lent itself to 'show off opulence', 2021's Beautiful Luxe is more about creating something lovely."
"As in all good design, color will be a key component in creating a Luxe ambiance," added Grilli.  "Rich colors such as those found in Daltile's Color Wheel collection will contribute to creating luxe, but not an intimidating luxe, an intimate and comforting one."
Dark Navy Blue
"Blue is the color of trust. It is the shade of the sea and the sky, and is thought to induce calm and tranquility, serenity, and peace," explained Grilli*.  "It is the color of confidence and loyalty and is used to reduce stress, to relax, and create order.  Dark navy blue is beautiful when combined with gold accents and with white marble looks.  Daltile's Panoramic Couture features all three of these colors in its Efflourescent porcelain slabs."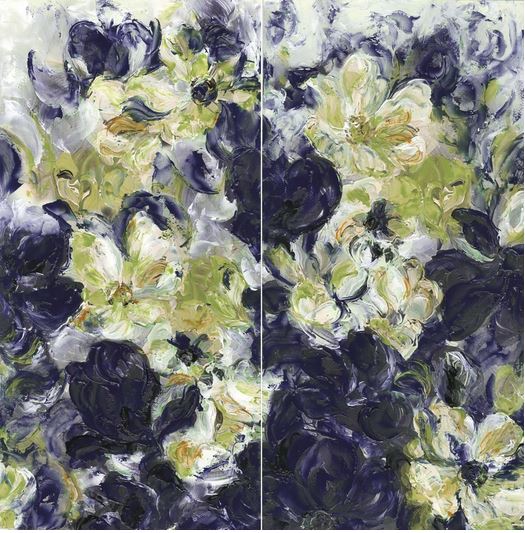 Purple
"Purple majestically mixes the energy of red with the calm of blue; it is considered the color of spirituality," said Grilli*.  "Daltile's Color Wheel collection offers two different shades of purple, Daltile's Wood Violet and Daltile's Plum Crazy, representing the colors found in Amethyst crystal.  Amethyst is thought to have soothing powers and be able to relieve stress and strain.  The color of purple inspires reflection and self-awareness.  It is the color of connection to the universe of consciousness, of what is happening in our planet and around us as human beings.  Purple has always been associated with royalty, quality, and luxury.  Daltile nicely brings this color to life in its Daltile Color Wave, Purple Magic mosaic tiles."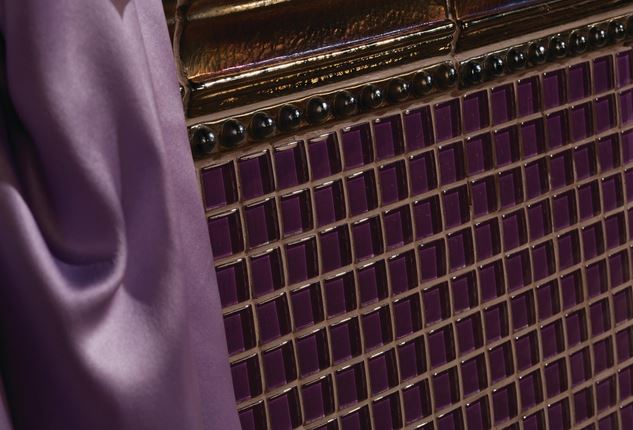 Black & White
"White is the color of purity, innocence, and hope," said Grilli*.  "It is the true balance of all colors as white is total reflection.  White is associated with cleanliness, simplicity, and perfection. Sometimes white needs black to shine even more and to complete itself. Designers and brands are experimenting with new takes on black and white; using a lot of different materials; creating infinite patterns, grids, and stripes; playing with light and shadow, and optical effects.  We saw a lot of these exciting combinations at the last Cersaie show in 2019.  Daltile's Vertuo is a perfect example of exciting experimentation with black and white.  Also, Daltile's Color Wheel collection features Daltile's Black and Daltile's Artic White, perfect for creating a Beautiful Luxe aesthetic in a space."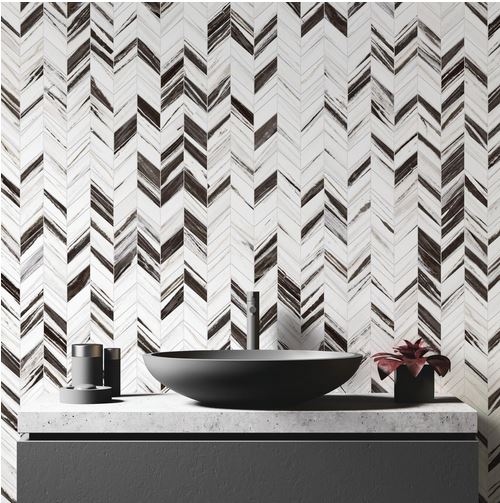 (*Grilli used a few terms and phrases from graf1.com's Color Meaning and Psychology.)