Actions key to parent company's inclusion in USA Today's "America's Climate Leaders" list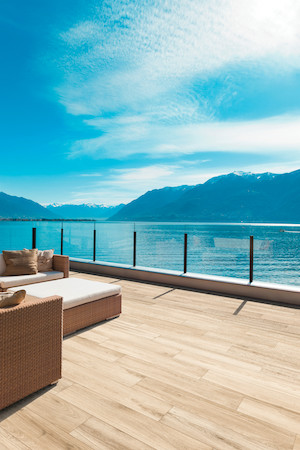 Dallas, TX – June 12, 2023 – By reducing their carbon footprint an impressive 17% since 2018, leading tile company sister brands Daltile, Marazzi, and American Olean were key contributors to their parent company, Mohawk Industries, being named to USA Today's recent "America's Climate Leaders" list. This Daltile, Marazzi, and American Olean substantial reduction in carbon emissions is just one of many sustainability accomplishments the brands have achieved to date, providing their customers with tile that is not only beautiful and durable, but sustainably and responsibly manufactured.
"As a company, we create beautiful tile designs responsibly," said Paij Thorn-Brooks, vice president of marketing, Dal-Tile LLC. "Under our brands' 'Our Promise' sustainability platform, we are focused on creating a more Climate Positive future by being dedicated stewards of our global impact, leveraging our resources to shrink our footprint and reduce our waste."
The Daltile, Marazzi, and American Olean environmental sustainability efforts include, but are not limited to, the following:
99% — Over 99% of our tile collections contain recycled or reclaimed materials.
300 million — On average, our North American facilities recover and reuse over 300 million pounds of recycled and/or reclaimed material per year.
17% — 2018 to present we have reduced our carbon footprint by 17%.
84% — Overall, we recover and reuse 84% of all process wastewater in our US- and Mexico-based facilities.
125 million — Our measures have prevented over 125 million gallons of wastewater from entering local municipal water treatment facilities annually.
11% — We have reduced energy consumption by 11% at all sales service centers and distribution facilities.
0% — Our tiles are made from only natural materials: water, clay, sand, feldspar, and other minerals. Our tiles contain zero VOCs, zero plastics, zero PVCs, zero allergens, and zero formaldehyde.
We have developed and continue to maintain product-specific EPDs. We have also produced product-specific HPDs for each of our core companies.
341 tons — We've recycled over 341 tons of cardboard and office paper, averaging 68 tons per year.
9X — Nine of our manufacturing facilities have achieved Mohawk's internal Zero Landfill Certification.
6 out of 11 — 6 out of 11 of our US- and Mexico-based facilities are zero-discharge facilities (meaning they recover and reuse a full 100% of their process wastewater).
Millions — We have sent millions of pounds of materials to state-approved beneficial reuse programs.