iQ Power Tools, manufacturer of premium power tools with integrated dust collection systems, introduces its 16.5" Blade for the first "Dry-Cut Masonry Saw," designed to cut through extremely hard materials such as concrete, ceramic, porcelain, brick, veneer and stone.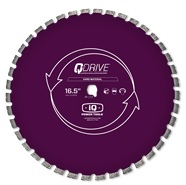 The iQMS362® is a 16.5" dry-cut masonry saw specifically created for professional masons, tile setters and contractors. With the world's first fully integrated dust control technology, this innovative tool allows for hard materials to be cut indoors or outdoors… with no water and no dust.
Sarah Williams, iQ's Director of Marketing stated, "Our new 16.5″ Q-Drive™ Super Hard Material Blade incorporates the latest in diamond tool technology, offering ultra high performance for ultra strong materials. It was designed specifically for harder materials… up to a PSI Range 7000+.
"iQ Power Tools prides itself on listening to those who use our products and developing innovative solutions to meet their needs. This latest product introduction was created from their insightful feedback."
The blade combines the highest quality diamonds, with an extremely soft bond to achieve an outstanding level of performance. These blades will cut fast at 4500 RPM and can even optimize saw performance on various hard aggregates. Silent Core Technology is built into each blade for less ringing during the cutting procedure.
For more information, please contact Sarah Williams, Director of Marketing | [email protected] PO Box 7449, Moreno Valley CA | Phone 888-274-7744 | Fax 888.428.4485 | www.iQPowerTools.com
---
About iQ Power Tools
iQ Power Tools manufactures a comprehensive range of premium power tools with integrated dust collection systems for the concrete, masonry, hardscape and tile sectors. The company was founded by third-generation masons Joel and Paul Guth, who have logged over 30 years each in the masonry industry. Decades of experience taught them about dust problems; their company started out creating tools to solve their own problems only to realize these same issues affected all contractors… mess, money and a threat to the health and safety of the industry. iQ Power Tools envisions a future where their innovation helps create a 100% dust-free environment: jobsites are safer, work practices are healthier… and, the construction industry becomes even more sustainable.