Ron Nash readies to take the reins from LATICRETE President Ed Metcalf
On the eve of LATICRETE's announcement about its changing of the guard, TileLetter sat down with outgoing LATICRETE President and COO Ed Metcalf, and incoming President Ron Nash to gain insight from these two leaders as they look back over their careers and look into the future. This change in leadership at LATICRETE is more than simple succession planning; it is a retooling of the company to enable it to be a sleek, responsive, family-style business that gets out in front of changes in the industry and enables the company, its partners and its customers to ride the wave to success.
Metcalf: company poised for growth
Metcalf gave some context to the transformation process of the company, which began about five years ago. In part, it was spurred to support and guide the company as former CEO David Rothberg pursued personal interests while retaining the position of Chairman, while safeguarding the family business environment into the future.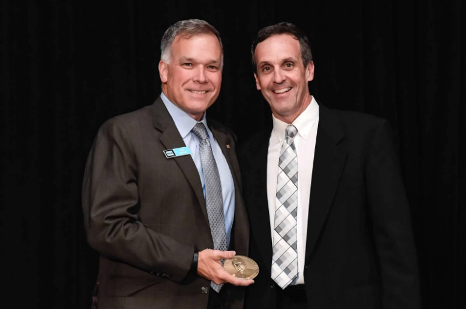 "The search for the CEO started before the pandemic, then was suspended, and restarted," Metcalf said. "David and the board selected Patrick [Millot] who has the deep applicable experience to apply to our current needs. I enjoyed learning from Patrick and educating him about what I know about this business. I've been fortunate to have had David Rothberg as an empowering leader and friend. Stepping aside is not easy, but now is definitely the right time."
The realignment involves many promotions and role enhancements to reshape the company for the 21st century.
He praised his successor, saying that Nash has been increasing his responsibility for years, excelling in creating powerful marketing and sales teams and being very much in alignment with Metcalf in terms of strategic direction. "Ron is ready to take over and will do well in his new role."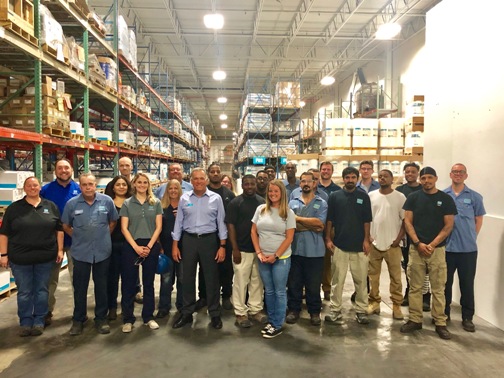 Metcalf has two priorities during this transition: to make certain the organizational change is made smoothly and done in the interest of all of team members, and to get ahead of the changes that are happening in the industry. He will accomplish this through working with Millot on special projects through the end of the year, as a Special Advisor.
After 35 years with LATICRETE, stepping away is bittersweet for Metcalf. "I'm grateful for the team and how ready they are to step up. This is a dynamic industry, filled with creative, energetic, caring people."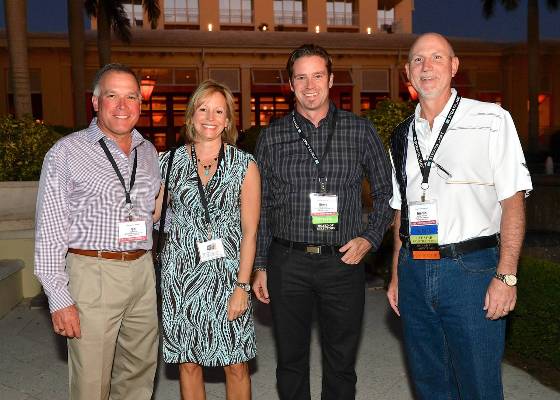 Some of the gifts Metcalf received in his years with LATICRETE are the incredible relationships he made along the way – and meeting his wife Susan when he moved from California to Connecticut. "My wife is a huge blessing to me and more so as time goes on." He treasures that the company has "family values that they look to as true north, and I was able to internalize that into action as we were building the organization," he said, adding that company core values attracted people for whom they resonated. "And I hired people smarter than me. The result is a team that is now able to take over the reins without any concerns for the durability of the business. The values that remain intact today are those that were in place 35 years ago – and Patrick will take us to the next level – make us more corporate while retaining those core values."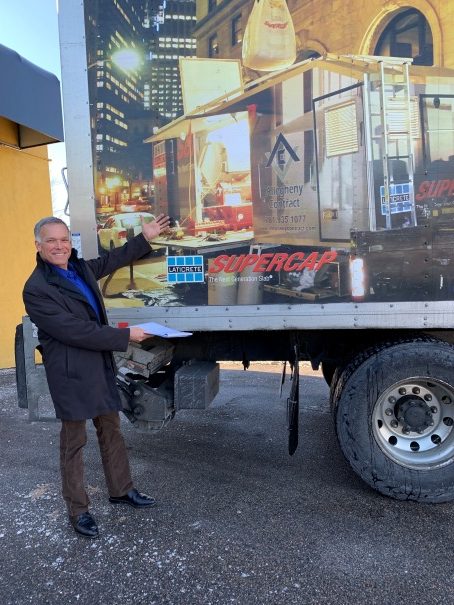 Metcalf marveled over the growth in the size of tile and new tile technologies he saw in the industry over his 35 years. These changes resulted in advanced installation systems becoming even more valuable and integral to the system, he said. "What won't ever change is the need for quality installers." At the same time, he is optimistic about manufacturing returning to North America – the U.S., Canada and Mexico.
After leaving LATICRETE, Metcalf looks to reconnect with entrepreneurship. "I've had so many great relationships in this industry and learned so much from mentors. It's been a great opportunity and I want to give back." He's keen on finding ways to make construction less wasteful and more sustainable, and has a passion for supporting apprenticeships and training and bringing his experience to boards that can benefit from it.
Summing up lessons from his over three decades with LATICRETE , he said, "Things that have served me well are patience, perseverance and the willingness to speak truth to power."
Nash: putting lessons into practice
Nash has a reputation for being enthusiastic and hungry for knowledge, displaying the many certificates and credentials from the trainings he's taken over the years during our interview. He said that that Rothberg and Metcalf have been generous and supportive throughout his career, allowing him to select his own training. The only caveat they insisted on is that he put it into practice, which he has done step by step as he climbed the ladder. Currently, he is part of the Global Leadership Executive Program at Yale. He said since he graduated college in 1999, a lot of things have changed. "Marketing methods, the rise of social media"—these things didn't exist before." This schooling, like past trainings, strengthens his skills for the tasks at hand.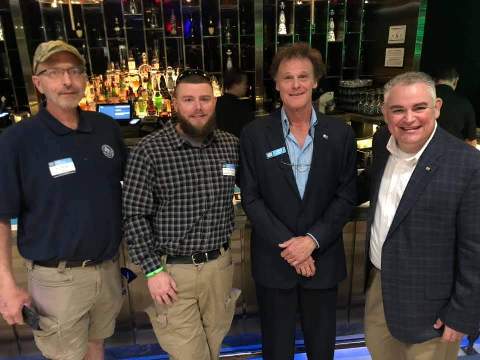 "I have very big shoes to fill," Nash said of his new position. "And it's not without nerves. Ed was such a great coach. He always taught me to look toward the future and align my skills with what the future is going to look like." He's taken lessons he's learned from his bosses and mentors, and developed his own style for the people on his team to help them go to the next level. "I am mostly excited for my team," he said. "As I move up, my team moves up with me. I look forward to helping with that as a coach of others." A hidden blessing in the pandemic was the rise of virtual conferencing and meeting technology, which allows Nash to manage team members from all over the country. This technology will also allow Nash to keep his Utah residence, peppered with frequent visits to the company headquarters in Connecticut.
Nash said, "I'm also coming up with my own wish list for the company – we've always been very good stewards in the environment and I see that going further, and reducing waste."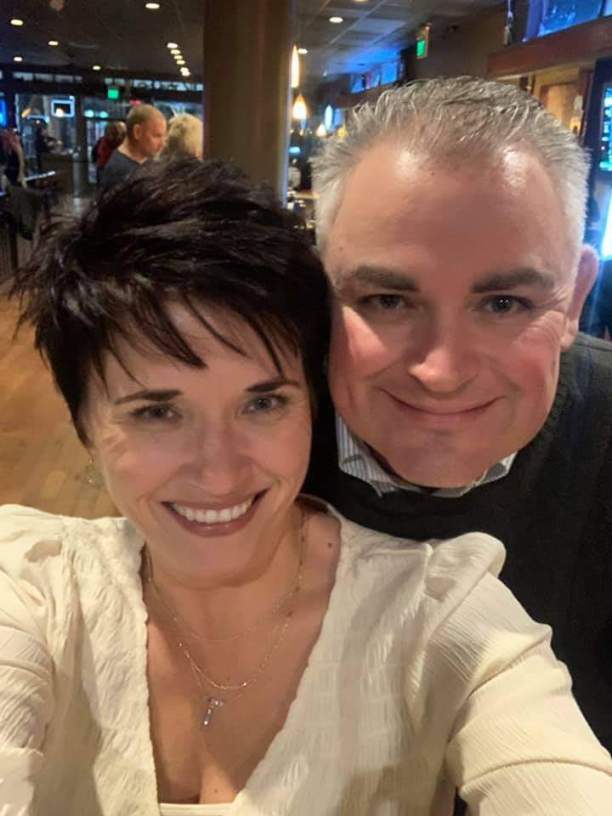 As an example, he pulled out a current grout color selection tool which displays 40 different color grout chips made of virgin plastic for true color rendition. He said, "An architect uses this once – pulls out the color desired, and throws it away. Our first goal is to buy LESS of these, and then research how to do this better. We are looking now at a recyclable and recycled paper grout card, which is less expensive, reusable, biodegradable, and shows a full grout joint, with better color rendition. It can be unfolded and notes made on the back. It will hit shelves this year. This is an example of where I would like to lead the company to, with more of a critical eye of this is the right thing to do, and if we do it right, we will make more sales."
Another LATICRETE focus Nash also wants to champion is the health and safety of people who use LATICRETE materials. He pointed to MultiMax Lite that is below OSHA guidelines on respirable silica, and materials that are lighter to reduce wear and tear on worker bodies. At the same time, LATICRETE is invested in a culture of safety with excellent safety records in its plants. Nash also said that communicating with its partners in China at the beginning of 2020 put LATICRETE ahead of the curve concerning COVID. "So a month ahead of the country, we were well underway in the wearing of masks, hand-washing and signage everywhere, and then sending people home to work. We take our family very seriously, which is one reason why we were cautious in getting together in large groups."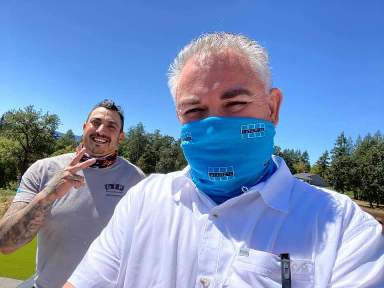 Looking ahead at his leadership partners, Nash noted he has been peers with LATICRETE's newly named President of the International Division Faisal Saleem, calling him a friend and a "great guy" – and is looking forward to collaborating with him and hearing new ideas from his team members. "And Patrick is a breath of breath air," Nash said. "He has great new ideas, and is excellent at taking companies to that next level. He is just what we need."
"We need to service the contractor first and foremost," Nash said. "We have to be obsessed with solving the contractor's problems and one of those is logistics/supply chain. We need to do things that are innovative."
Nash observed some cross pollinations across LATICRETE's tile and stone, masonry veneer, concrete remediation, surface care and coatings businesses. He pointed out that while it's unlikely that Amazon is going to tile a million square foot warehouse, the company wanted to offer solutions to those jobs too. Plus, he said, some contractors have also added coatings to their business so they can tackle a garage project or can build on their tile and stone knowledge to install cultured stone or thin brick.
Nash is jumping into the future with knowledge, experience, enthusiasm, inspiration and vision. "We are going to have a very modern, customer-focused organization and very new ideas, and we are set up for a great change the customer will experience and feel."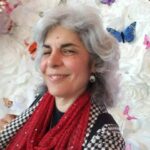 Editorial Director and Senior Writer for TileLetter and TileLetter ARTISAN
Lesley Goddin has been writing and journaling since her first diary at age 11. Her journey has taken her through a career in publishing and publicity, landing her the editor position of TileLetter and its special publications in 2006. Her goal is to educate, inspire, recognize and encourage those in the tile industry -- especially the tile and stone contractor. Other interests include the soft, purring marvels known as cats, labyrinth walking, drumming and percussion, and a range of spiritual, musical and artistic pursuits.