Celebrating 20 years as founder and CEO of Lunada Bay Tile, Carl Steadly
shares insights into his appreciation for tile and how a love affair
with Japan began a lifelong pursuit of tile artistry.
Carl Steadly has a passion for art.
"I spend a lot of time talking with artists: mosaic artists, sculptural artists," said Steadly, who is the founder and CEO of Lunada Bay Tile. "The house I'm in used to be owned by a famous bronze sculptor here in Santa Barbara (Aris Demetrios), and we bought it specifically because it was contemporary and because the windows are ginormous—our eventual goal is to showcase sculptural and mosaic art."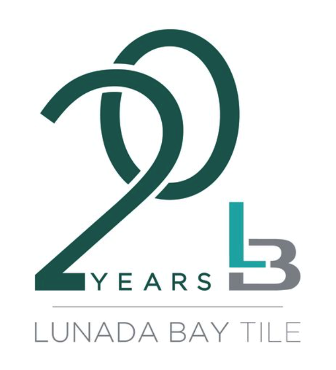 Steadly's eclectic contemporary home is a canvas where his collection of large-scale art and smaller glass and ceramic pieces take center stage. They include pieces by Japanese glass artists Rui Sasaki and Tsukada Midori (Japan), as well as pieces by Moser Glass (Bohemia), CACO3Studios (Ravenna), Kii Toyoharu (Japan), Seguso (Murano), Benzoni (Murano), Barbini (Murano), Tiffany (USA), Venini (Murano), Luke Jacomb (New Zealand), Dan Friday (USA), Niisata Akio (Japan), Antoine Pierini (France), Ushio Konishi & Enami Fujiko (Japan), and Julia Perry (USA).
"I get bored looking at landscapes, so I'm always looking for decorative art galleries," Steadly said.
Steadly shared about his love for tile, how art fuels his product development, and how graduate work at Sophia University in Tokyo, Japan, altered the course of his career.
Q: You studied International Trade Economics in Japan. How did this love affair with Japanese culture begin?
STEADLY: "During grad work in Japan, I was immersed in all variations of arts, crafts, Japanese garden design, etc., through a connection of my initial sponsor (Mori Hanae, a famous Japanese textile clothing designer). My local contact was a family connected with the clothing company and I was their pet project for two years. During my three-to-four day monthly stays, the lady would take me to tea ceremony classes, kimono fitting sessions, Japanese gardens, Japanese restaurants, Kyoto, etc. We would talk about Japanese garden design and the essence of what it entails. At night, her husband would talk with me about Japanese business. I imbibed everything so when I went into my own business, I did what I know best, which was Japan."
Q: How did this lead to a career in tile?
STEADLY: "I interviewed with a lot of major Japanese companies, but they couldn't hire me because of visa regulations. I then returned to the U.S. and ended up joining World Tiles, Inc. based in New Canaan, Connecticut, which was about a 15-minute drive from my home. At that time, we handled the national imports for American Olean, Daltile, HR Johnson, and Color Tile. I was hired to go back to Japan and be their number two at their Japanese office in Nagoya. Alas, the yen changed before this plan went into effect, so the company put me into sales (Mid-West region) to learn the market and products. I did this for 6 years and some of my earliest customers are still customers to this day."
Q: When did your interest in glass tile making begin?
STEADLY: "In preparing to move to Hawaii in 1989, I thought about what that market would need, and, in my research, I came across Bisazza Mosaico which was just entering the U.S. market. I subsequently brought this to the Hawaiian Islands. Most of the development money was coming from Japan, but the designs were coming from Los Angeles architects/designers. So, I started this rotation of going to Tokyo, then jumping over to Italy, studying how glass was made, while simultaneously working on projects to be produced in the Bisazza mosaic studios for Taiwan, Japan, Hawaii, and Indonesia.
I learned rudimentary glass tile production methods and would always build an extra two days into my Italian trips in order to hang around the factory at Bisazza. And you know a couple of times, they would ask me, 'What are you doing here? Why aren't you in Hawaii?' I was just watching, learning, and asking questions."
STEADLY: "I left Hawaii for the mainland in 1990, and in addition to bringing Bisazza to the West Coast, I was also working in the stone world. I started selling to Marazzi USA and Walker Zanger and then I began to create my own products.
Q: When did you strike out on your own?
Firstly, I bought the remnants of a metal casting company, which was basically a fellow whose background was in jewelry. He had begun making jewelry accents for the tile world, but he didn't know anyone in the tile world. I used that foray as a nucleus to create my Lunada Bay Tile dealer network.
I knew I didn't want to just be in the stone business as I felt there was very little way of making my own designs. At that time, waterjet cutting was being used mostly on large projects. I knew I had to create my own dealer network and started dissecting the U.S. into metros figuring out locations. Remember AOL where they carpet bombed with disk after disk, day after day? Literally, that's what we did for a solid year. I would send out a sample of one of my pewter tiles along with a price list and my business card, and we would send out probably 50 padded envelopes a day. Slowly we started building up dealers.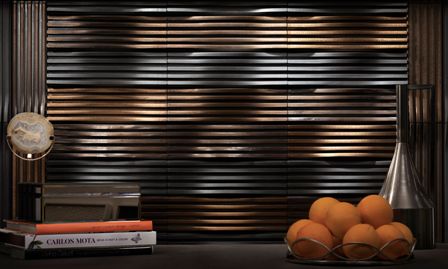 In 1992, I left Bisazza to start making my own glass, eventually taking some of that glass into the dealer network that I'd created. I started the company in Southern California out of my house, which was located in a neighborhood with a large Japanese population (families of expats working for companies such as Nissan, Toyota, Honda and Japan Airlines whose U.S. headquarters were local). I began hiring Japanese housewives who would knock on the front door after they drop the kids off the school, and they would start processing orders."
Q: Why did you start your own company?
STEADLY: "I think most entrepreneurs know that they don't make the best employees, so the impetus was to create my own company to explore some ideas I wanted to do."
Q: What were your first tile products?
STEADLY: "The first products were pewter accents to be used for tile wall/floor inserts. In 2002, I introduced my first glass collection (Monochromatic series) which the factory was already making in rudimentary form. At the 2004 Coverings Exhibition, Walker and Zanger introduced my Mantra and Vintage Glass programs.
Shortly after, we introduced Sumi-e which was our first big program under our own brand—our first big hit. The color effect is reminiscent of  calligraphic brush strokes. Sumi-e means Japanese calligraphy. We still sell this look today as Tozen, which has the same essence as Sumi-e but with a contemporary edge."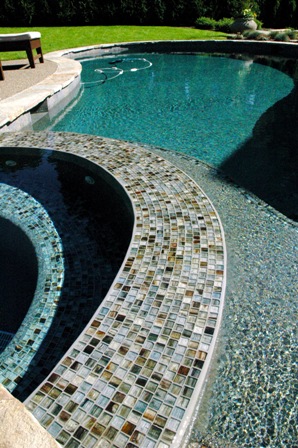 Q: Describe your creative process.
STEADLY: "I can't draw to save my life. I'm moderately good at space and design and I know what it is I want to make, but I usually have to impart that knowledge to someone else to do the execution into actual drawings.
We've positioned ourselves as the 'eye candy' of the industry because I am much more interested in our materials being the focal point of a room rather than being the backdrop of the designs.
For a quirky guy, we have somehow managed to assemble a dream team of staff, many joining us from some of the best high-end companies in the industry. We truly enjoy lively debates about the look/feel/movement/intensity of colors, etc. All of us genuinely love tile so much that we named our sampling program 'The Tile Love Club'."
###
About Lunada Bay Tile
Lunada Bay Tile creates handcrafted glass, ceramic, and concrete tile with an emphasis on artistic simplicity, texture, and color. The name Lunada Bay Tile honors the beautiful Palos Verdes Peninsula of Los Angeles and exhibits the brand's design philosophy – to blend traditional craftsmanship with modern influences while exploring the boundaries of material possibilities. To learn more about Lunada Bay Tile and view the entire product line visit LunadaBayTile.com or call (310) 257-1300.