At IBSx this morning, industry experts Robert Dietz, SVP and Chief Economist, NAHB and Danushka Nanayakkara-Skillington, AVP, Forecasting & Analysis, NAHB gave a brief overview of the macroeconomic forecast for multifamily building and how the multifamily sector will fare in 2021.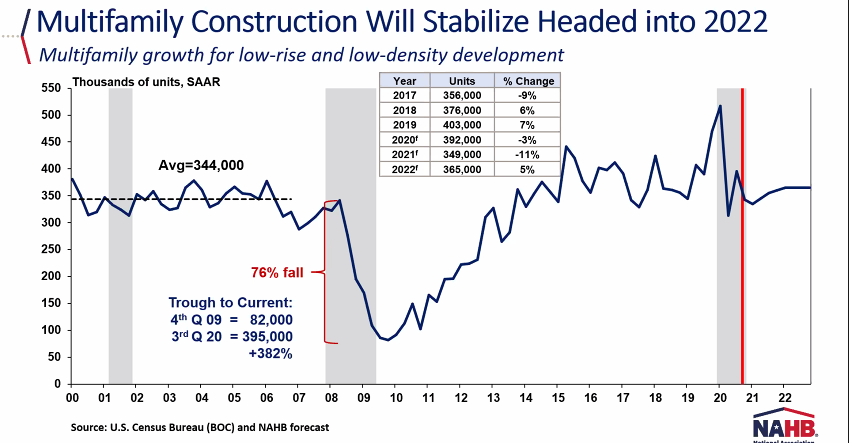 Nanayakkara-Skillington delivered the good news that multifamily housing is recovering and is expected to be back on trend by 2022. She pointed out that the top 20 growth markets for multifamily units range between 407% – 4600% growth. The top 10 largest multifamily markets by permit range from -46% drops for Dallas – Fort Worth in 2020 compared to 2019, to 54% hikes in Austin-Round Rock.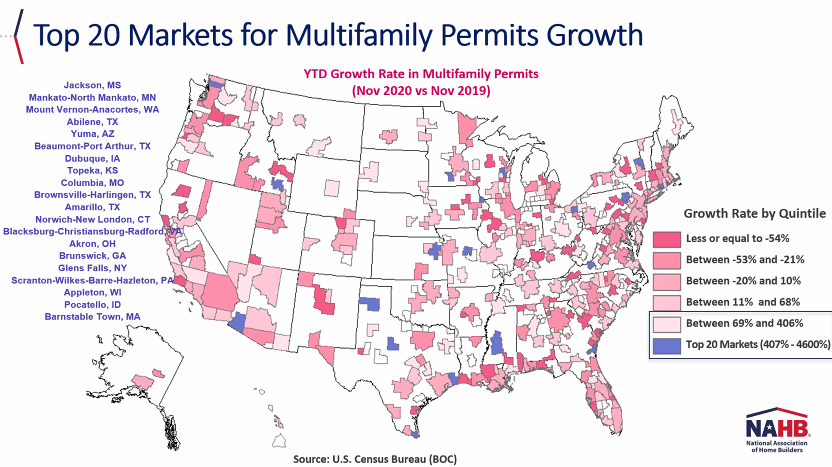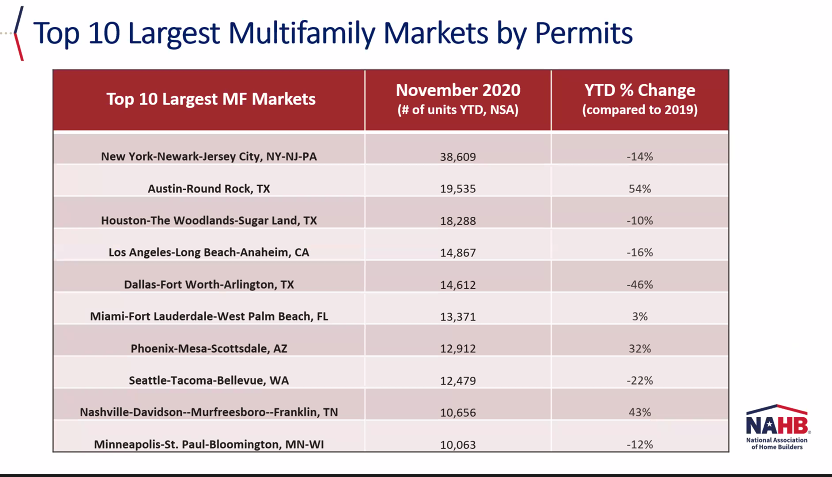 The bulk of building is moving away from high-rise units to low-rise, courtyard and garden-style multifamily structures, a market that has been flat, but now offers much entry-level potential to those seeking first-time homes. Though about half of the multifamily buildings have 50+ more units right now, that is expected to decline with low-rise, low-density structures grabbing the lead. Multifamily buildings with 2-4 units have plummeted since 2006-2007, but they are expected to soar, post-pandemic.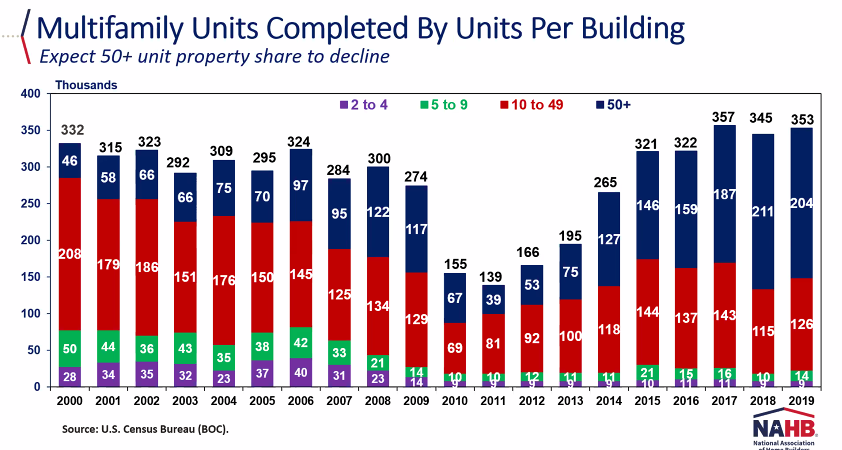 Dietz added that considerations that arose during the pandemic will impact the design of these units – including features like Zoom rooms, office space and exterior amenities. There is speculation on whether multifamily unit sizes will shrink due to costs or increase to incorporate these options.
Dietz also noted that retail real estate such as strip malls that are suffering vacancies due to the pandemic can be transformed into missing middle sector suburban villages of garden-style, mid-rise land low-rise units, with shopping nearby at a walkable distance.
Nanayakkara-Skillington also noted that the share of build-for-rent options are growing, with Dietz adding that this caters to the segment of the market who want to get into their own homes, but don't yet have funds for purchase, but can afford to rent.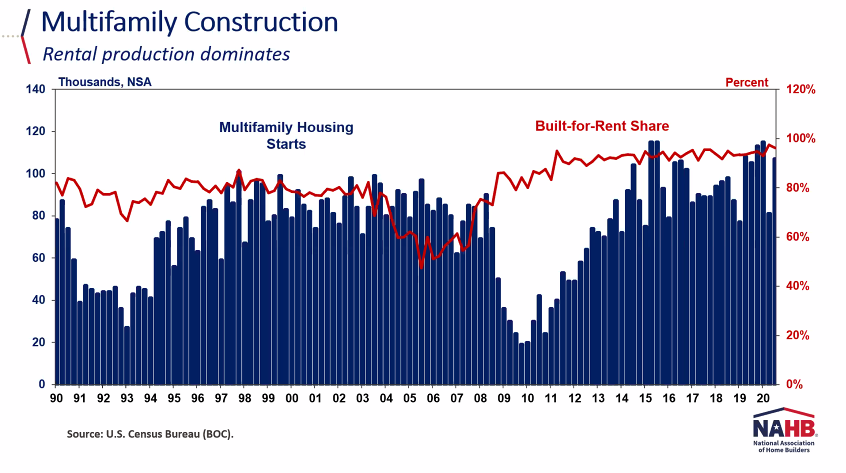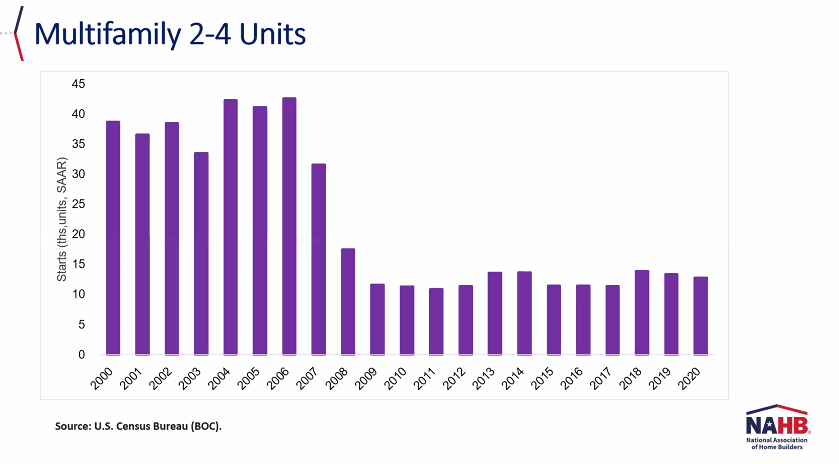 Deitz examined the economy and its affect on the market, noting that although the U.S. ended 2020 down about 3.5%, that is actually a much healthier position than other countries, such as the U.K., that saw its economy drop 11% in 2020. He said that positive momentum of the U.S. economy in 2021 will start slowly and pick up speed once the COVID-19 vaccine is disseminated broadly.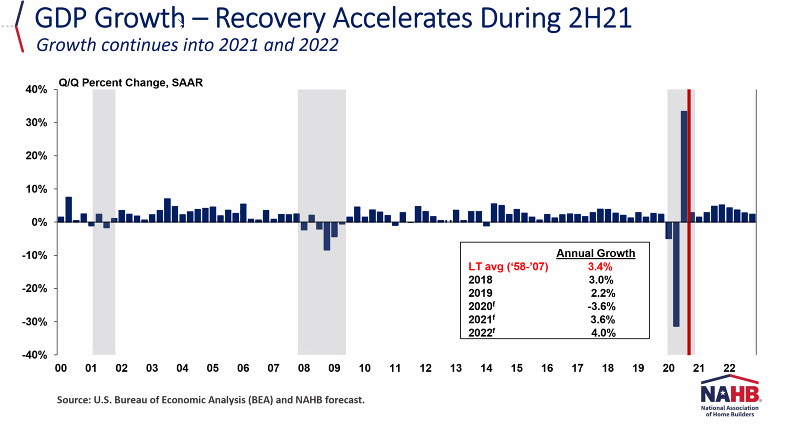 Though unemployment peaked in the U.S. at about 20% last spring, currently it is holding between 6.3%-10%, which affects rental housing demand. He expects it will head to about 5% as we near 2022.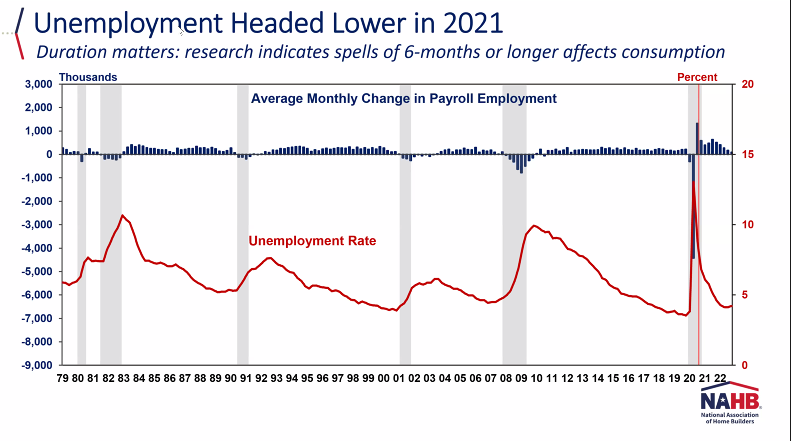 Interest rates will remain low but will trend higher as economic growth improves, which could lead to support for rental housing.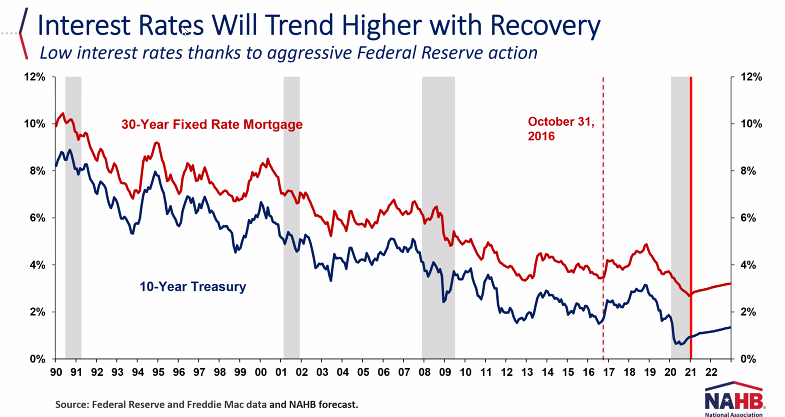 Pandemic related challenges to building center around shortages and delays in building materials, especially lumber, as well as delays in obtaining permits. Dietz also cited the longterm skilled labor challenge due to lack of skilled labor and workers staying home due to COVID concerns. Lumber prices are also high, ranging at about $950 per thousand board feet.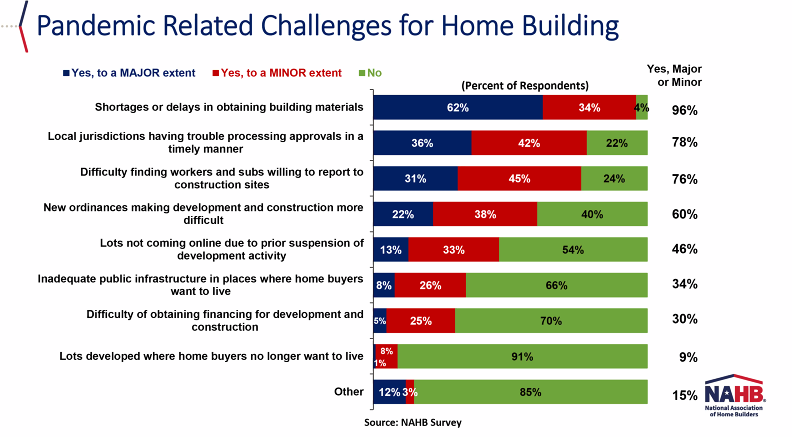 Moving forward there is vigilance on policy issues, in terms of environmental, tax, labor. Deitz noted that one third of typical apartment building costs are related to regulatory issues.
The suburban shift includes single family homes as well as multifamily buildings, with predictions that single family homes built for rent will increase as well. Townhouse construction has stalled. Zoning challenges will impact missing middle housing for sale or rent, but this sector can be an affordable option for millennials looking to move to their own homes.
Finally, there looks to be greater demand for accessory dwelling units (ADUs) in coming years.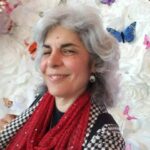 Editorial Director and Senior Writer for TileLetter and TileLetter ARTISAN
Lesley Goddin has been writing and journaling since her first diary at age 11. Her journey has taken her through a career in publishing and publicity, landing her the editor position of TileLetter and its special publications in 2006. Her goal is to educate, inspire, recognize and encourage those in the tile industry -- especially the tile and stone contractor. Other interests include the soft, purring marvels known as cats, labyrinth walking, drumming and percussion, and a range of spiritual, musical and artistic pursuits.