KERDI-BOARD-SNLT Shower Niche with Integrated LIPROTEC LED Lighting
Plattsburgh, NY. September 2023 – Shower niches that incorporate LED lighting are increasingly popular, but not every system adequately addresses the challenges of bringing electrical components into a wet environment. Schluter-Systems is now introducing the KERDI-BOARD-SNLT, a prefabricated KERDI-BOARD shower niche with integrated Schluter®-LIPROTEC LED lighting designed to ensure that all connections are compliant with the National Electrical Code (NEC) and Canadian Electrical Code (CEC).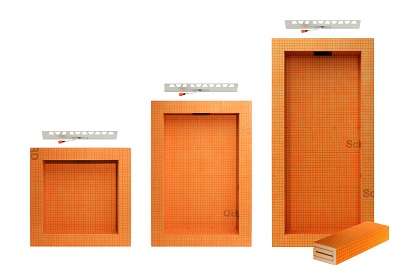 The simple 3-step system is comprised of the niche with integrated LED lighting, the power supply, and cables specifically designed to ensure a watertight connection. The KERDI-BOARD-SNLT niche is designed for a vertical installation and is available in 3 sizes: 12″ x 12″, 12″ x 20″, and 12″ x 28″. Each niche incorporates a mounting profile with a LIPROTEC LED light strip that is evenly diffused along the length of the tube for a uniform line of light. The light strip provides a warm, white light measuring 3000K and a superior Color Rendering Index (CRI) of 95+, ensuring that tiles, décor, and even skin tones are rich, vibrant, and natural. The niche also features a pre-installed waterproof cable connection box to ensure the electrical connection is code compliant.
Two versions of the power supply are available: LIPROTEC-ECX, an all-in-one LED driver and in-wall dimmer switch, or LIPROTEC-ECD, an inline dimmable driver that is compatible with a range of popular dimmer switches, including smart dimmers.
Finally, the LIPROTEC-CW cable is designed to connect the KERDI-BOARD-SNLT shower niche to the power supply. It features a pre-installed waterproof snap-in gland for a secure connection to the niche.
The new KERDI-BOARD-SNLT shower niche integrates perfectly with the Schluter®-Shower System for a bonded waterproof assembly. Schluter-Systems is proud to grow its line of shower systems products, allowing homeowners to customize the shower of their dreams.
---
About Schluter®-Systems
Schluter®-Systems products are specifically designed for the tile industry to ensure that installations maintain integrity and durability. The company's product line includes over 6,000 items, including tile trims, uncoupling membranes, waterproof building panels, shower systems, and thin-set mortar. Schluter-Systems is renowned for its state-of-the-art technology with attention to detail for highly functional and visually appealing results. For more information, visit Schluter.com.