PROFILITEC, Italian producer of state-of-the-art floor profiles and related installation solutions, introduces FLOORTEC, its new uncoupling membrane intelligently developed for​ better, faster​ and stronger installations.
Floortec™ is a high-performance, durable uncoupling membrane to be installed under any tile installation. Its key features include:
Round-shaped mortar columns for maximum load support contributing to "extra heavy" (14 cycles) rating on the Robinson test method (ASTM 627 over 19.2" wood joist structure)
"Lay-Flat" technology to minimize curling
Translucent to monitor thin-set coverage
Textured surface for stronger thin-set adhesion allowing chalk lines to "hold"
Round-shaped surface configuration for better overall workability
"Clearly, the round-shaped mortar columns make the difference with this product," stated Greg Gelston, President of Profilitec. "Think of columns in a building. They are most notably circular​,​ which by the natural laws of physics​,​ will evenly distribute the entire load's weight versus​ a​ square​ column​."
The introduction of Floortec™ reinforces the company's commitment to its ​positioning as the "Choice of the Professional​.​"
Gelston concluded, "We strive to offer the most advanced engineered products, all of which are​intended to solve real-time problems within the industry. Real solutions for real issues."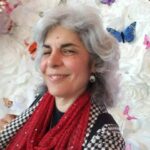 Editorial Director and Senior Writer for TileLetter and TileLetter ARTISAN
Lesley Goddin has been writing and journaling since her first diary at age 11. Her journey has taken her through a career in publishing and publicity, landing her the editor position of TileLetter and its special publications in 2006. Her goal is to educate, inspire, recognize and encourage those in the tile industry -- especially the tile and stone contractor. Other interests include the soft, purring marvels known as cats, labyrinth walking, drumming and percussion, and a range of spiritual, musical and artistic pursuits.