"We are what we repeatedly do. Excellence, then, is not an act, but a habit."
– Aristotle
Things are happening fast and furious at TileLetter and NTCA. This week, we just sent the first TileLetter ARTISAN issue to the printer and – with this Editor's Letter – are putting the wraps on May.
There's a feeling of movement and activity this spring, and it's not just the blossoms bursting forth on the trees. After a year of relative isolation, vaccines are bringing hope to many people around the world and we looking forward to more in-person connection with family, friends and business associates that we've only seen via virtual platforms on our phones or computers.
As evidence of that, both The International Surfaces Event, scheduled for Mandalay Bay in Las Vegas, Nevada, June 16-18, and Coverings 2021, set for July 7-9 at the Orange County Convention Center in Orlando, Fla., are moving ahead in-person as planned. You'll find information in our News section about registration and programming at these events, and our Training and Education section gives you the low-down on NTCA training events scheduled at these two shows. If you are going to either (or both!) shows, be sure to swing by and catch a world-class demo or session in Vegas or Orlando. And check out this story on tileletter.com to learn about the NTCA Artisans in Tile Florida-themed mural project set to unfold during the Coverings show: https://bit.ly/3uycLEG.
Is an installation job of yours facing a tile inspection? Read what Tile and Stone Consultants' Kent Klaser has to say about what inspectors look for on a job in our Technical feature, and how to inspection-proof your installations from the get go.
There's a buzz about drones lately, and their usefulness in a myriad of ways for general and tile contractors on their jobs. "Applied Drone Technology," an online course taught by Dr. Joseph Burgett of Clemson University is designed for contractors as a one-stop shop to teach contractors everything needed to start using drone technology. Check it out in our Business section.
May shines a spotlight on several NTCA members. First, Matt Blood, of Paragon Tile Installation in Cumberland, R.I., specializes in high-end work. Trace his career path from his tentative beginnings in tile in 2001 to the excellence he embodies in his work in our Member Spotlight.
Next, NTCA Executive Director Bart Bettiga interviews Schannon Yodice, who owns and operates Atlantis Construction with boyfriend Chris Ortega in Houston, and works with Paul Luccia at Cabot & Rowe. As Schannon Violet, she also has a large following on social media. Learn about her journey from growing up with a stonemason dad to graduating college with an accounting degree to seizing her passion in the tile trade in our One-to-One section.
Another NTCA member, Carl "The Flash" Leonard of Cutting Edge Tile, Inc., in Florence, N.J., shares details in a case study about a bewitching bathroom that combines scribing, stellar design, and custom detailing to make the project special for his client.
Last but not least, in our cover story, Nick Schiffer, owner of NS Builders in Eastern Massachusetts, describes how Schluter materials helped the builder meet numerous challenges in a project that called for an oversized shower with a separate bathtub, giant slab tiles, one wall of floor-to-ceiling glass with a hinged glass door, four exterior windows inside the shower/tub area, steam, and curbless entry.
Thank you for taking time out of your busy day to spend with TileLetter. Got an idea for a future story, or a yen to write one? Contact me at the email below!
God bless,
Lesley
[email protected]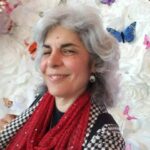 Editorial Director and Senior Writer for TileLetter and TileLetter ARTISAN
Lesley Goddin has been writing and journaling since her first diary at age 11. Her journey has taken her through a career in publishing and publicity, landing her the editor position of TileLetter and its special publications in 2006. Her goal is to educate, inspire, recognize and encourage those in the tile industry -- especially the tile and stone contractor. Other interests include the soft, purring marvels known as cats, labyrinth walking, drumming and percussion, and a range of spiritual, musical and artistic pursuits.