The Tile Artistry Coloring Book, which features art tile designs to color, was published by the National Tile Contractors Association right before the 2021 holiday season, and is available on its online store. Conceived as a fundraiser for The Tile Heritage Foundation (THF) and Ceramic Tile Education Foundation (CTEF), with printing sponsored by LATICRETE, the books have already raised $3,144 for each THF and CTEF.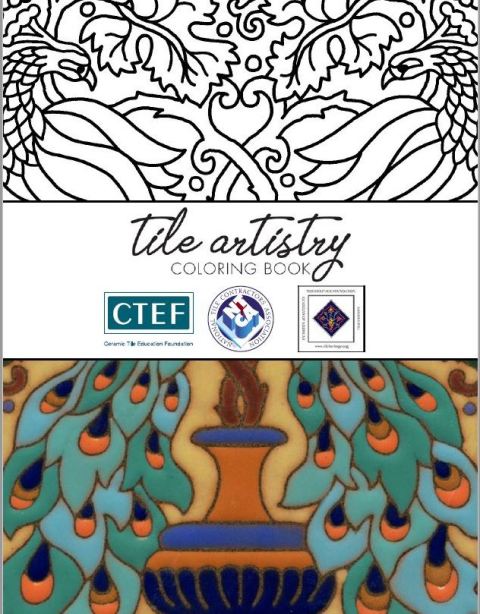 Sheila Menzies and Joe Taylor of THF were "so appreciative of being a 'beneficiary' of its success – along with CTEF. Thank you NTCA for so generously sharing the profits from selling the coloring book – it 'hit a chord' with many — just amazing, end-of-year, much-appreciated funding windfall for Tile Heritage! You guys are the best!"
Brad Denny, Executive Director of the CTEF, remarked, "Art begets Art! Support is always appreciated, but when it comes from clever efforts like the Tile Artistry Coloring Book it is an extra special blessing. The donations generated by this campaign will be used to further the opportunities for more education, training, and certification for the tile industry through the programs of CTEF. The people's lives we touch eventually grasp the incredible opportunity for tile art at some point in their career and the Tile Artistry Coloring Book is a wonderful representation of it!"
Menzies and Taylor mailed over 60 books to THF supporters, friends and advocates and have received "delighted" responses from people and inquiries, with questions like:
What are the best color pencils to use?" (Conte or Prang)
Is the paper thick enough to take watercolor? (Yes!)
I want to use the designs to make a whole patchwork quilt or myself – the line art is all there- is that OK? (Yes! That sounds beautiful!).
Menzies and Taylor also reported many more comments about "about how calming it is to color, and fun to see the actual original glaze colors of the real tiles."
"We are well aware of the technical skills with Illustrator that were necessary to separate and strip back the vector layers to become line drawings for the coloring book," they said. This is a "labor of tile love — great work!"
All funding the Foundation receives supports managing and safekeeping Tile Heritage's valuable and irreplaceable collections. Menzies and Taylor called this "our life's work — preserving the stories, tiles, installation images and documents about the life and work of all the people and diverse aspects of the American tile industry, past and present."
They continued, "Tile Heritage staff and volunteers, their thousands of hours [of work], are sustained by your support. They are passionate in their dedication to document and continue to develop the index of THF holdings for posterity."
Denny added, "CTEF would like to say a very special thank you to the NTCA for the time, vision, and expertise provided by TileLetter Art Director Michelle Chapman and Lesley Goddin, Editor of TileLetter and originator of the concept."
Interested in supporting THF and CTEF through the relaxing practice of coloring? Click here and purchase a Tile Artistry Coloring Book of your very own, or plan to give them as gifts for birthdays and special occasions in the new year.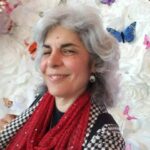 Editorial Director and Senior Writer for TileLetter and TileLetter ARTISAN
Lesley Goddin has been writing and journaling since her first diary at age 11. Her journey has taken her through a career in publishing and publicity, landing her the editor position of TileLetter and its special publications in 2006. Her goal is to educate, inspire, recognize and encourage those in the tile industry -- especially the tile and stone contractor. Other interests include the soft, purring marvels known as cats, labyrinth walking, drumming and percussion, and a range of spiritual, musical and artistic pursuits.