The International Surface Event (TISE) Live Virtual kicked off yesterday with a range of presentations, talks and opportunities to visit virtual exhibitor booths and conduct virtual meetings.
A shining feature of the event is its educational program. One of the educational conferences given in the Converge program on Tuesday was "Overcoming the Challenges of Existing Conditions for Tile,"  presented by the Ceramic Tile Education Foundation's Director of Certification and Training Scott Carothers, with questions facilitated by NTCA Trainer Rodd Roderick.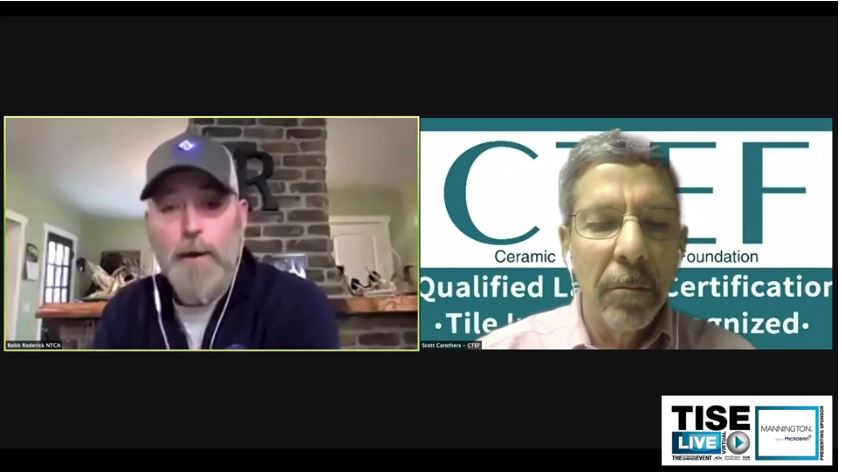 Carothers examined the many considerations that need to be addressed before beginning an installation, beginning with familiarity with the ANSI standards and the TCNA Handbook for Ceramic, Glass and Stone Tile Installation. He reviewed the various factors to be evaluated at a job site, including proper placement of wood studs, the condition of the concrete floor, contraction joints, low spots in the subfloor that may need to be patched, pipe placement, curing compounds and bond breakers. The presentation was followed by a question and answer session moderated by Roderick.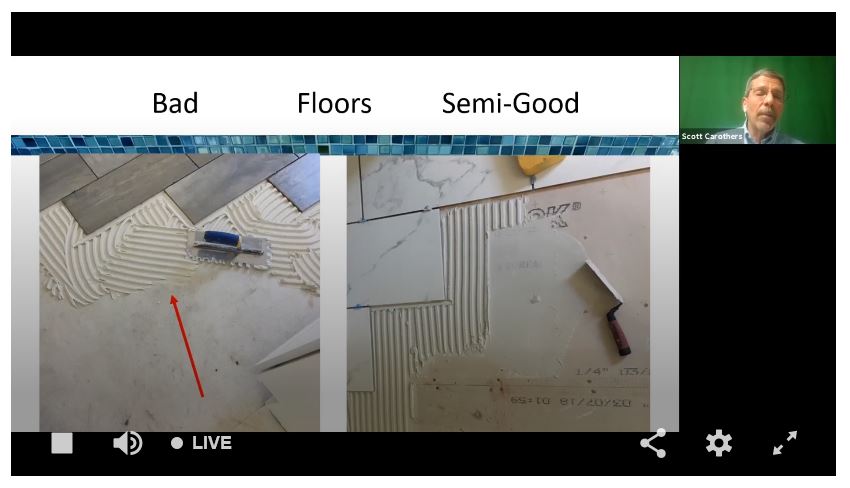 This afternoon, on the Converge virtual stage was another conference entitled, "Things that Compromise a Good Tile Installation," again presented by Carothers. The range of topics that Carothers explored included  having a well-prepared and flat substrate,  failures caused by onsite environmental conditions such temperature and wind, as well as questionable installation tricks that do not work. He demonstrated how warped tile can create unsightly and dangerous lippage, and how improper application of thinset leaves voids which makes tile prone to cracking under loads, as well as the folly of using thin-set or large-and-heavy mortars as patching compounds. He reviewed proper troweling technique and direction, the perils of the lack of movement accommodation,  proper temperatures for working with cement-based and epoxy mortars as well as wall membranes, plus the tripping hazards posed by lippage of floor tile, and the trashy appearance of tiled walls resulting from badly- placed wall wash lighting. The presentation was punctuated by several videos, and Carothers fielded questions at the end.
Both these valuable talks, as well as many others in the education program, are recorded and can be viewed on demand at the Live Stage tab at the TISE Live Virtual website.  Tomorrow, in the Converge program is a presentation at 11:30 a.m. ET on "Planning Your Layout" presented by the National Tile Contractor Association and "Concrete Moisture, It's Not Just Vapor," scheduled at 1 p.m. ET.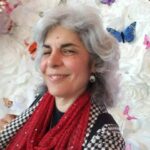 Editorial Director and Senior Writer for TileLetter and TileLetter ARTISAN
Lesley Goddin has been writing and journaling since her first diary at age 11. Her journey has taken her through a career in publishing and publicity, landing her the editor position of TileLetter and its special publications in 2006. Her goal is to educate, inspire, recognize and encourage those in the tile industry -- especially the tile and stone contractor. Other interests include the soft, purring marvels known as cats, labyrinth walking, drumming and percussion, and a range of spiritual, musical and artistic pursuits.