Good works and camaraderie enjoyed while renovating Madison Fields in Dickerson, Md.
By Lesley Goddin
Madison Fields (madisonfields.org) in Dickerson, Md., is a fully functional farm that offers an inclusive environment where adults and children – many with special needs – can play, learn, and work together. Among the features of the farm is an Equestrian center that fosters a nurturing and healing partnership between horse and rider that benefits children and adults with autism, developmental disabilities, wounded veterans or the local community.
For 10 days at the end of October 2017 into early November a group of 15 tile installers who are members of the Tile Geeks Facebook group came together to donate their time and expertise to renovate various areas of the farm – almost 3,000 sq. ft. in all.
Justin Kyle, owner of Kyle's Tile in Ocean View, Del., a Tile Geek administrator and NTCA member, set this plan in motion a year prior. He was inspired while at a training session, working with many fellow setters.
"I came to the realization that the same people in our group would travel to conventions and training events at different places in the country," Kyle said. "We go to classes, drink some beers, walk through the conventions, but never really had a chance to work together. So I came up with the idea of finding a good charity project to do that would give us the chance to get together like we enjoy anyway, and out of that some good could come."
After a flurry of emails to children's charities that went unanswered – and a rough poll of Geeks who might be interested in such an endeavor – Kyle received a response from Madison Fields in April 2017, expressing needs that could be met by the tilesetting group. And it just so happened it was virtually in Kyle's backyard.
"I was willing to organize this project anywhere in the country," Kyle said. "With Madison Fields only a three- hour drive away, I was able to plan and arrange everything better than I had hoped."
The original scope of work morphed from a "bunch of bathrooms in an extra house that the foundation was trying to buy on a property next to the farm," Kyle said. That deal fell through, but instead there was a need for much more tile work in other parts of the farm, including four bathrooms, a tile floor in the barn itself, and a large floor in one of the resident houses.
Donations: labor and materials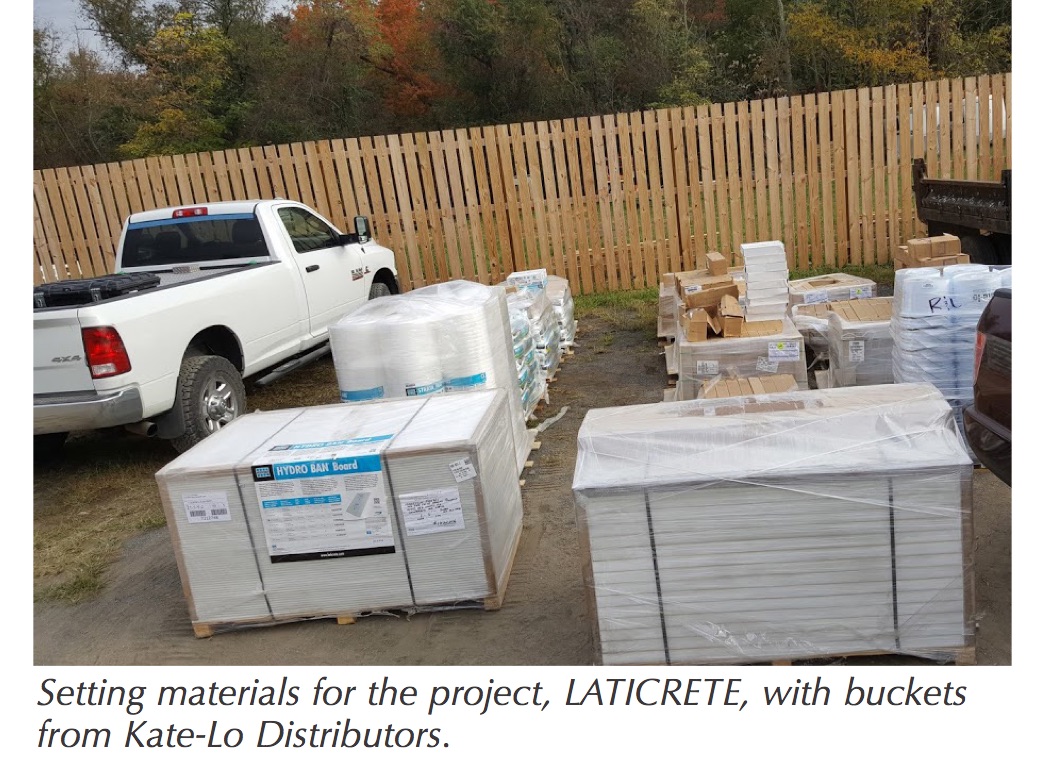 When Kyle first hatched this notion, he ran it by those Tile Geeks on a shuttle bus with him at a training class. He got enthusiastic responses, so he set up a separate Facebook group (The Tile Geeks Project) and added the people he thought might be interested in doing it. "From there it just blossomed," he added.
Those who attended came from all over the country: LATICRETE rep, Jeff Kimmerling, Milwaukee, Wis.; Dennis Pacetti, Pacetti Tile and Remodeling, Inc., Huntingdon Valley, Pa.; tile setter James Morris, Philadelphia, Pa.; Paul Luccia, Cabot & Rowe, Houston, Texas; Ulas Maris, Maris Tile Pro, East Moriches, N.Y.; Metin Gungor, Dekor Construction, LLC.,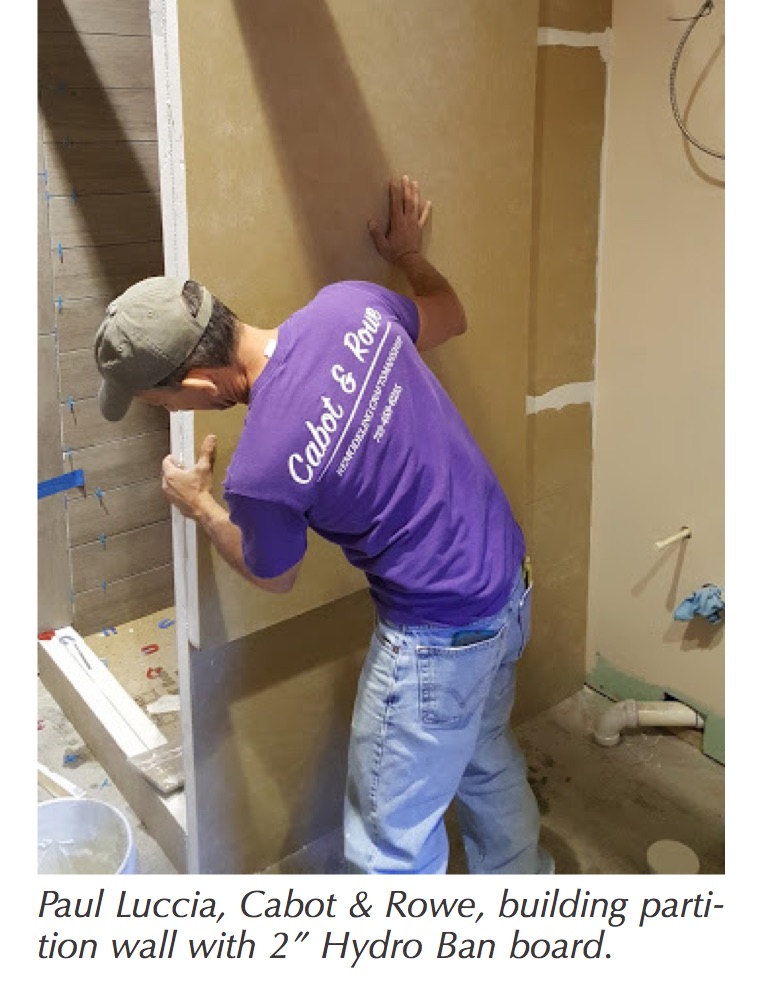 Columbus, N.J.; Jon Appleby, Appleby Custom Tile, Bucyrus, Ohio; Joe Lenner, Infinite Ceramic, Emmaus, Pa.; tile setter Jim Garbe, Schenectady, N.Y.; Joseph Dantro, On All Floors, York, Pa.; Dan Kramer, DKCT, Inc., Buxton, N.C.; Stephen Belyea, JSG Tile and Stone, Weymouth, Mass.; tile setter Bethany Sheridan, Sterling, Va.; Carl Leonard, Cutting Edge Tile, Roebling N.J.; and George Maneira, New Age Stone, Jackson N.J.
A variety of setting materials was used on this project including: Strata_Mat™, Hydro Ban®, Hydro Ban® Board, Hydro Ban® Sheet Membrane, Hydro Ban® Flange Drain, Hydro Ban® preformed shower systems including curbs, and corners, Hydro Ban® Adhesive & Sealant, 3701 Fortified Mortar, PERMACOLOR® Select grout, Tri-Lite™ mortar, and more.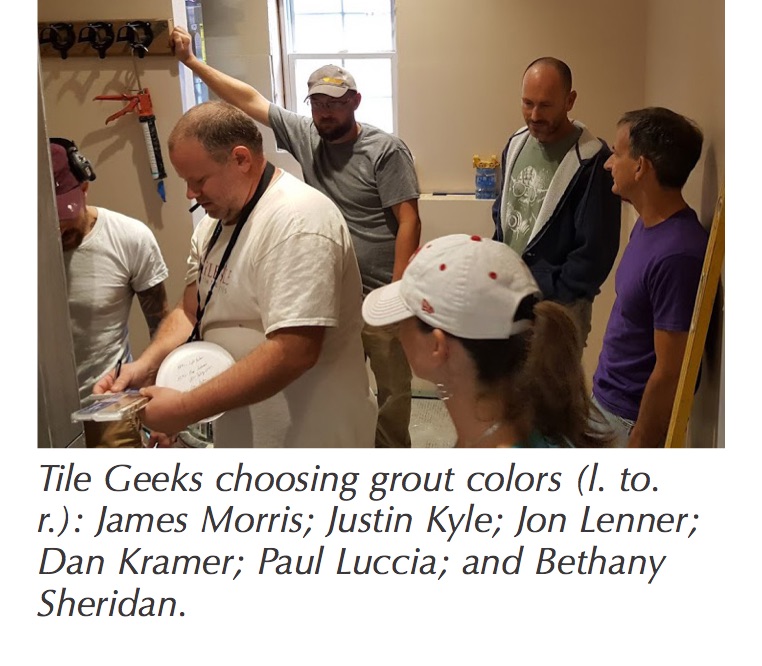 These installers footed the bill for their own transportation and took time away from their businesses to work together for the greater good. As it turned out, there was lodging available in the historic farmhouse that dates back to the early 1800s where the group was able to stay for most of the project. That was a boon for the bonding of the group. "If we had to go to a hotel, the majority of our down time would have been spent in our rooms," Kyle said. "Having use of the farmhouse gave us a center base to work from. We could go out to dinner and then come back and sit around the living room and talk shop. It was really a fun experience."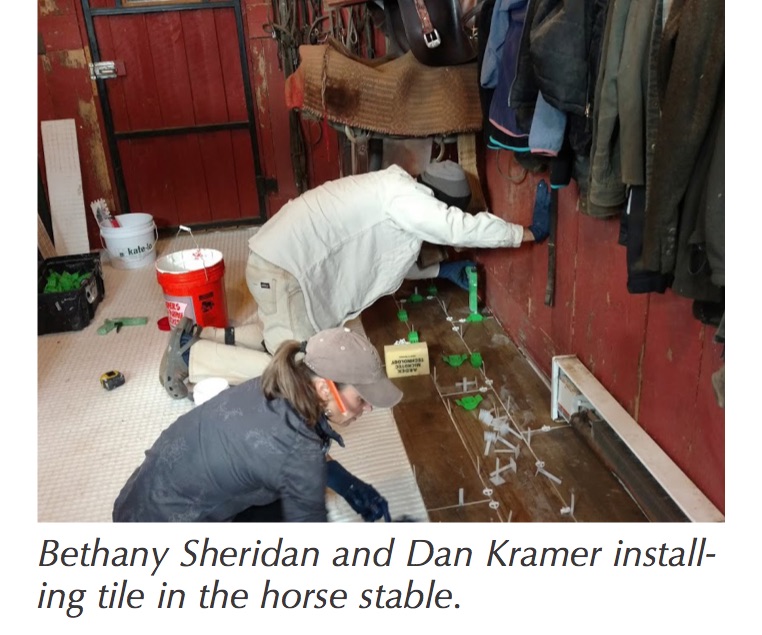 Donations of materials were another story. Since the project was established right before Coverings, Kyle had the chance to speak with Noah Chitty of Crossville in person in Orlando to ask for donations. Crossville was very generous with their tiles, donating 3,000 sq. ft. tile from multiple series for the project, including Nest, Notorious, Speakeasy, Cotto Americana, and Virtue.
Likewise, Kyle had been in contact with LATICRETE's Ron Nash about this effort, who gave "his blessing. I even got to sit down with Henry Rothberg and he said whatever we need is ours," Kyle said. In fact, LATICRETE wound up sending materials above and beyond what was requested, which wound up coming in handy when some unexpected situations cropped up later.
"We asked LATICRETE for what we expected to need," Kyle said. "They sent out some extra materials including the new 257 Titanium thinset, and 2" Hydro Ban board, which was put to good use.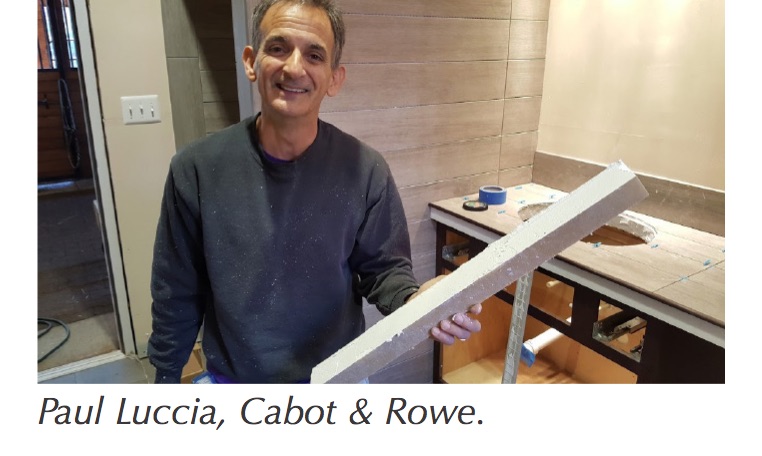 "It was an important step, because without setting materials and tile, we couldn't do anything," he added. "But once I knew those two companies were on board, it was just a matter of getting all the details figured out."
Beyond the donations of labor and materials, Kyle knew that a "slush fund" account was needed for incidentals like plumbing and vanities. To address this, Kyle established a silent auction and Tile Geek members donated items to be auctioned off. Contractors Direct and Norton donated saws, and J&R Tile donated an iQ dustless saw; Shannon Huffstickler from Schluter was instrumental in donating three shower kits, and MLT's Mick Volponi donated several MLT kits also. All items were sold to the highest bidder, which allowed the group to have some cash to work with.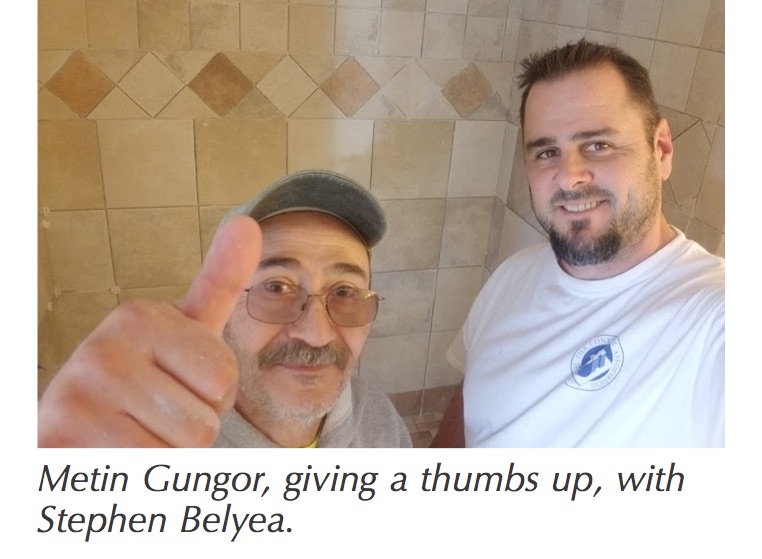 "To top it off, Justin Ernst of Minnetonka Minn., contacted Kate-Lo Tile and at his request, they shipped a pallet of buckets to the jobsite for us to use," Kyle said.
In addition, iQ itself donated an iQTS244 dustless saw to the effort that was used on site and then raffled off at the project – Ulas Maris held the winning number!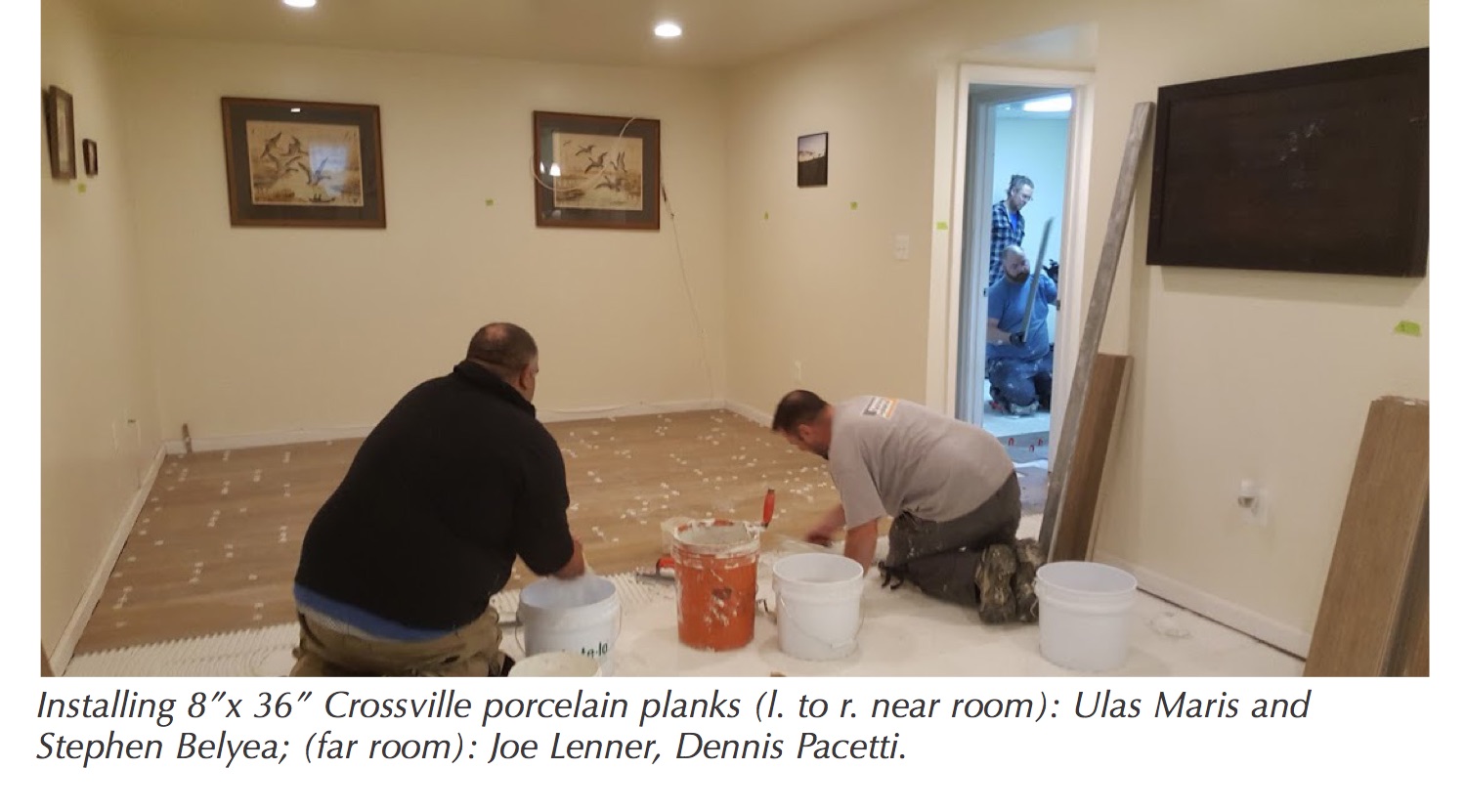 Working together to meet challenges
Kyle had some concerns bringing so many "Type A" personalities to work together. But it all worked out, he said. Setters buddied up to work on different areas of the project and when they finished, jumped right in to other areas where work was still under way. "We all just blended together as I hoped," Kyle said.
In fact, Jim Garbe said, "For me, the best part of it was the amazing way that the planning and execution fluidly evolved constantly as the situations were assessed and re-assessed when demo commenced and often revealed things that were worse than we expected them to be. Instead of one large job, it was 10 small ones going on all at once with a limited time frame and constantly fluctuating labor force," Garbe added. "The ability of everyone to problem-solve and switch gears to be what the current task required was simply amazing to behold."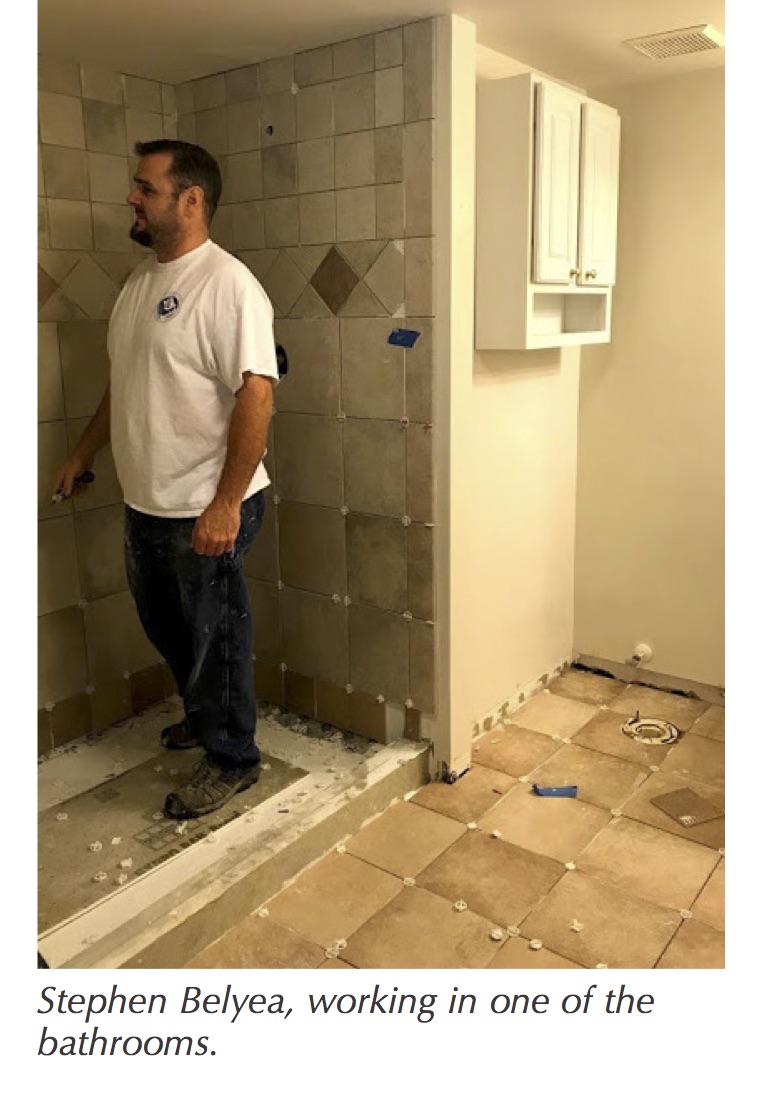 The project was not without challenges however. "The biggest challenge was knowing that we were on a set time frame that we had to meet and since we had not demoed anything, we didn't know what was behind, and under the existing materials," Kyle said. "There was no new construction. It was a complete remodel."
Having the materials on hand made things better, Kyle said, even materials that had not been on the original wish list. For instance, the one bathroom in the horse stable was a bathroom someone had tiled improperly. It has a curbless shower, with no slope to the drain, tile stuck to the wall over drywall, and no waterproofing. The Tile Geeks team went in and ripped it all out.
"We didn't have the room to do a true curbless shower as they had intended, but we were able to build partitions with some of the 2" Hydro Ban board, and make a vanity with the Hydro Ban board," he said. In addition, "We did a large floor with a failed floating laminate job on top of it," he continued. "We ripped that out only to find that the original slab had cutback on it. We ended up having some 257 Titanium, LATICRETE's new thinset there. We knew it would bond to cutback, so we used it to install Strata_Mat. That saved us time from having to grind or scrape the floors."
Camaraderie – an added bonus
In the end, the project was win-win – delivering renovated spaces for the organization and a time of connection and camaraderie for the setters.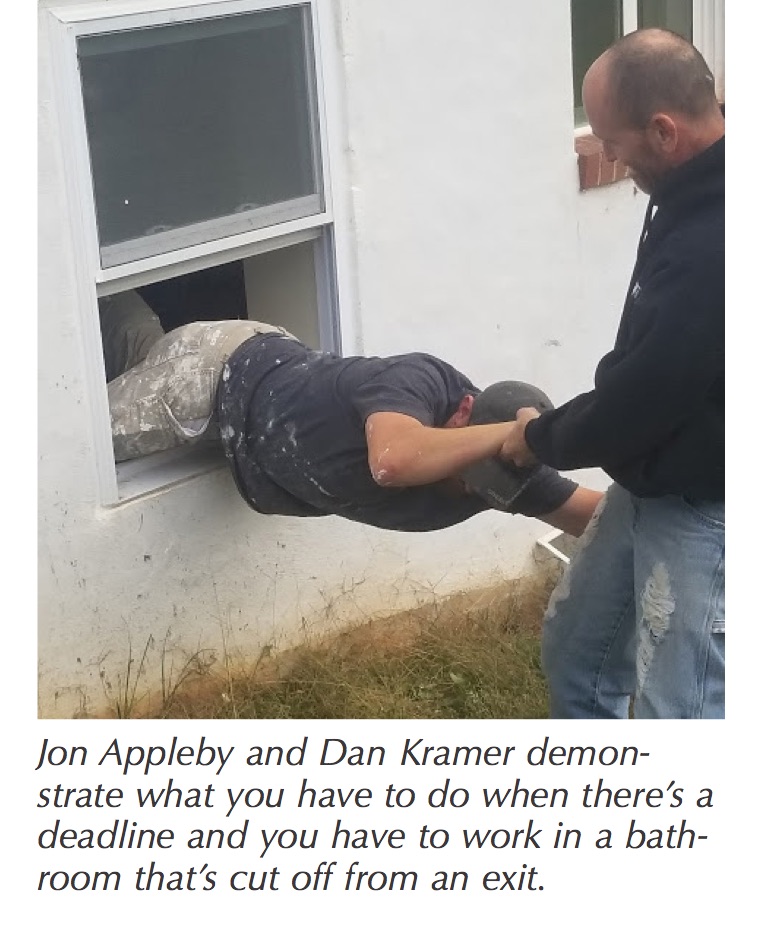 "Tile Geeks Project was my first priority for the year of 2017," said Ulas Maris, who enjoyed reuniting with Tile Geek friends and meeting some he only knew by name online. "I was looking forward to being there and sharing my skills helping out people in need… It would not be possible for us to be there if we didn't mean it for real in our hearts. We all wanted to be there and be part of it."
Tile setter Bethany Sheridan from Sterling, Va., added, "I enjoyed working with a team that accomplished so much in a short period of time, all for a good cause. It was also great getting to know my online friends from Tile Geeks. I would certainly do it again."
Stephen Belyea, a NTCA State Ambassador as well as a Tile Geek member, said, "It was a pleasure to be a part of the Tile Geeks Project.  It was very rewarding to donate my time to the Autism Foundation. It was a bonus to do so with such a great group of people. Everybody that was willing to donate their time was also there with a great attitude. We all came from different places and different backgrounds, but we all had the same goal. We were all positive and willing to work hard and do what it takes to get the job done.
"It is nice to learn different techniques from different people," he added. "I enjoyed being around people who are as passionate about tile as I am…We would spend quality time at each meal having great conversations. Sitting by the fire having a drink after a long day of work was great. I look forward to doing this again and hope the same caliber of people show up."
"It's amazing to me, anytime I get together with tile guys, especially the ones willing to donate their time and effort to something like this, I'm struck by the fact that they are simply really cool people," Kyle said. "They are obviously intelligent in the tile field, but that also filters into other aspects of their personalities. I find the same thing when I go to conventions. I'm amazed at how well we all get along."
Garbe added, "The opportunity to work with these people was as good as I expected it to be,
and I would do it again in a
second."