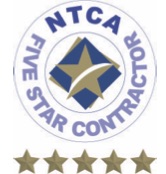 Trostrud Mosaic & Tile Co., Inc., was founded in 1929 by Earl J. Trostrud Sr., originally concentrating primarily on residential construction as it worked hard to create a solid reputation.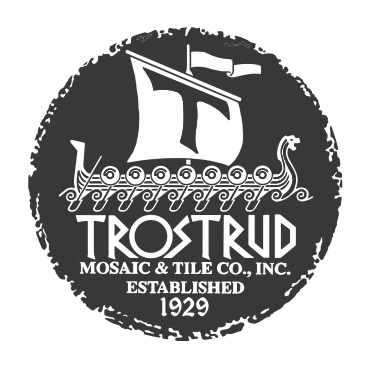 At the end of 1939, with the outbreak of war in Europe, the company temporarily closed, and Earl Trostrud Sr. went to work making aircraft engine parts, and in the construction department of Kraft Foods. In postwar 1946, Earl Trostrud Sr. reopened Trostrud Mosaic & Tile Co., Inc., still focusing on the residential market and building its reputation for quality and craftsmanship.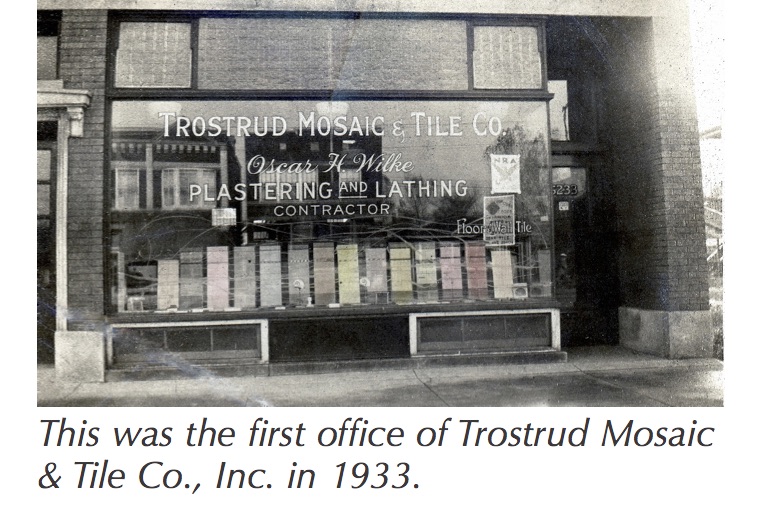 In 1957, Earl Trostrud Sr. started pursuing commercial contracts and was awarded several gas station projects. These successful projects whetted the appetite for more commercial work.
In the spring of 1958, after graduating St. Olaf College in Minnesota, Earl Trostrud Jr. joined his father in the tile business and they both pursued commercial contracts, with the same ethics of quality workmanship, integrity and honesty that the company was founded on. They committed to treating everyone – no matter your role in the company or as a business partner – the way they would want to be treated.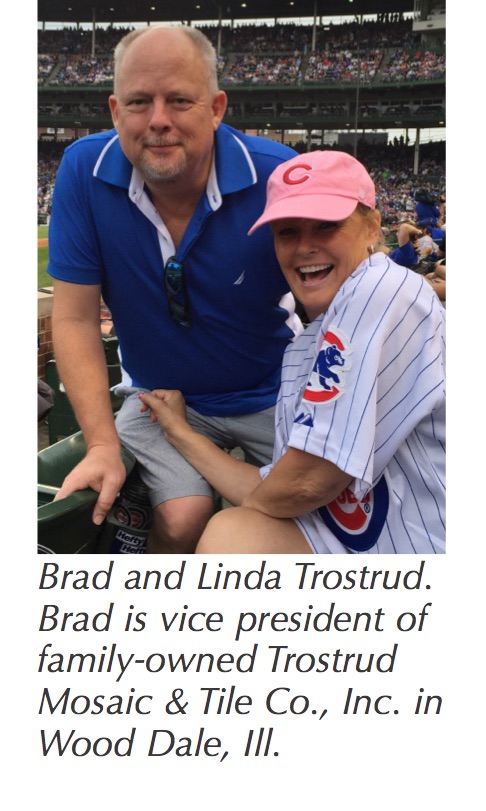 In the summer of 1975, Earl Trostrud Sr. retired from the tile business. Ten years later – after graduating from University of Wisconsin Stout with a major in industrial design/product design and a minor in graphic design, and working in these fields – his grandson Brad Trostrud decided to give estimating a six-month try, working alongside his father Earl Trostrud, Jr.
Brad relished the opportunity to work with his father and to strengthen the bond. By now the company, based in Wood Dale, Ill., had grown to be 15% high-end residential and 85% commercial. It turned out to be a rewarding decision for both of them. Earl, now in his early '80s, is still working every day, and holds the title of president. Brad is the vice president.
Earl and Brad have always been very active in the Ceramic Tile Contractors Association of Chicago (CTCAC) and Tile Contractors Association of America (TCAA), both serving in every position. Earl helped found the Chicago Tile Institute promotion fund to uphold the value of union-installed tile and stone. Earl is also the chairman for the Pension and Welfare fund since 1990, and served as a Zone Director for the TCAA in the '70s. In 2013, Earl was awarded the Carl V. Cesery Award that recognizes distinguished service to the tile industry.
Brad serves on The National Tile Contractors Association (NTCA) Technical committee and Tile Council of North America (TCNA) Handbook committee. Brad was also involved in the creation of Advanced Certifications for Tile Installers (ACT), a certification program to provide a level of consumer confidence for installation procedures that exceed ANSI Standards and TCNA guidelines. Brad has also served as director, treasurer and now is president elect for TCAA.
Joining NTCA
Brad came to NTCA through a Trowel of Excellence/Five Star Contractor meeting at the Crossville plant a few years ago, where he met Artcraft's James Woelfel and David Allen Company's Chris Walker.
"James and Chris are two of the sharpest minds in the tile industry I have ever known," he said. "By the time I left Tennessee, I felt like we were all old friends. "
Brad also met Welch Tile & Marble's Dan Welch, David Allen Company's Martin Howard, Cox Tile's John Cox and CTEF's Scott Carothers in 2013, at the first Total Solutions Plus to include TCAA in Scottsdale, Ariz. "What a group of wonderful gentlemen, not afraid to share the great knowledge they have acquired during the years in our industry," he said. "Getting to know them over the years has been a great blessing. So after a time, I felt compelled to join their NTCA."
Since union setters and finishers go through an extensive apprenticeship program, CTI certification wasn't a requirement for Trostrud's Five Star Contractor status – NTCA's 50th Five Star – but the company has five ACT-certified setters nonetheless, one of whom was tapped by the union to be the Chicago-Midwest head instructor for the BAC IMI.
Trostrud Mosaic & Tile Co., Inc., has been honored with various awards over the years, most notably the International Union of Bricklayers and Allied Craftworkers Craft Award for Best Mosaic in 2015 and best Tile Project in 2008. It also received TCAA's 1st Place Commercial Project award and achieved Trowel of Excellence certification in 2012. It contends that it employs the best union trade installers in the business. The company – which has grown to 90% commercial – holds as its top priority providing the best tile installations
possible.
"We are not interested in being the largest or the least expensive tile contractor – we will not compromise on quality – we just want to be known as the best," Brad Trostrud said.