"It seemed funny to me that the sunset she saw from her patio and the one I saw from the back steps was the same one. Maybe the two different worlds we lived in weren't so different. We saw the same sunset."  – The Outsiders, S.E. Hinton
At this writing, we are a little over three weeks out from Coverings, where we will all meet together at the Orange County Convention Center in Orlando, Fla. Some of us saw each other earlier this year at TISE in Las Vegas, but for many, Coverings is the annual tile industry family reunion. And this year promises some new activities and experiences while reinforcing our common allegiance to an industry we love.
One experience I know all of us would like to avoid, though, is bringing home anything other than inspirations and new ideas – and I mean viruses or bugs. To that end, this issue's Workplace Wellness article is for all of us – it contains some common sense tips for keeping viruses at bay and retaining robust good health while we meet and greet our industry friends.
Contributing writer Amanda Mourelatos profiles Greg Michael, of Michael's Custom Tile in Jacksonsville, Fla., in our Member Spotlight story. And in our Technical story, CTEF's Scott Carothers walks us through the dedicated and sometimes arduous process of updating the ANSI A108 document that is so important to our industry.
CTEF's Brad Denny waxes philosophical about interactions that sometimes take place in our industry, through the context of the 1967 classic novel by S.E. Hinton – The Outsiders. Greasers or Socs – do you identify with either group – and do you see a bridge to transcend perceived differences? Read what Brad has to say on the subject.
Bryan Park, of the Footprint Floors franchise that has grown to 175 locations since its inception in 2008, shares his unique vision with Bart Bettiga in this month's One-to-One story.
And in our cover story, Sika goes above and beyond to bring an innovative commercial solution to a stunning new Fort Lauderdale residence with a 180-degree exposure to the intracoastal waterway.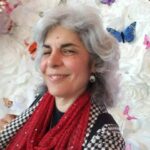 Editorial Director and Senior Writer for TileLetter and TileLetter ARTISAN
Lesley Goddin has been writing and journaling since her first diary at age 11. Her journey has taken her through a career in publishing and publicity, landing her the editor position of TileLetter and its special publications in 2006. Her goal is to educate, inspire, recognize and encourage those in the tile industry -- especially the tile and stone contractor. Other interests include the soft, purring marvels known as cats, labyrinth walking, drumming and percussion, and a range of spiritual, musical and artistic pursuits.