WASHINGTON, Nov. 1—National nonresidential construction spending increased 0.3% in September, according to an Associated Builders and Contractors analysis of data published today by the U.S. Census Bureau. On a seasonally adjusted annualized basis, nonresidential spending totaled $1.1 trillion.
Spending was down on a monthly basis in 9 of the 16 nonresidential subcategories. Private nonresidential spending increased 0.1%, while public nonresidential construction spending was up 0.5% in September.
"Nonresidential construction spending increased for the 16th straight month in September," said ABC Chief Economist Anirban Basu. "While some private categories, including power, commercial and amusement and recreation saw healthy month-over-month increases, publicly financed construction accounted for more than 72% of September's rise. Given increased federal infrastructure spending and exorbitant financing costs for private construction, that dynamic should remain firmly in place over the coming months."
"Despite a small decrease in spending in September, manufacturing construction remains the nonresidential sector's outperformer," said Basu. "Spending in the category is up 62% over the past year and accounts for nearly 43% of the year-over-year increase in nonresidential construction put in place. With several industrial megaprojects ongoing, spending in the manufacturing segment will remain elevated for several quarters."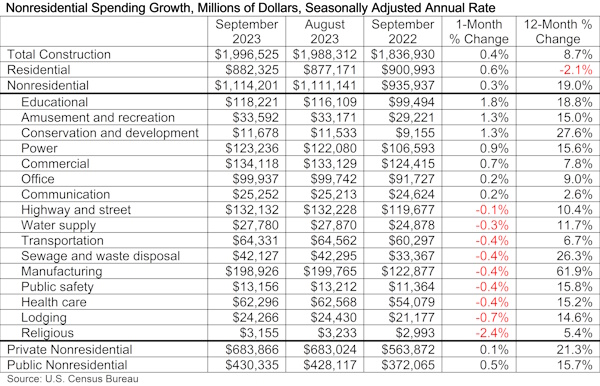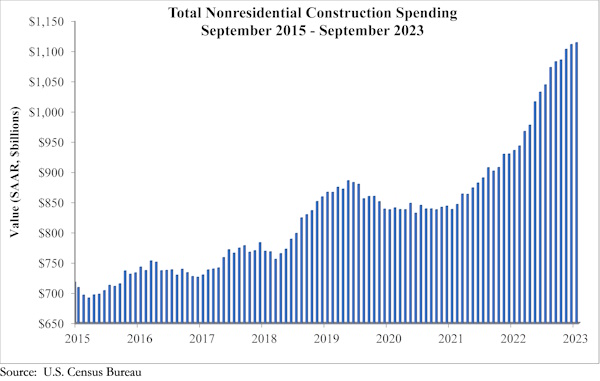 ---
Visit abc.org/economics for the Construction Backlog Indicator and Construction Confidence Index, plus analysis of spending, employment, job openings and the Producer Price Index.
Associated Builders and Contractors is a national construction industry trade association established in 1950 that represents more than 22,000 members. Founded on the merit shop philosophy, ABC and its 68 chapters help members develop people, win work and deliver that work safely, ethically and profitably for the betterment of the communities in which ABC and its members work. Visit us at abc.org.