HNA, Combined with Equip Expo, Brought the Industry Together for a Super-Charged Event
Louisville, KY – (Nov. 1, 2023) – The hardscape and landscape industry converged in Louisville, Kentucky October 18-20 for a record-setting Hardscape North America. More than 27,000 registered attendees from all 50 states and 46 countries came together to experience firsthand the latest products, equipment and technologies at HNA, which is produced by the Concrete Masonry and Hardscapes Association (CMHA), and the co-located Equip Exposition. 
Together, HNA and Equip offered more than 1,000 exhibits, indoors and out, with 207 HNA exhibitors accounting for 56,850 sq. ft. in the North Wing and West Wing of the Kentucky Exposition Center. In addition, many exhibitors offered hands-on opportunities in the Hardscape House, a 42,000-sq.-ft. pavilion adjacent to the 30-acre Outdoor Demonstration Yard.
Adam Goit, owner of Brookside Landscape and Design, brought his team from Bremerton, Washington. "We had a great time at HNA. It's awesome to be able to bring crew members with me," he said. "This is my 3rd time at the event, and I have learned something new every time. And I spend money every time on new tools to help make us more efficient and save wear and tear on the crews."
Education at HNA
Education opportunities spanned Tuesday, Oct. 17 – Friday, Oct. 20 with opportunities to learn about the latest technology, installation techniques and business-building strategies. Many of the sessions were approved for continuing education hours.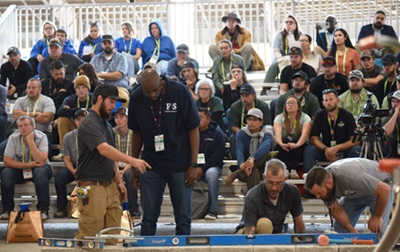 New on the education lineup were two sessions on natural stone, hosted by the Natural Stone Institute.
Arctic explorer Ben Saunders packed the room for Wednesday's dynamic Keynote. This session was included with HNA tradeshow registration.
86 attendees participated in the Pre-Show CMHA Installer Courses, which were held Tuesday and Wednesday at the Hyatt Regency Hotel downtown.
929 attendees upgraded their registration to include six Hardscape Demos on the latest installation techniques led by Local Roots Landscaping.
410 contractors and dealers purchased a VIP Pass, which gave them access to all 10 of the education sessions, the six Hardscape Demos and two hardscape workshops for up to a 50% discount.
HNA Competitions and Prize Winners
With more than $28,000 in prizes on the line, competition was fierce at the annual HNA Installer Championship in the Hardscape House. Twelve teams competed in the preliminary rounds on Thursday, with the top 4 teams advancing to the final competition on Friday. Each team was sponsored by a hardscape industry organization.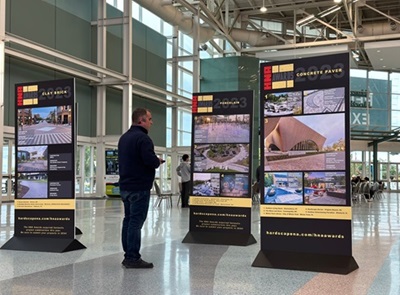 First Place: Pavers by Porter, sponsored by Outdoor Living Supply
Second Place: Mike Darling Construction, sponsored by Belgard – APG New England
Third Place: Epic Pavers, sponsored by Texas Regional Installer Championship
Fourth Place: Clearwater Summit Group, sponsored by Mutual Materials
The HNA Awards highlight outstanding hardscape projects in the U.S. and Canada and drew a record number of 219 entries. During the awards ceremony on Oct. 19, winners and honorable mention recipients were recognized in 18 hardscape categories. The list of winning entries is available at hardscapena.com/news/2023-hna-awards-winners-and-honorable-mention-recipients-announced.  
New this year was the HNA Cornhole Tournament. Over two days, nearly 40 teams of two competed for daily cash prizes. The top team each day, Josh Lovell and Derek Vincent from Vincent Lawn Care; and Casey Luckert and Jason Patrick from LEE Building Products, won $500. 
The HNA Mobile App Attendee Challenge sent participants on a quest to answer a variety of questions. The top 5 won gift cards: Kaci Frazer, Cold Creek Nurseries; Joshua Bowden, Williams Landscape & Design, Inc.; Nate Reams, Williams Landscape & Design; Ryan Linnekin, Williams Landscape & Design; and Ryan Ravalli, Techo-Bloc.
In the new West Wing Giveaways, HNA gave away an RTIC cooler each day. The winners were Scott Michaud, Chad Carner and Jon Dielman.
Exhibitors also held prize drawings in their booths. Among the winners were:
Savier Caballero, Caballeros Landscaping and Josh Schiffler, T & J Services LLC, who each won a LUME Surround Smoke-Less Fire Pit from AMD Direct Inc.
Jones Lawn & Landscape won a box of blades from Blades Direct.
HNA Sponsors
HNA's 2023 Platinum Sponsors are Belgard Hardscapes, Colmet, Halstead Media and Keystone Hardscapes. Gold Sponsors are Nicolock Paving Stones & Retaining Walls and Unilock. HNA is produced by the Concrete Masonry & Hardscapes Association (CMHA) and endorsed by the Brick Industry Association (BIA) and the Natural Stone Institute (NSI).
HNA 2024 will be held Oct. 16-18 at the Kentucky Exposition Center. Details will be available online at HardscapeNA.com and registration will begin in the spring with the $25 early bird rate. For information: (888) 580-9960 or [email protected].
---
About Hardscape North America
Hardscape North America (HNA) is THE hardscape show for contractors and dealers/distributors. Its focus is to bring top-notch education including certification courses, products and technology to contractors and installers who build segmental pavements and retaining walls and also to provide networking opportunities. HNA features indoor and outdoor exhibits displaying state-of-the-art tools and products and tradeshow floor demonstrations and offers the latest technology for contractors. To learn more about HNA, visit HardscapeNA.com or call (888) 580-9960.
About CMHAICPI-NCMA is now the Concrete Masonry & Hardscapes Association (CMHA). CMHA is the authority for segmental concrete products and systems, which are the best value and preferred choice for resilient pavement, structures, and living spaces. CMHA promotes the acceptance and use of segmental concrete products and systems in the United States and Canada. For more information, visit MasonryAndHardscapes.org.