WASHINGTON, Oct. 10—Associated Builders and Contractors reported today that its Construction Backlog Indicator declined to 9.0 months in September, according to an ABC member survey conducted Sept. 20 to Oct. 4. The reading is equivalent to one year ago.
View ABC's Construction Backlog Indicator and Construction Confidence Index tables for September. View the full Construction Backlog Indicator and Construction Confidence Index data series.
Though it declined last month, the South continues to have the lengthiest backlog, which has been the case since October 2021. Over the past year, only the West has experienced increasing backlog.
ABC's Construction Confidence Index reading for sales and staffing levels edged higher in September. The profit margins reading fell slightly. All three readings remain above the threshold of 50, indicating expectations for growth over the next six months.
"Construction continues to defy the downward gravitational pull of tightening credit conditions," said ABC Chief Economist Anirban Basu. "Despite high and rising project financing costs, ABC contractor members continue to report lofty backlog, rising employment, expanding sales and stable profit margins.
"That said, industry headwinds grow in force," said Basu. "Interest rates are still edging higher. Political dysfunction in Washington persists. Rising worker compensation costs and lingering supply chain issues are still frustrating industry performance and profitability. The U.S. economy appears poised to slow further. If the past is any indication, that will eventually catch up to construction in the form of dissipating demand. But economists have talked about recession for more than a year, and the industry still shows substantial forward momentum. It remains to be seen whether that momentum can survive the latest set of challenges."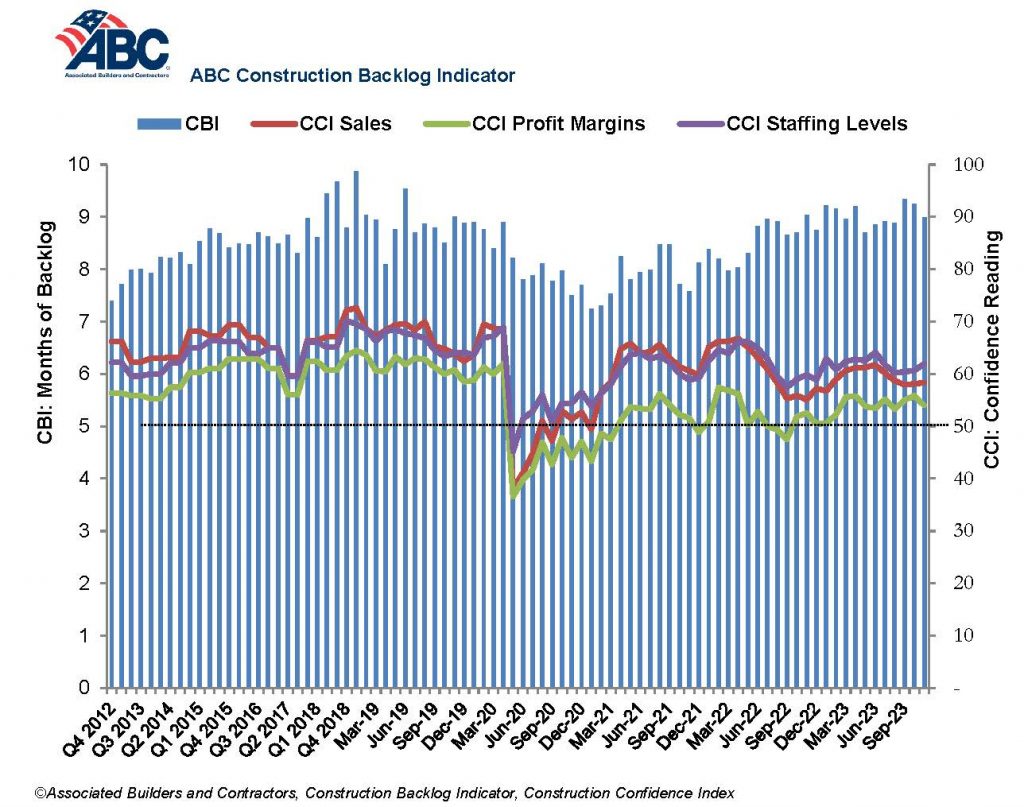 Note: The reference months for the Construction Backlog Indicator and Construction Confidence Index data series were revised on May 12, 2020, to better reflect the survey period. CBI quantifies the previous month's work under contract based on the latest financials available, while CCI measures contractors' outlook for the next six months.
---
Visit abc.org/economics for the Construction Backlog Indicator and Construction Confidence Index, plus analysis of spending, employment, job openings and the Producer Price Index.
Associated Builders and Contractors is a national construction industry trade association established in 1950 that represents more than 22,000 members. Founded on the merit shop philosophy, ABC and its 68 chapters help members develop people, win work and deliver that work safely, ethically and profitably for the betterment of the communities in which ABC and its members work. Visit us at abc.org.