World leader in architectural glass mosaic leaps into fashion design with unique, colorful new line of men and women's fashion and home goods
Allison Eden Studios, a world renowned designer of glass mosaic artwork for interior design, launches fashion brand at Bloomingdale's flagship NYC -59th St- 5th floor on Thurs. May 16th, 2019. Known for creating stained art glass wall coverings in vivid colors and bold patterns, these same techniques are translated into an innovative fashion concept. Allison Eden Fashion's introductory offerings include women's sportswear, dresses, men's neckties, bathing suits, home goods, pillows, bath towels, fabrics, textiles, raincoats, bedding, plates, bowls, beach bags, and hand made brooch pins. Sold online at www.AllisonEdenFashion.com.
Allison Eden Studios has designed glass mosaic artwork with leading architects and interior designers for major hospitality, casino, restaurant, and residential projects for over 20 years. Installations can be found in Macau, Dubai, Jamaica, and across the United States.


Bright colors and bold patterns identify Allison Eden's glass mosaic artwork. Designs which originally appeared as mosaics (Kaleidoscopes, Diamonds, and Pop Art Lips ) are reinterpreted with fantastic results as fabrics and textiles as original products of Allison Eden Fashion.
"I'm Baaaaaack !!!" says Allison Eden, who graduated Fashion Institute of Design and designed sportswear before starting her own mosaic art company in 1996. "After 20 years of designing stained glass artwork I have finally come full circle. My style is a psychedelic pop art blend of Emilio Pucci, Andy Warhol, Lily Pulitzer, Peter Max, and Louis Comfort Tiffany. We are receiving an absolutely fabulous preliminary response to the introduction of our fashion brand. Having worked with Bloomingdale's on holiday window and in store displays we are so excited to be launching our fashion line in their iconic flagship New York location."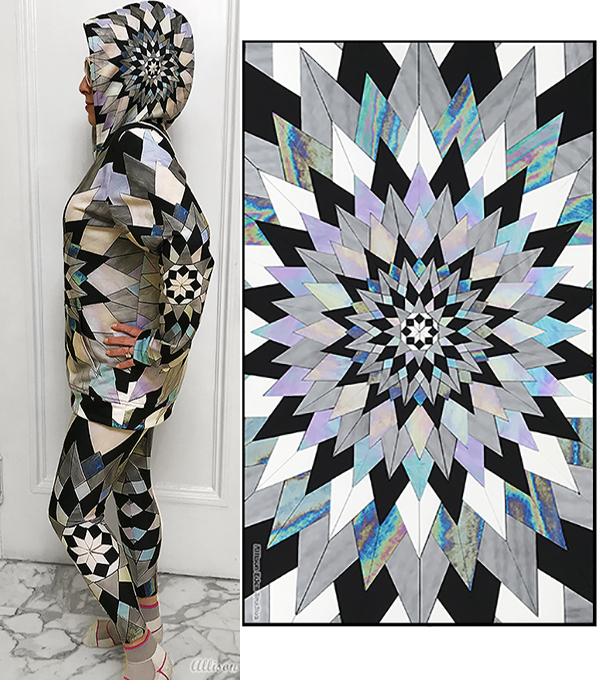 Allison Eden Studios announces fashion brand inspired by mosaic artwork for interior design with launch party at Bloomingdale's NYC 6:00 Thurs. 5/16.
For more information about Allison Eden Fashion:
https://www.allisonedenfashion.com/
For more information about Allison Eden Studios:
https://www.allisoneden.com/
Follow us on social media:
https://www.instagram.com/allisonedenstudios/
https://www.facebook.com/AllisonEdenStudios