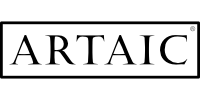 Artaic has announced the unveiling of the company's newest proprietary robot, Artemis. Developed by Artaic's Robotics, Software and Manufacturing engineering teams, Artemis is Artaic's '5th generation' robot that transforms the company's mosaic production and further advances its competitive edge in cost, quality control, and lead time.
At 1/15th the labor cost of Artaic's previous 4th generation robot, Artemis enables increasingly competitive pricing starting at $20 per square foot for fully custom projects, made in the USA. This compares to competitors' pricing which is often over $100 per square foot. With the introduction of Artemis, Artaic is able to consolidate three separate workstations into one complete, end-to-end workstation, manned by a single craftsperson who is able to take full responsibility for the quality of each job.
Previous generations of Artaic's robots required separate workstations for sorting and
assembly of tile inventory, production, and quality control. The new single end-to-end workstation, with a smaller footprint, has double the output of its predecessors, as well as innovative digital quality control. The increased speed results in faster turnaround times for those who are specifying Artaic's products, with the added advantage of increasingly competitive pricing.
Artaic is proud to introduce Artemis in parallel with a stable, and growing, employee base. While it is often assumed that improvement in robotics will eliminate jobs, the presence of Artemis allows for existing employees to shift their roles into more creative, quality and supervisory roles working with robots, fulfilling additional needs of the company, and for new employees to join the team. The company is currently looking to fill three Robotic Manufacturing Systems Production Assistant positions, allowing new team members to work with Artemis and the current production staff.
With one employee managing the creation of a single mosaic, craftsmanship becomes a more prominent component of the Artaic process. "The robots work for our craftsmen. A single production worker becomes the artist, taking personal responsibility and pride in translating designs from our digital Tylist™ software to real-life mosaics," says Ted Acworth, Founder and CEO of Artaic. "Artaic was founded on an appreciation for mosaic artistry, and that artistry has not been lost with our technology. Our employees are masters of their craft—giving each mosaic a personal touch."
The debut of Artemis is timely, as Artaic manages its rapid growth, including new additions to the acclaimed Flourish, URBN, and SPLASH! collections and the introduction of the Verge Collection of "field" and "feature" designs, inspired by Artaic's new value-priced Glazed Porcelain tiles. With the success of these innovations, Artemis enables the company to meet production demands and grow the company's national salesforce.
For additional information about Artaic, please visit artaic.com.
ABOUT ARTAIC:
Artaic uses patented robotic technology and innovative design tools to customize, design and fabricate award-winning mosaics. By combining modern technologies with this historic art form, the Artaic team is passionate about the creation of architecturally compelling mosaics for any size project, from small to large-scale production. Through fast design iterations, custom sampling and robotic production in Boston, the process of true customization is seamless. Artaic's Tylist™ software enables their skilled in-house design team to easily collaborate with clients on the creation of modern mosaics. This unique manufacturing process increases design flexibility and decreases lead times and costs. Artaic is a unique and compelling resource for modern designers and architects.