Next month the Spring issue of TileLetter ARTISAN will be in your mailbox, with a collection of articles to inspire and inform you, including a gallery of stunning projects by tile artisans and artisan tile setters from around the world.
While you're waiting for your copy of TileLetter ARTISAN to arrive, we wanted to whet your appetite for creativity, originality and beauty with this collection of remarkable artisan tile installations.
We hope that these projects – and those in the upcoming TileLetter ARTISAN – remind you of the fact that you are part of an industry that elevates your customers' lives by creating beauty, art, style and comfort, in the most functional, durable and high-performing of ways. And hopefully by celebrating these projects, we will inspire more artisan tile setters to stretch their artistic muscles to add a personal or custom touch to their projects to delight their clients and deepen their own pride and satisfaction in their work.
The eye in the sky
Robert Ford Jr.'s ceiling medallion is a great example of adding artisan features to a basic project to kick it up a notch – creating functional art within what could be considered standard tile applications. He has been an avid member of the Tile Trade Artisan's Guild and attendee at NTCA Artisan Roundtables, gathering inspiration and instruction at every turn, such as using vinyl templates to make the process easier.
This ceiling medallion was suggested by Ford's partner Silvia Rainey and accepted by the client. Ford's company Stone Dragon Tile Arts created this piece over the weekend and installed it on the following Monday. Ford noted, "The main reason we were able to get it done so quickly was due to the work that some other tile artisans have been doing with getting rules passed for pre-mounted mosaics. We are grateful to those who've come before us and paved a way to be successful!"
Etched in stone – and porcelain
Tile setter Jaime Karsky of Meadowlark Tile LLC in Dickinson, N.D., adds a special touch to her projects. In addition to precision tile setting, she customizes the project with images she etches in stone, ceramic, porcelain, etc. with a Dremel tool, and installs them in shower and floor projects."I etch a lot of brands for ranchers that I install for – also horses and cows – whatever they want," she said.
From cracks to creativity
Harsh Colorado winters are no match for tile artisan Seth Ready, Owner of Ready Set Tile & Mosaic in Broomfield, Colo., who collaborated with artist Misha Moore, Owner of Misha Moore Mosaics of Lakewood, Colo., to beautify some weather-worn sidewalks in Denver's Capitol Hill neighborhood with colorful mosaics.
Moore's boss was moving to California, and wanted to leave a beautiful memento for those in the neighborhood. So Moore was commissioned to design and create the mosaics. She templated the sidewalk holes and designed within the parameters, face taping the mosaics. Then she reached out to Ready for installation expertise.
Ready cup wheeled the sidewalk and pre-mounted the pieces, setting them with LATAPOXY, on advice from Dragonfly Tile & Stone Works artisan Lee Callewaert. Ready colored the LATAPOXY to match the sidewalk color as well. "I added some Raven grout dye from the PERMACOLOR Select line into the LATAPOXY to gray it, and flush it out with the sidewalk." The mosaics were grouted with SPECTRALOCK grout.
This project was completed in August, to the delight and rave reviews of passersby. And Ready reports they have withstood heavy travel, snow, shovels and ice, and "are just as crispy as the day we set them." He hopes to partner with Moore for future "guerilla art" projects.
A sine of the times
Patrick Casey, Owner of Artisan Floorworks LLC in Green Bay Wis., has been installing all floor types and showers for over 20 years. "I enjoy working with customers and helping their vision come to life," he said. On this project, the customer allowed Casey to share a dream of his own — creating a spiral design with a pebble scribe. The wall is calculated with the formula y=sin(x) which is a sine wave. "I learned how to draw sine waves years ago in college when I studied Electronics Technology," Casey said. "In this design I also wanted each color in the spiral to touch each side of the drain."
One tile at a time…
Beau Compton and his dad run Compton Tile, in northern Elkhart, Ind. Beau's dad started the business when Beau was a kid, "and we've been crawling around floors ever since," he said. Over the years, both of them have earned their Certified Tile Installer credentials from the Ceramic Tile Education Foundation. These days, they are both professional full-time firefighters, and run their tile business on their off days.
This white and black mosaic hexagon floor was a pattern the designer found. Compton Tile started off with all white hexagon mosaic sheets, templated the floor and transferred to another room. They removed individual white hexagons and replaced them with black hexagons to form the pattern.
"It was a very slow tedious process, but overall well worth the effort," Beau said.
Shower beauty
Snowbee Custom Tile is owned and operated by husband and wife team Aryk and Rochelle Snowberger, in   Canton, Ohio. On the company website, Aryk describes himself as a "local tile artisan working with you or local contractors to enhance your home or work space." He further admits, that he has "three kids that watch everything I do! So expect me to be working hard, leading by example, giving it my all, being detail-oriented, being polite, respectful and professional," a message that helps instill confidence in his work and his professionalism.
This all-marble shower in Tallmadge, Ohio, was Aryk's fourth shower, which he installed solo. He was very transparent about the idiosyncrasies, color, size and thickness variations and challenges of all natural stone. He also educated them about the need for sealer.
The homeowners thought they ordered mostly white marble, but Aryk said, as he started opening the boxes, it "became apparent that there was more dark than light. So they basically said, 'Do what you can!'"
He laid out every wall of this shower in the various empty upstairs rooms ahead of time, "meticulously matching tiles, planning for the feature, and mitered bench wraps," he said. The resulting shower includes a picture-framed feature and a custom three-way mitered bench (which he did free, just to see if he could do it), as well as the book-matched tiles. The bench is "all the same batch of marble, but drastically looking pieces," he said. "They all wrap from the top of the bench down the face also.
"It's in a farm house, and it came out just like they hoped!" he said.
Aryk took the install a step further. "I recommend to my clients that I come and inspect the shower annually and clean and re-seal for a fee," he said. "I also tie it in with the warranty I offer on my custom showers."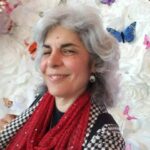 Editorial Director and Senior Writer for TileLetter and TileLetter ARTISAN
Lesley Goddin has been writing and journaling since her first diary at age 11. Her journey has taken her through a career in publishing and publicity, landing her the editor position of TileLetter and its special publications in 2006. Her goal is to educate, inspire, recognize and encourage those in the tile industry -- especially the tile and stone contractor. Other interests include the soft, purring marvels known as cats, labyrinth walking, drumming and percussion, and a range of spiritual, musical and artistic pursuits.