January 25, 2023 — Artistic Tile debuted its Winter Presentation 2023 today with a virtual press briefing, live from its Secaucus corporate headquarters and design studio. Artistic Tile Brand Ambassador Roy Marcus and Joy Cohen, Vice President of Design enthusiastically presented the new tiles available at Artistic Tile this spring. Here's a sampling of tiles and mosaics new for 2023.
Micro Moons: The playful Micro Moons come in black and white colorways, combining bisected circles of colorful stones within a background of honed Bianco Dolomiti (white) or honed Nero marble (black). Available in 12-3/8" x 12-3/8" x 3/38" interlocking sheet format.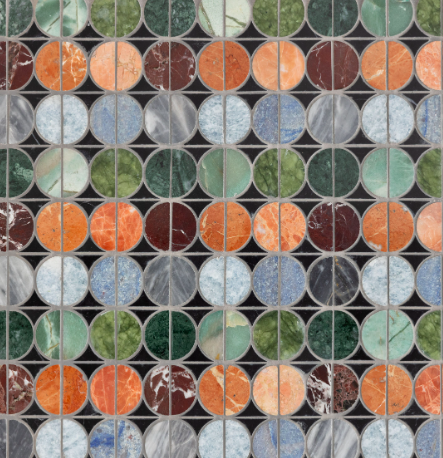 Billie Ombré Sunset: This gloss mosaic is Artistic Tile's ode to legendary jazz musician Billie Holiday, tracing her vocalizations along a wave of vibrant colored glass, for an overall ombré effect. Five beautiful colorways are available in the Billie Ombré sheet, ranging from light to dark and in solid Billie Gloss extender sheets, in a dark and light selection for each color series.  Available in 21-1/16" x 6-3/16" x 1/8" interlocking sheets.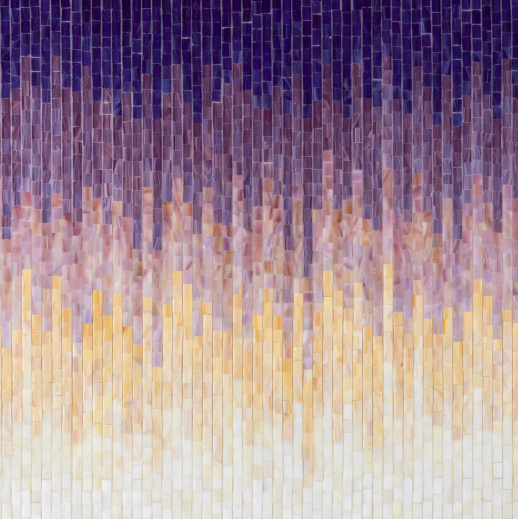 Sfera: The theme in Sfera by Alison Rose is circles. Mutiple stones in each colorway form orbs that seem to move and bounce within the design. Choose Lilac (polished Statuary, and honed Lilac marble, Calacatta Bluette, and Blanco Carrara); Verde Aurora (Verde Aurora quartzite, and honed and polished Nero marble); and  Grafite (Grafite marble, honed Vanilla Onyx and polished and honed Nero marble). This mixed finish waterjet mosaic comes in 10-3/16' x 11-3/16"x 3/8" formats.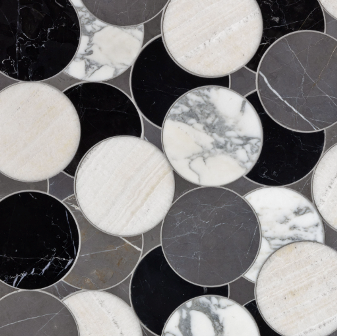 Matcha Verde: Swirling movement is the story with Matcha Verde. Directional veins and bolts of color bring profound energy to a garden's worth of tonal greens, accented by deep charcoal grey markings and flecks of mahogany and terra cotta. In 2 cm slabs and 12" x 24" x 3/8" field tile.
Ming Classico: This honed soft mint-green marble has translucent ripples of vanilla and swaths of glacial silver. Available in 12" x 24" x 3/8" format.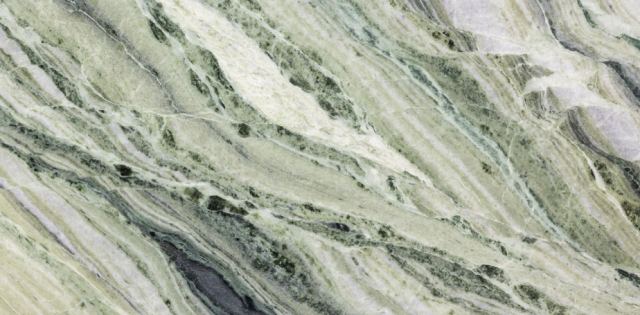 Stunning Slabs
Artistic Tile also showed a range of stunning new 2 cm (3/4") slabs from its Slab Gallery. Artistic Tile's President and Chief Product Officer Zach Epstein toured us through collection of amazing slabs. Here's a sampling of what is new or highlighted for 2023.
Blue Jeans: Indigo background is painted with strokes of deep copper, rich ivory , intricate cream and pale blue rivers or translucent onyx. This polished slab is quarried in Turkey, and full of energy and drama.
Bronze Fantasy: Bronze Fantasy is a topaz-like stone, sourced in Tunisia  with a leathered finish. It shimmers with deep greys, warm taupes, shadings of deep cocoa,terra cotta veining, with lighting-bolt flashes of crystalline white, coral and intense russet.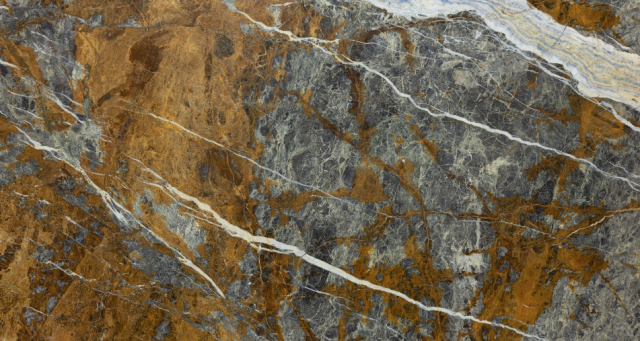 Blue Sea Quartzite: Imagine capturing the energy and hues of the ocean on your wall, or countertop with this quartzite from Brazil. The range of blues flowing through this slab go from soft pearl grey to intense mulberry shocked with  veins of red-gold and near white .
Breccia Scoppio: These exotic polished ¾" (2 cm) slabs are highly brecciated with tones of pink, yellow and orange.