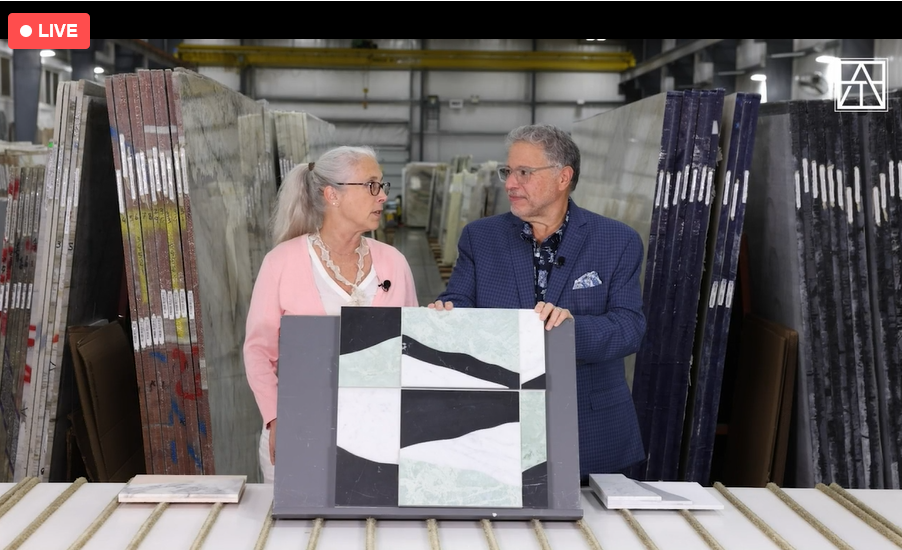 On Thursday, October 5, Artistic Tile livestreamed its Fall/Winter Product Presentation. Vice President of Design Jill Cohen and Roy Marcus, Brand Ambassador, tag-teamed the presentation with samples of the new products live from the Secaucus, N.J. headquarters.
Cohen and Marcus were later joined by Zach Epstein, Artistic Tile President and Chief Product Officer, who gave a tour through the slabyard.
Here's an overview of the new products. For more information, visit artistictile.com.
Duo by Alison Rose explores the dichotomies of light and shadow, modern and ancient, translating stone tile into tactile objects of art. Duo presents myriad pattern possibilities through the arrangement of its two units. Duo Dimensional, comes in Matcha Verde, Lilac and Vanilla Onyx, with nautical-inspired ripples that enhance the inherent beauty of stone. Alison selected Nero and Calacatta Gold for Duo Texture, enhanced by etched texture that honors the artist's hand. The two unique forms are complete when joined as one.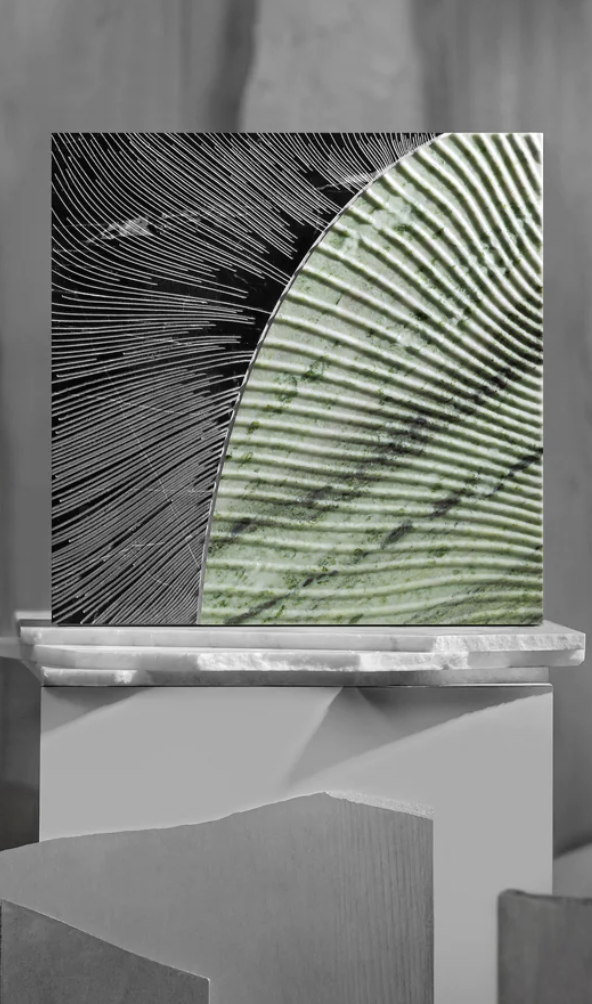 Sanctuary by Lori Weitzner
Lori Weitzner's latest foray into stone, translates the fantastical land and sea motifs of her Neptune embroidered fabric into intricately-carved and laser-etched dimensional marble, limestone, and dolomite. Sanctuary is offered in three contrasting colorways — Nero, Moca Cream, and Volakas, with resonating leaves and flowers in each stone.
Westwind's bold geometry features fascinating blends of stone cut into a mosaic of triangles and bisected pyramids. Rich and dark, Westwind Black is comprised of honed Grey Foussana limestone and Grafite, Arabescato Orobico, and Silverwave marbles, amplified by the inclusion of textured Nero marble and linear brass accents. Westwind Lilac offers a sophisticated mix of Bianco Dolomiti, Lilac, Calacatta Gold and Bianco Carrara marbles and Cloud limestone, all honed, plus textured Bianco Carrara, with brushed stainless steel as accent.
A random, hand-assembled arrangement of colored art glass triangles creates a harmonious blend in Trombone Triangles, part of Artistic Tile's Jazz Glass collection. The Pink and Blue colorways include a variety of colors set against white, creating an overall pink or blue effect. Closer inspection reveals the complexity of the pattern, with colors swirling throughout each of the multi-tonal pieces that compose the mosaic.
Conceived by Ali Budd for Artistic Tile, Kata is a sophisticated composition of different marbles, with one or two jagged-edged layers atop a square honed base. Each colorway is comprised of three different marbles: Bardiglio combines both honed and textured blue-grey Bardiglio with honed Bianco Carrara; Rosa mixes Rosa Portogallo, Calacatta Macchia Vecchia and Bianco Dolomiti, and Green features a graphic mix of Nero and Bianco Carrara freshened by the mint green of Ming Classico. The layering atop each tile creates an intensity of variation – across marble species within each tile, and in depth and profile of the layers from tile to tile.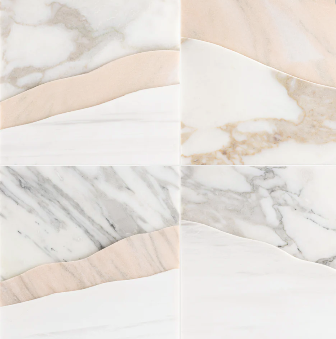 A versatile mosaic, Keys brings linear elegance to Artistic Tile's Jazz Glass collection. This artisanal glass mosaic collection is perfect for both horizontal and vertical orientation, and for patterning with multiple colors. Offered in glossy Dizzy Plum, Pink Lady, Café Crème, Parish Purple, and iridescent Moonbeam Matte.
Norwegian Rose (Mosaic / Slab)
Broken Joint mosaics convey an old-world elegance with its subtle asymmetry and intentional offsets,  evoking the floors of ancient structures, where skilled artisans would hand place each mosaic piece. Artistic Tile's Mini Broken Joint mosaics retain this hand-worked aesthetic in a miniature form.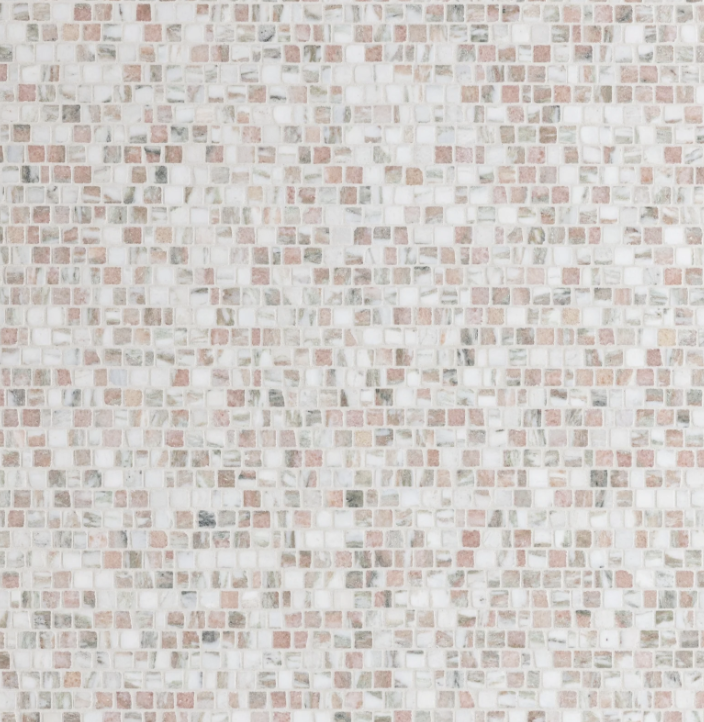 Architectonic and linear, Groove is a dimensional tile with a modern presence. A repeating channel is carved the length of each 12″ x 24″ tile, creating an intriguing interplay with the natural veining of each of the four stones offered: Lilac, Nero Dorato, Vanilla Onyx, and Arabescato D'Oro.
Designed by Michael Anastassiades for Italian ceramic manufacturer Mutina, Fringe is a unique collection of porcelain tiles with lightly grooved surfaces, offered in several colorways with an option of a narrow or wide stripe on each. Colors and stripe widths can be combined in various ways, and the grooves in the tile's surface can be grouted in any color.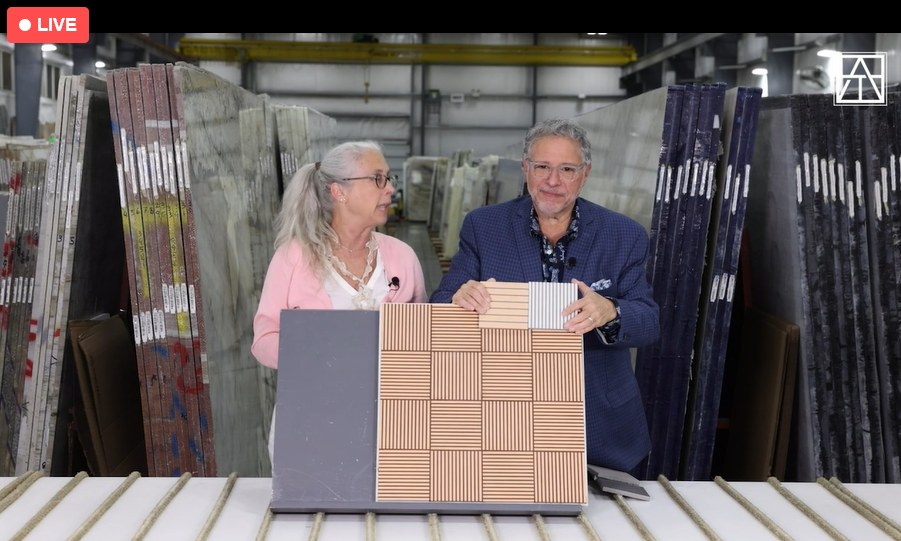 Bold streams of pecan, charcoal and silver-grey, plus clasts of milk-white and russet-veined cream, flow together and exchange rich, visual energy in Calacatta Picasso.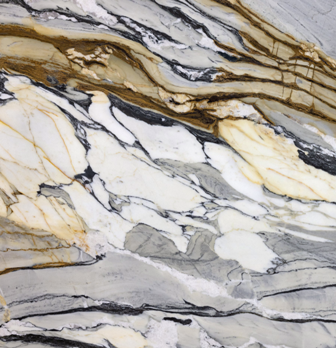 Red Travertine Vein Cut exudes a bold and rooted presence—lightly specked with winding terracotta and ivory veins on a tonal red ground. These fiery and earthy tones capture the essence of rich red soil, infusing spaces with warmth that stands the test of time.
Quattro Stagioni is an Italian breccia with a rich palette of blush, plum-red, cream, and sage. Quarried in Italy, this marble's tonal variation and dramatic brecciation creates a unique and organic allure.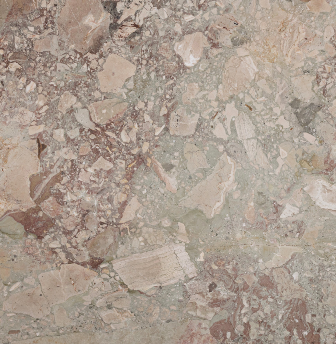 Giallo Siena, a renowned marble quarried in the town of Siena in northern Italy, has adorned palaces, cathedrals, and opulent villas for centuries. A quintessential stone of the Italian Renaissance, Giallo Siena features bold swathes of deep vanilla, intense saffron and burnished, tawny bronze.
Quarried in Brazil, this quartzite features a palette of soft blue-greens, with ivory veins and crystalline inclusions. The color moves gently across the surface mimicking ripples on a lake.