This week, Brand Ambassador Roy Marcus and Vice President of Design Jill Cohen took the press on a guided tour of Artistic Tile's new lines in stone, as well as new arrivals in the slab yard.
Pinnacle Fete is a set of four 12″ x 12″ pieces that create one repetitive pattern. Fete, meaning festival in French, transforms every space it's put in due to the product's standout colors. Pinnacle Fete uses a new technique to create inlay sections to the pinnacle to give the product new life.
Martello is inspired from Cohen's trip to India, where she saw how tooled metal was used to cover a variety of objects, such as cultural objects, art and objects of faith. Artistic Tile has introduced metal wrapped tile before, but this is their first introduction that can be used on floors. It can be used residentially or commercially in light traffic areas.
Calypso has an organic look without using a floral pattern. The tile plays with classic bubbles or dots of multiple sizes in each shape. The ombré coloring makes the blue colorway look like the ocean and the tan colorway look like a glass of freshly poured champagne.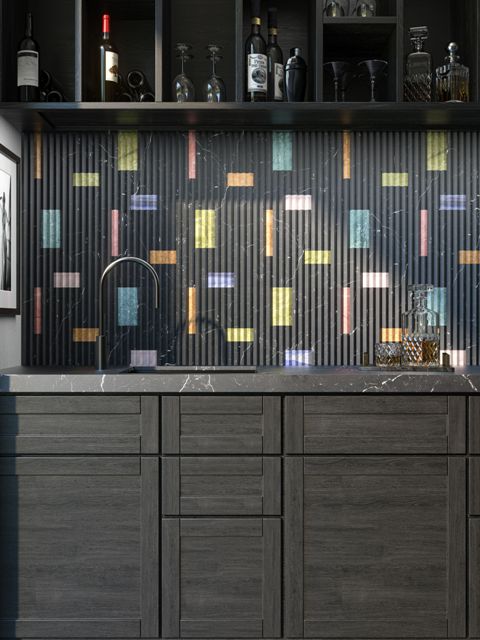 Hidden Circles is a geometric and graphic structure consisting of circles, squares and triangles. The veining moves in a lot of different directions, causing dimension and movement in the tile. The product comes in three colorways: brown, blue and white. You can customize Hidden Circles with Artistic Tile's Tailored To Program.
Zellige is a 100% handmade tile and is inspired by an ancient tradition from Morocco, where the clay is mixed and formed by hand, dried in the sun, hand dipped in the glaze and burned in a wood fire. Because each 4″ x 4″ piece of tile is handmade, each looks different – there is a variation in each shape, thickness, opacity of the glaze, and color variation. It comes in a variety of colorways including rose, cloud, sea spray, sky, sand, Mediterranean, turmeric, coriander, and sumac.  
A Mano, which means "by hand," is a handmade pictorial group of tiles created in Southern Italy. The mid-century modern and geometric pattern is a fun and colorful way to design a space and consists of three patterns: A Mano Triangolo, A Mano Pyramid, and A Mano Diamante. The application of the glaze colors has a lot of brush strokes to show the handmade moments and marks.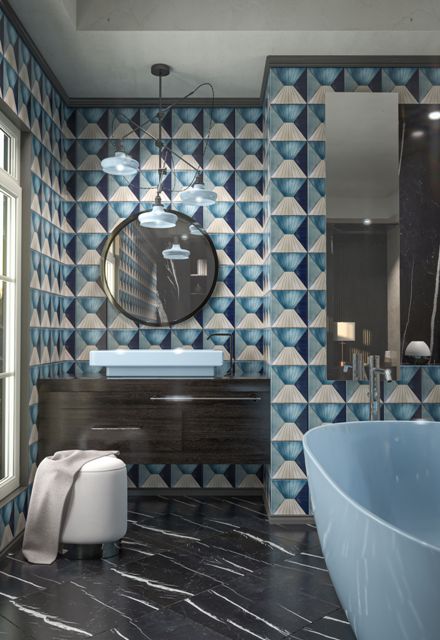 Vice President Zach Epstein joined Marcus to walk through the New Jersey headquarters slab gallery. The brand just opened its second slab gallery in the Nashville Design Collective in Nashville, Tenn.. The two toured us through the newest finds among the slabs.
Verde Alpi is a serpentine slab from northern Italy. It is a classic traditional Italian marble and is recognizable within architecture in big cities like New York and Chicago.
Rosso Francia is a slab seen in palaces and mansions all over Europe. This classic piece is getting new life in modern design and pairs well with warm wood tones.
Breccia De Vendome is a French slab also used throughout palaces in Europe. It consists of a variety of colors such as purple, gold, dark blue, black and green.