Los Angeles, CA — ARTO, creators of hand-crafted artisan tile products headquartered in Southern California, announces a unique collaboration with decorative tile artist Justyn Livingston. The collaboration takes Livingston's hand-painted Metolius Ridge collection from her studio to ARTO's LA-based manufacturing facilities, where the tiles will be produced with equal care and attention to detail.
"Justyn and I reconnected in her studio in Bend, OR in the summer of 2020," explains Armen Alajian, who co-owns and operates ARTO with his brother Vod. "The timing couldn't have been better. The pandemic had created some real challenges for ARTO, including delays caused by supply shortages. So this opened the room and headspace for us to foster this collaboration with Justyn and make sure we were doing it right."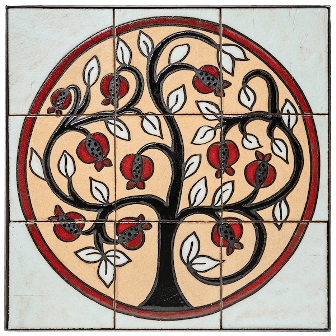 Livingston welcomed the opportunity to collaborate with ARTO as well. "Armen has a big heart, full of integrity, and he knows that good business is about creating a win-win for all collaborators," she says. "I trust him completely. It also helps that ARTO creates a beautiful, high-quality product."
As part of their collaboration, ARTO's will be manufacturing Livingston's Metolius Ridge decorative tile collection in its LA facility, taking care to capture and replicate the beauty, intricacy, and uniqueness of her original designs.
A former textile designer, Livingston switched mediums to tile and found a deep satisfaction in using the earthy, solid material as a canvas. This influence can be seen in her beautiful and eclectic hand-painted tile designs, which include kimono-inspired floral prints, medieval iconography, and homages to the Arts & Crafts movement.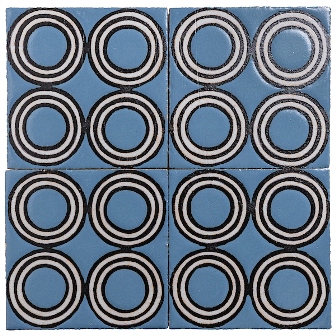 Named for the tributary that feeds in the Deschutes, a river that runs through Bend, Livingston's Metolius Ridge tiles were originally created through a painstaking, meticulous process. Livingston starts by custom cutting each bisque, or blank tile, to fit the specific environment they're made for. She then hand-paints the tiles using a method called cuerda seca, or dry line. This intricate technique involves silk screening a wax resist into a design on the tile and allowing it to dry overnight. Once the tile is dried, Livingston applies the glaze by hand before firing it in the kiln.
ARTO is employing an equally painstaking process in producing and hand-painting the Metolius Ridge tiles based on Livingston's designs.
"We collaborated via phone and email, with me sending ARTO designs, colors samples, and templates that I use in my studio," Livingston recalls. "Most of the work was on ARTO's end, since they were the ones tasked with working out the glaze colors to recreate my 'hand' and maintain the style and quality of my designs."
"For this collection, we wanted to create vibrant, richly deep colors that would do Justyn's design justice," Alajian explains. "We make all our colors inhouse, which allows us more control. For example, the red we created for this line took us some time to develop. But the end result is worth it."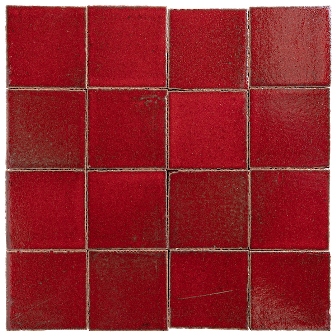 As with all ARTO's products, each Metolius Ridge tile is unique not only in design but in the variations of color and texture that provide a distinctive character and quality. The decorative, artisanal quality of the Metolius Ridge collection makes them ideal for backsplashes, bathrooms, fireplace surrounds, wall-spanning murals, and historic homes.
"The Metolius Ridge collection creates the environment," Justyn adds. "The possibilities are endless!"
In addition to the decorative tiles, ARTO is also releasing a Metolius Ridge field tile in four vibrant colors. View the decorative collection here, and the field tiles here. ARTO launched the Meticulous Ridge collection featuring Livingston's exquisite designs at the Coverings 2023 show.
"We are just at the beginning," says Livingston. "I expect there will be more design collaborations in the future and am looking forward to them."
"I love Justyn's designs, and am honored that she agreed to trust us with her work," Alajian says. "With the Metolius Ridge collection, we're able to round out ARTO's hand-painted tile department and bring this beautiful tile to the entire country. We know our customers will fall in love this this collection, just as we have."
# # #
About ARTO
Founded in 1966 by Arto Alajian — an industrial designer with an artist's heart — ARTO's story began in a small studio equipped with a single kiln. Over 57 years later, ARTO ceramic and concrete tiles can be found in distinctive living, working, recreational, and public spaces across the world.
Today, ARTO continues to hand-craft small-batch tiles from their Gardena, CA headquarters, using locally sourced materials and environmentally responsible practices. While ARTO's product lines and collections continue to evolve, the family-run operation shares the same passion that went into the very first brick veneer: To create extraordinary, unique, rustically elegant products that bring life to the spaces they inhabit.
Learn more at ARTO.com.