Three generations build standards-based company that invests in industry education and involvement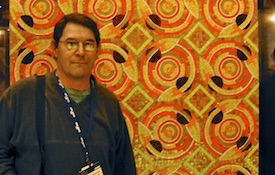 When you think of movers and shakers in the tile industry, one of the people who come to mind is Trask Bergerson of Bergerson Tile in Astoria, Ore. (www.bergersontile.com). This family-owned company (actually Bergerson Tile and Bergerson Tile, Stone and Cabinets, with a third company in the works) is composed of three actively-involved generations that had its beginnings in a larger extended-family home building business founded in 1967.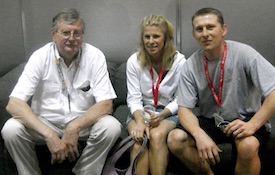 Over the years, it expanded to include a fully-staffed retail sales showroom, slab fabrication and installation division, as well as a cabinet sales and installation department, performing primarily higher-end residential work on the Northwest Oregon and Southwest Washington coasts.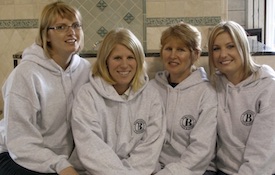 "Our emphasis remains in luxury beach homes, with the majority of our projects being secondary homes," Trask said. "We are a standards-based company whose constant investment in training and education has led us to further our involvement within the industry's leading trade associations like the NTCA."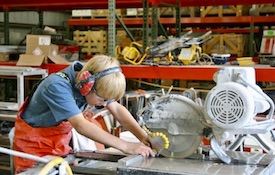 The company has 23 full-time employees, and is run by CEO David Bergerson and partners Tiffany Hessel-Bergerson and Trask himself. Other family members in the business include Rogue Bergerson and Vicki Bergerson.
The value of NTCA
Trask noted, "The NTCA and CTEF in particular have become invaluable resources to help us reinforce and build a culture of continuing education within our company. I simply cannot emphasize enough the exponential return we have realized through our involvement in training through these organizations and at these events. I would strongly stress 'involvement' as the key to seeing these returns. Just 'joining' the NTCA and not acting will likely be disappointing. But participating in the opportunities offered is genuinely life-altering to a company of any size."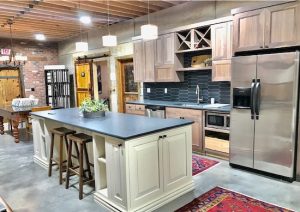 Bergerson Tile has been actively involved with NTCA in a range of ways. Trask has served on the NTCA Technical Committee and as an ambassador and board member, as well as taking part in remote seminars and online opportunities. The company has participated in trainings and workshops and started apprentices with a battery of NTCA University courses. "It's a great introduction to the trade and we need not worry that the information isn't grounded in standards," Trask said.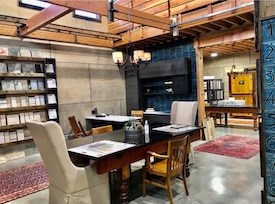 The company has been engaged in the application process of becoming an NTCA Five-Star Contractor for over a year with the only box left to check being the Certified Tile Installer (CTI) component. "COVID and the current high workload have delayed our goal in this regard, but we remain committed to see this through this year," Trask said. "I simply see no downside to both the CTI program and the NTCA Five-Star status as they compel an organization to positively change from within. And that's hard to put a value on because it creates a synergistic effect across the entire landscape of an organization."
Industry events
Trask said, "Last year my son and I worked the NTCA booth at The International Surface Event (TISE) and it was one of the more enjoyable experiences I've had at a trade show. We are looking forward to the shows (Coverings, TISE and Total Solutions Plus) that are just around the corner. Trade shows are probably one of my favorite ways to engage within our industry family, and we always gain inspiration from such events. They are simply invaluable opportunities to connect to a bigger world."
COVID outcomes
COVID acted as an unexpected tonic on business in the area, Trask explained. "COVID had a counterintuitive effect on our business; many of our clients have found a renewed interest in their respective vacation properties in our region. The vast majority our of clients have found success working remotely and discovered some security living away from population centers. This greatly benefited our business and we have grown steadily in response throughout 2020; we see our schedule reflecting the same uptick through this year."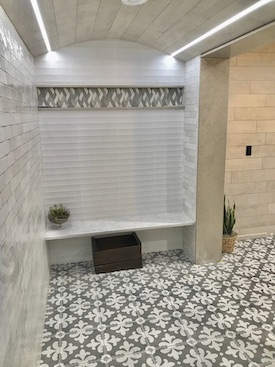 Feeling joy
"My greatest enjoyment from this trade is hard to distill," Trask said. "I tend to hyperfocus on different aspects and live something of a compartmentalized existence. One month I'm buried in the slab world, finding new ways to streamline or innovate; the next month I'm teaching an old mud guy how to wet shim a foam panel. The week after that, I may be entertaining a new builder account and measuring jobs. I love the ever-changing challenges and endless variety we have in our work.
"In the end however, we are a family company and my single greatest joy comes from working with my family daily," Trask added. "For example, watching my son rapidly evolve into a better installer than I ever could have been is an almost surreal paradigm shift."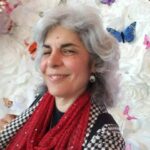 Editorial Director and Senior Writer for TileLetter and TileLetter ARTISAN
Lesley Goddin has been writing and journaling since her first diary at age 11. Her journey has taken her through a career in publishing and publicity, landing her the editor position of TileLetter and its special publications in 2006. Her goal is to educate, inspire, recognize and encourage those in the tile industry -- especially the tile and stone contractor. Other interests include the soft, purring marvels known as cats, labyrinth walking, drumming and percussion, and a range of spiritual, musical and artistic pursuits.