Franchise model is finding a niche in the hard surface industry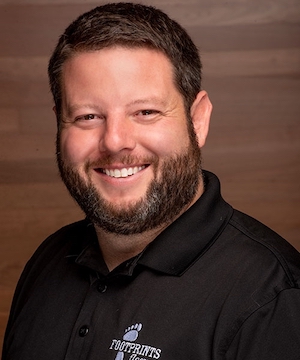 In 2008, one of the worst economic periods in recent history, Bryan Park went all in with his idea of developing a flooring installation company in Denver, Colo. Different from a classic retail model, Bryan launched Footprints Floors, an installation contracting company in hardwood, tile, laminate and LVT/LVP flooring. Different from a brick-and-mortar model, Footprints Floors owners and employees work out of their own homes, and work with their clients in person. It is not a mobile showroom, nor do they sell product. 
Capitalizing on what he felt was a unique niche, Park developed a franchise model, and today there are more than 175 Footprints Floors locations around the country. We caught up with Bryan to see how they have been able to grow their business so quickly and what the future has in store for them.
You are providing qualified installation in hard-surface flooring for your customers. You started the company in 2008, and your growth has been impressive in just 15 years. What is it about your business model that's working?
I started the business out of necessity, as I needed a job and had a young family. I did the installation myself for some time, focusing on wood floors. As I grew my business, I found installers I could rely on, and within three to four years we were one of the largest flooring companies in Denver. Our focus is on residential remodel and we work directly with the client. We invest in a lot of creative marketing to the consumer. In the beginning we went door to door. Now, we utilize the internet to reach consumers who are looking for an installation company they can trust.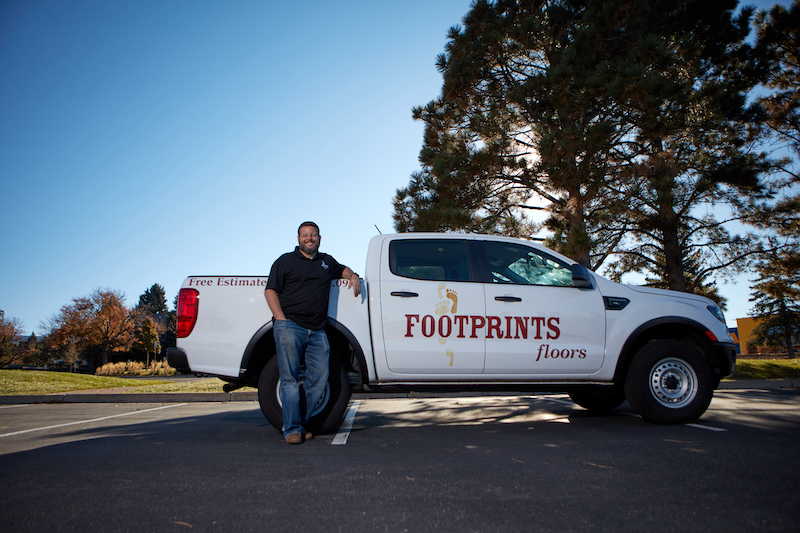 How have you made ceramic tile a significant component of your business?
We added tile about 10 years ago. I had success finding hardwood floor subcontractor crews and the clients clearly indicated that ceramic tile installation was a need as well, so I added tile to the Footprints portfolio and found quality installers I could partner with. I was having success finding the clients, and the business really took off when we had both wood and tile to offer.
How did you develop the franchise model and what has led to that success?
We developed a system of marketing and lead generation that works. We offer this to prospective investors who are looking for a unique opportunity to own a business or franchise. We work closely with our franchise owners to help them succeed in their respective market. It is pretty much a business in a box. We show them the path we took to be profitable, and we help them develop that in their area.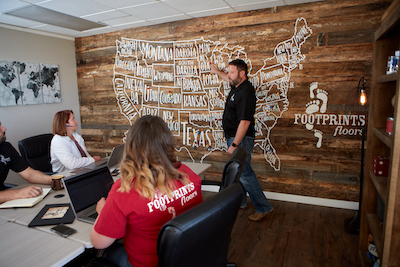 The growth of my business in Colorado led me to conceive of the franchise model. I didn't want to travel extensively with my operation and the referrals we were getting from our marketing were giving us great opportunities beyond where I was comfortable going. I approached one of our subcontractors to take on some of these clients and this eventually helped me realize I could expand regionally and then nationally with this concept. In 2019, we expanded outside of Colorado with this idea, and this led to franchise development, which is where we are at today with 175 locations.
What is the strategy for growth moving forward that you envision?
We are not even halfway to what I think we will be long-term. It is one thing to add a franchise, but it takes years to grow and develop a business. We have a simple vision of serving our respective communities. We are committed to bringing a level of professionalism to the trade. It sounds simple, but you would be surprised at what a difference it makes if you show up to the job on time, look and act respectable, communicate with your customer professionally and so on. This is something we take pride in.
What type of investor is your target for potential franchise ownership?
Ninety-five percent of the people who invest do not come from the construction industry. They are often middle-management business-oriented people that went the corporate route and realized they want new opportunities in life. You can make a lot of money in flooring if you know what you are doing, and we teach them how to do that. I welcome the concept of bringing in tradespeople for possible ownership as well, and we have some excellent franchisees that have gone this route as well.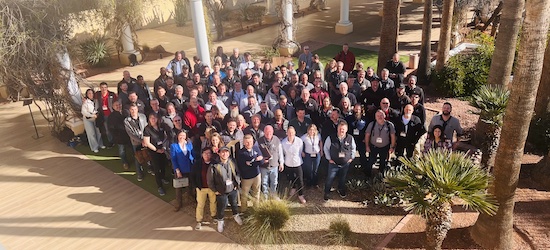 What comes with the Fooptrints Floors "Business in a Box" as you described it?
We help them run a successful flooring installation business. We teach them accounting and cash management, marketing and lead generation, sales strategies, project management and estimating, and more. We have a whole staff that helps them with business development. I personally do an annual business review for every franchise owner. I am more of a mentor and coach rather than an employer, but the model we have developed works and our successful owners understand this and embrace it.
As our business has grown, it has been awesome to see the owners work closely together to share ideas, concepts, best practices and even at times installation crews who will travel to perform the work needed on the jobs.
We hear every day there is a labor shortage and you can't find quality tile installers. How have you been able to open all of these franchises in what is considered to be many a market where installers are not available?
We don't need a lot of installers. Our average franchise might need one or two crews, especially in the beginning. It is a process and is a lot of trial and error, as you would expect, until you find the people you can partner with.
We are unique in a few ways. One, we visit our jobsites daily. That extra oversight emphasizing customer satisfaction and making sure the installer has the support they need really makes a difference. This helps us to find the right fit for the type of installer that works well with our business model because we are actively on the jobsite and interacting with both the customer and the installation crews. This is really what the customer is paying us for –finding the good crews they can rely on for a successful installation in their home. We are having success with this approach and this is why Footprints Floors is succeeding and growing on a national level.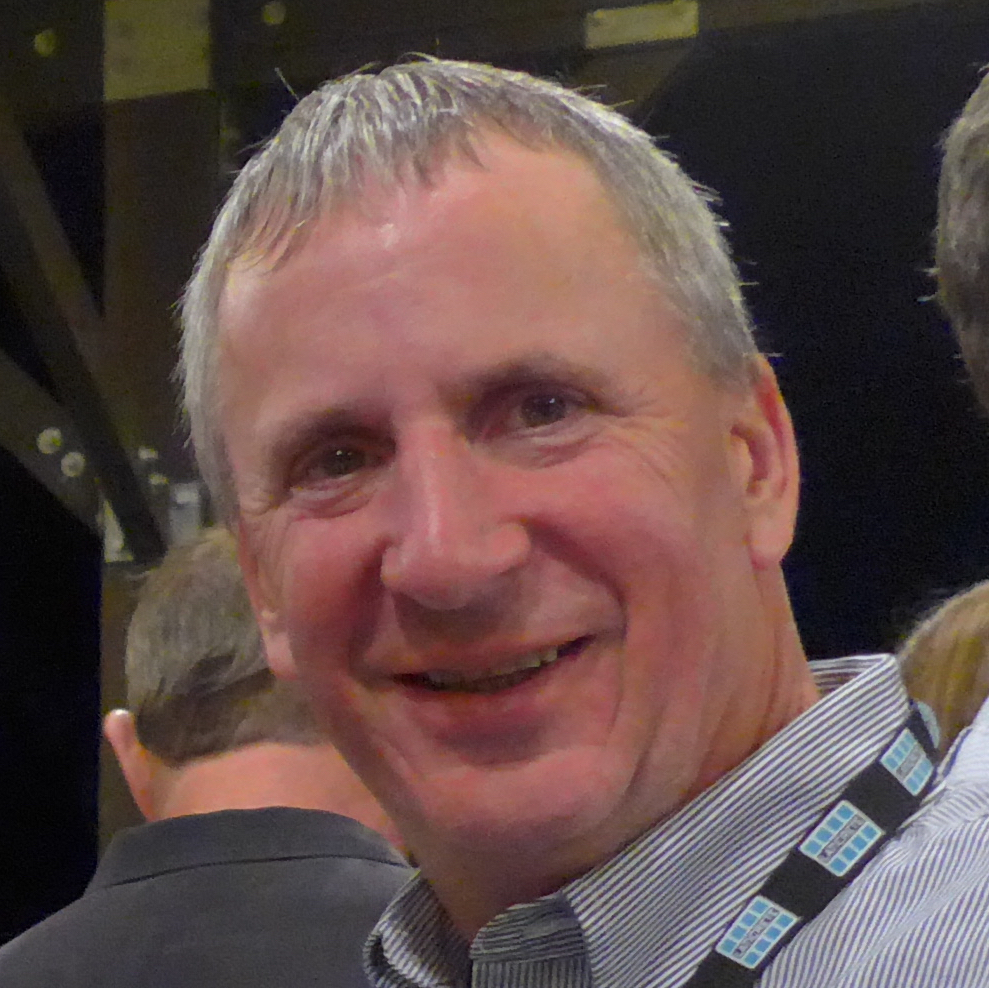 Bart Bettiga is the Executive Director of the National Tile Contractors Association and Publisher of TileLetter. Bettiga is a member of the Board of Governors of Coverings, one the largest tradeshows in North America. He has over 30 years of experience in the tile and stone industry and has served as the NTCA Executive Director since 2002. He is a well known speaker and author on ceramic tile and natural stone distribution and installation. He oversees the financial operations of the NTCA, TileLetter and the Ceramic Tile Education Foundation.