Documents in process for the NTCA Reference Manual
Following up on the Training and Education story in the October issue of TileLetter that took a closer look at the origins, purpose and workings of the NTCA Technical Committee, and the digital article on TileLetter.com that same month that revealed a decision at the NTCA Technical Committee in October to include a new chapter in the NTCA Reference Manual on pre-mounting techniques for hand-shaped mosaics, we want to present some of the other issues and topics that are under discussion or in the works in the committee.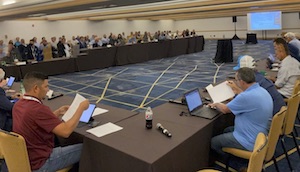 If you have never attended an NTCA Technical Committee Meeting, you may be unaware of the business that is addressed there, and how it can impact and address work you do every day. You may also be unaware that the NTCA Technical Committee Meetings are open to the public, and welcome your attendance and participation. The next Technical Committee Meeting will take place at TISE in Las Vegas, this month on Monday, January 31, 2022, from 1 p.m. to 5 p.m. venue TBA.
Approved documents
Two new documents were approved at the October meeting, and will be included in the 2022-2023 NTCA Reference Manual. These include:
Frameless Shower Glass Assembly in Tile Work Precautionary Letter, which addresses challenges of shower enclosure systems with recessed glass, including issues with penetrations through topically-applied membrane. Dan Lambert of Lambert Tile and Stone chaired the subcommittee to draft this document.
Natural Pebble Shower Floor Precautionary Letter, which addresses the difference between natural pebble shower floors and typical tile installations. Jim Whitfield of MAPEI chaired the subcommittee to draft this document. See details on this matter in the Technical section of this issue.
New documents introduced
These other documents were introduced or discussed: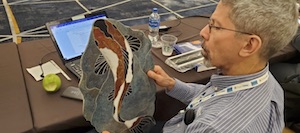 Grout in Tile Specifications – Bill Griese of Tile Council of North America (TCNA) chairs this subcommittee. A new version of this document was presented the morning of the Technical Committee meeting. The purpose of the document is to present pros and cons of epoxy grout, including allergic reactions, chemical resistance, stain resistance and alternative grouts to consider. This document is now subject to review by the full committee and a vote for approval and addition to Chapter 8 in the NTCA Reference Manual when complete.
Working with Encaustic/Cement-based Tile – Dirk Sullivan of Hawthorne Tile and John Cox of Cox Tile chair this subcommittee. The white paper is still being developed, with intent to present a cause, prevention and cure document which will also include information about sealers and mortar manufacturers.
Field Guide for Measuring Deviation of Tile Size – Will White of Custom Building Products chairs this subcommittee. This document is currently being refined and will be voted on at the next Technical Committee meeting in February.
Pre-mounting Techniques for Hand-Shaped Mosaics – As stated at the outset of this article, the committee voted to approve a new chapter in the NTCA Reference Manual that addresses three techniques of pre-mounting hand-shaped mosaics, following a presentation to the committee by tile artisans Lee Callewaert of Dragonfly Tile and Stone Works, Joshua Nordstrom of Tierra Tile and Angie Ré of Unique Mosaics, LLC. These techniques are fabric sheet membrane, liquid membrane with alkaline-resistant mesh, and foam or cementitious backer board. A committee was formed to draft the new chapter.
Glues/Adhesives on Sheet Mosaics – Joseph Mattice of On the Level Flooring is chairing this subcommittee. The intent is to explore issues causes by glue on mesh-mounted mosaics, including thickness or evenness of the glue, issues that develop with water-soluble glue in wet areas, obstacles it can cause to bonding, and re-emulsifying of glue that can subsequently leach through stone. A subcommittee has been formed to review the issue and develop a precautionary letter and white paper.
Documents under discussion
In addition to the approved documents and those in the works, some new items were proposed:
Proper Care and Maintenance Procedures for Life Cycle of Tile – Will White is developing information on this issue for tile only, with stone considered later.
Balcony Methods Caution Letter – John Cox wants to explore this topic due to the prevalence of flat balconies in San Antonio. A document is expected at the Technical Committee meeting for review.
Pre-Inspection Check List – Dirk Sullivan pointed out the need for a job pre-inspection list and is interested in developing a generic one that can be used by any tile contractor. Two committees were formed to develop a residential list and a commercial list, with the intent to have pre-inspection lists available for review by the January meeting.
Standards for Profiles – Currently there are no standards for profiles. Mike Gillett of Commercial Ceramic, Inc., and Jim Harrington of Schluter Systems are working together to develop a document on tolerances of the products for the NTCA Reference Manual.
Your NTCA Technical Committee is working for the betterment of the entire trade, and benefits from your input and participation. Make it a point to attend a meeting or join a subcommittee that addresses issues that are of particular concern to you.