As beautiful as tile itself is, it is inert potential until it is worked in the hands of a craftsman or craftswoman. It is a wildly creative material that can be designed with and installed in a myriad of ways to completely customize a client's project. But it takes a skilled tile setter and true tile artisan to do that.
To celebrate the what tile can do in the hands of one of these skilled artisans in honor of National Tile Day, we present a collection of recent projects that show how expert, innovative and creative installation, application, and use of tile can elevate a setting and introduce a wow factor.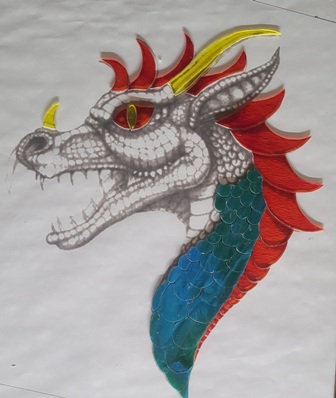 Lisa Bustamante, Custom Mosaic Creations
Bustamante crafted this vibrant 18" x 24" stained glass dragon as a Christmas present for her son. She glued the stained glass to acrylic with Liquid Nails Clear Silicone, and grouted with Bostik Dimensions Sparkle Grout. To add an extra dimension, she taped LED around the acrylic to bring the dragon to life in the dark.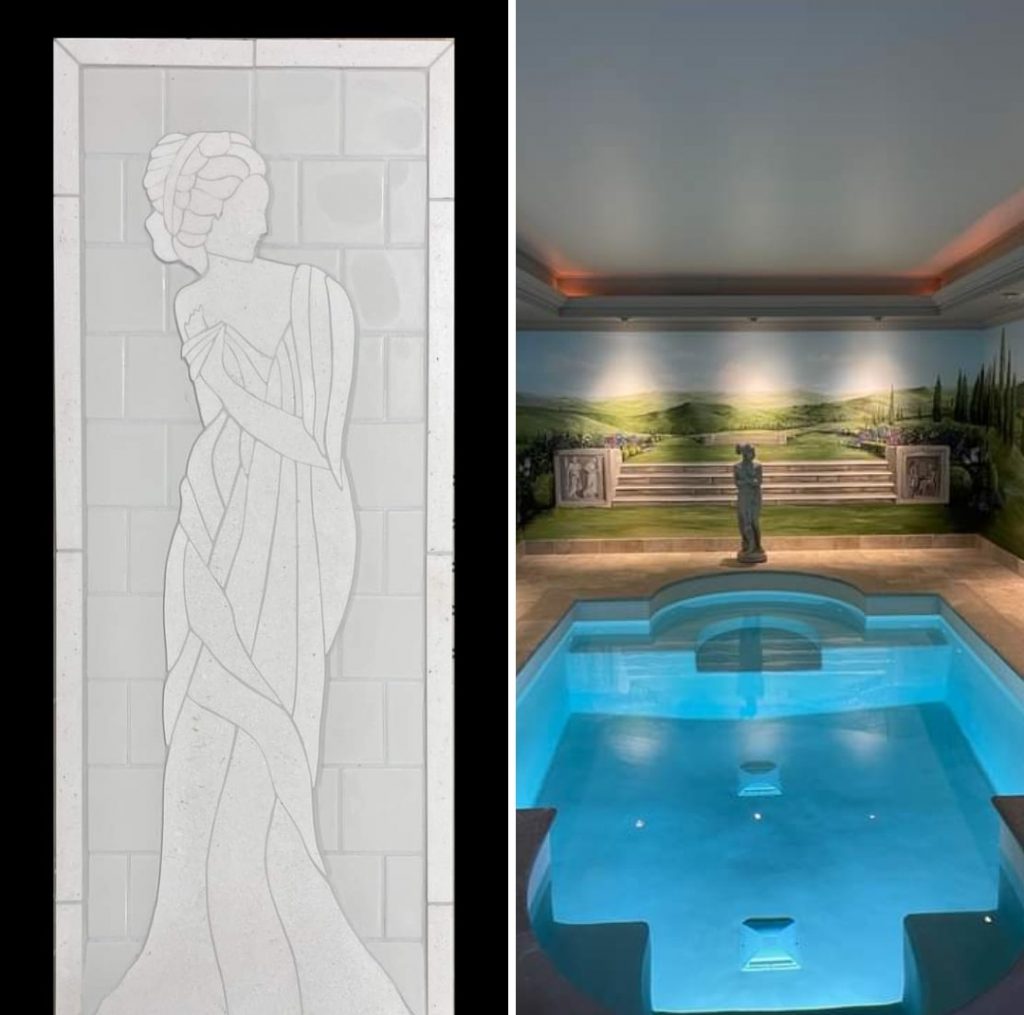 Maria Meyer, Dragonfly Tile & Stone Works
Tile Artisan Apprentice Maria Meyer was challenged to cover three existing holes created by pre-existing hardware in a shower. "I decided to take that on by adding a mosaic and using the tile they had left over from the shower Install," she said. "With so much inspiration around me, a statuesque silhouette seemed the perfect fit."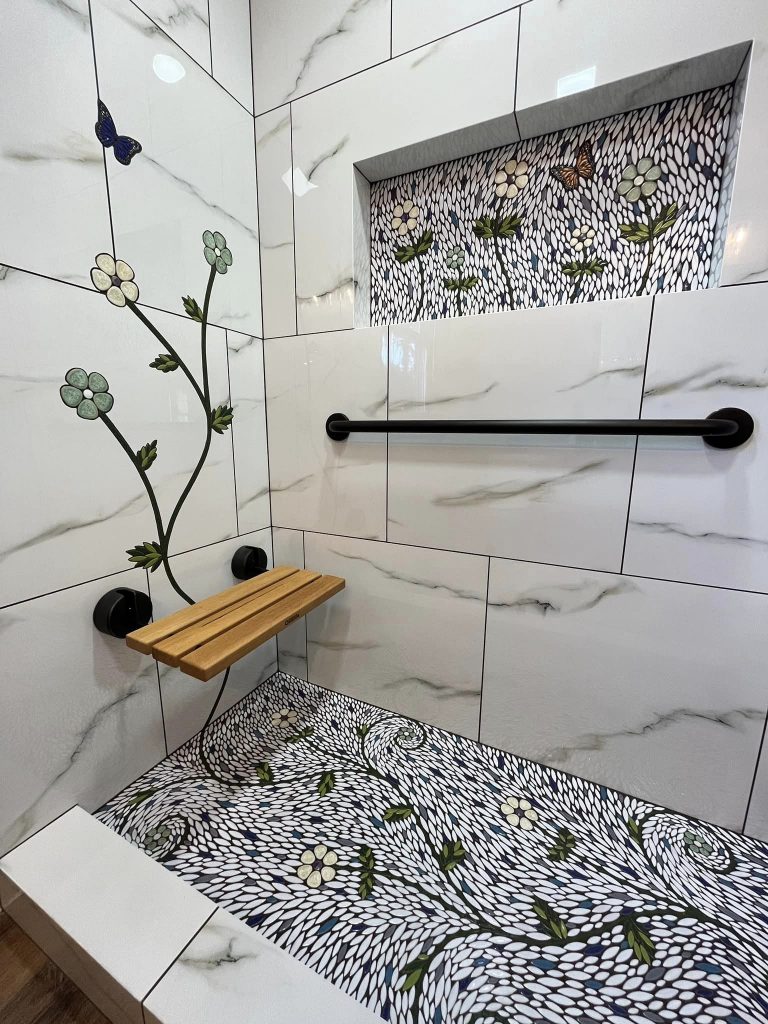 Patrick Casey, Artisan Floorworks LLC
This amazing shower was a project for Casey's mom, who collaborated with Casey and helped develop the flower petal theme. Casey spent five days on the mosaic work on the floor and niche, and two more days on the wall scribe. In addition to the mosaic work, Casey book matched every corner, with outside corners mitered and epoxy filled.
Casey said, "My inspiration for this project came from a conversation with Lesley Goddin and her educating me on what tendrils were. It was like a seed that started in my brain and eventually fell into my mother's shower drain. That seed grew into this beautiful vine for my mother to enjoy the rest of her life." Sean Mcleod gave Casey tips on his virgin voyage with epoxy grout and Lee Callewaert of Dragonfly Tile Stone Works gave Casey pointers on the mosaic work. All mosaics were sourced from Wits End Mosaic.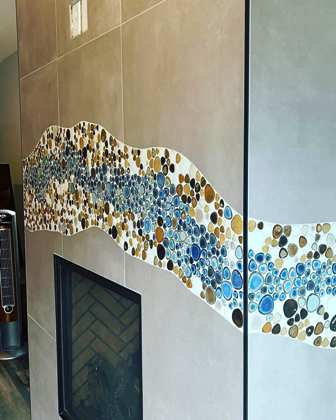 Aryk Snowberger: Snowbee Custom Tile
This 10' tall stone-look fireplace, features an individually hand set "creek bed" accent flowing through the install. Snowbee's one-of-a-kind piece of functional art beautifully mimics the Northeast Ohio property where it resides, with its rock formations and trickling creeks.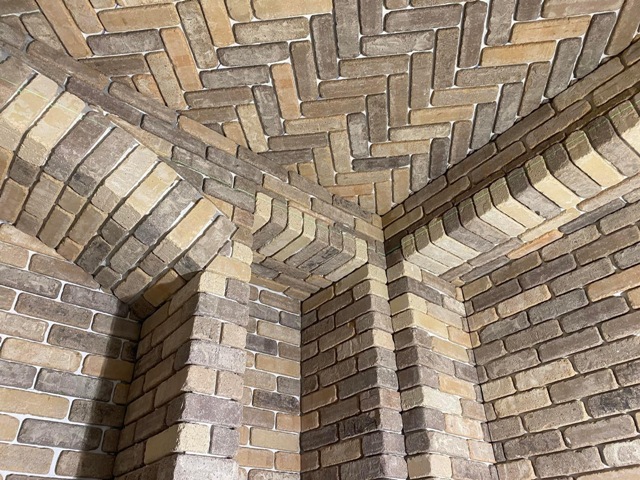 Mark Christensen: Tarkus Tile
In describing this picture perfect wine cellar, Christensen said, "This project was an exercise in monotony and perseverance with somewhere in the ballpark of 4,500 individual bricks to install. One by one. But the grouting was what really tested my commitment: four long days of grout bagging." Christensen called it "a slow and painful process, but [it was] so satisfying to finally step back and be proud of what I had accomplished."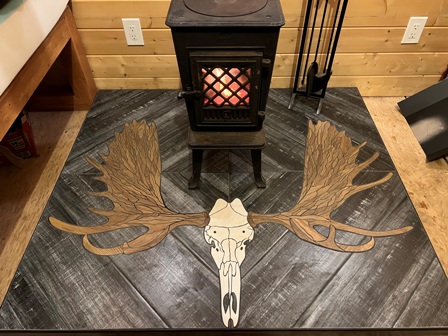 Joshua Nordstrom, Tierra Tile
This rustic moose floor detail utilizes wood grain porcelain for everything except the skull itself, which is a white blank glazed porcelain Nordstrom received in a box of glazed tile. "I kept it knowing that it would make a great bone color some day," he said.
The piece is set on an uncoupling membrane Nordstrom received from using his NTCA vouchers, atop a base of one layer of 1-1/8" plywood and a layer of 3/4" plywood. Tile was set using LATICRETE Trilite dyed with midnight black pigment. Grout is LATICRETE's PermaColor Select in Midnight Black.
Nordstrom premounted the antlers and skull using mesh, TEC Multipurpose Primer, and LATICRETE Hydro Ban membrane.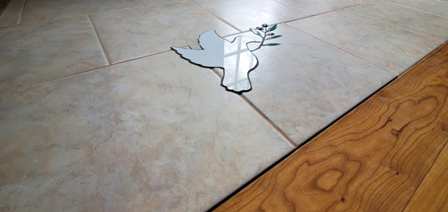 Malachi Hilkey,Resonate Renovations
This "Peace" dove scribe was Hilkey's first foray into scribing. He said, "This floor was weather-damaged and in need of a repair, with a 10 hour max turn-around time. I set out to make a repair job more meaningful [while] discovering my daily capabilities. The thought behind this was thinking of peace and shelter when you walk in to this home."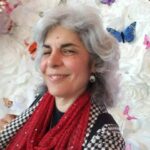 Editorial Director and Senior Writer for TileLetter and TileLetter ARTISAN
Lesley Goddin has been writing and journaling since her first diary at age 11. Her journey has taken her through a career in publishing and publicity, landing her the editor position of TileLetter and its special publications in 2006. Her goal is to educate, inspire, recognize and encourage those in the tile industry -- especially the tile and stone contractor. Other interests include the soft, purring marvels known as cats, labyrinth walking, drumming and percussion, and a range of spiritual, musical and artistic pursuits.