The International Jury Selected Five Winners and Three Honorable Mentions Demonstrating Extraordinary Use of Italian Tile
With another record year of exceptional projects showcasing inventive uses of Italian tile, Confindustria Ceramica is thrilled to announce the winners of the 2022 Tile Competition. Each year, North American architects, designers and students are invited to submit projects that feature creative applications of porcelain and ceramic tile from Ceramics of Italy brands. With the competition's five categories -Multi-Family Residential, Single-Family Residential, Commercial, Institutional, and Student -all proving to be highly competitive, the international jury ultimately chose five winners and three honorable mentions, based on visual appeal, use of Italian tile, sustainable attributes, and overall design.
This year's standout projects include: a 350,000-square-foot multi-family residential building designed by Durukan Design that uses wood, cement and metal-look porcelain tiles to enhance its industrial aesthetic; and three ultra-luxe single-family spec-homes designed by DI Group that showcase the versatility of Italian tile. On the commercial side, American Dream, a 3.2 million-square-foot entertainment, shopping and attractions property designed by GH+A design studios, makes extensive use of marble-look tile, slim porcelain panels and white glossy tiles to create a sleek, texturally-designed environment. Gow Hastings in association with Moriyama & Teshima Architects brightened up a series of culinary labs with colorful, mosaic backsplashes at a college in Ontario while two students from the New York School of Interior Design impressed the judges with renderings of an eco-conscious townhouse.
Across the board, the projects highlight the latest trends and applications in ceramic tile -from gauged porcelain panels to create sleek furnishings to sophisticated marble-looks to add an element of timeless luxury -with an added emphasis on wellness and sustainability.
This year's 2022 Tile Competition winners were announced at Coverings at the Las Vegas Convention Center, Las Vegas, Nevada, during the Ceramics of Italy Press Conference on Wednesday, April 6th. All category winners received an expense-paid trip to Las Vegas to accept the award and to present their project at the show. In the built project categories, winners also receive $1500 and a CEU-accredited, expense-paid trip to Cersaie -the world's premier exhibition of ceramic tile and bathroom furnishings -taking place in Bologna, Italy from September 26-30, 2022.
MULTI-FAMILY RESIDENTIAL WINNER
Firm: Durukan Design
Project: Rheingold Bushwick
Location: Brooklyn, NY
Tile Manufacturers: Refin Ceramiche
Distributor: Highstyle Stone & Tile
Rheingold Bushwick is a new, eight-story, 350,000-square-foot residential building located in northern Brooklyn. The interior design, led by Durukan Design, is defined by an overarching industrial-meets-pop art feel that pays tribute to Bushwick's artistic sensibilities while evoking its industrial roots. The double-height lobby features iron shipping containers repurposed as gathering areas, brightly colored ottomans, and a soaring green wall, which all combine to create a central hub for relaxing or socializing. Meanwhile, custom large-scale graffiti walls painted by local artists and heavily stylized "Artways" conjure the neighborhood's colorful alleyways while also creating a high-end finish and feel. The designers specified two porcelain tile collections from Refin Ceramiche that complement the project's industrial aesthetic:Design Industry –inspired by the look of oxidized metals; and Plant — combining the characteristics of wood and cement. The tiles were used throughout the floors and walls of the public spaces and amenity zones of the building.
MULTI-FAMILY RESIDENTIAL HONORABLE MENTION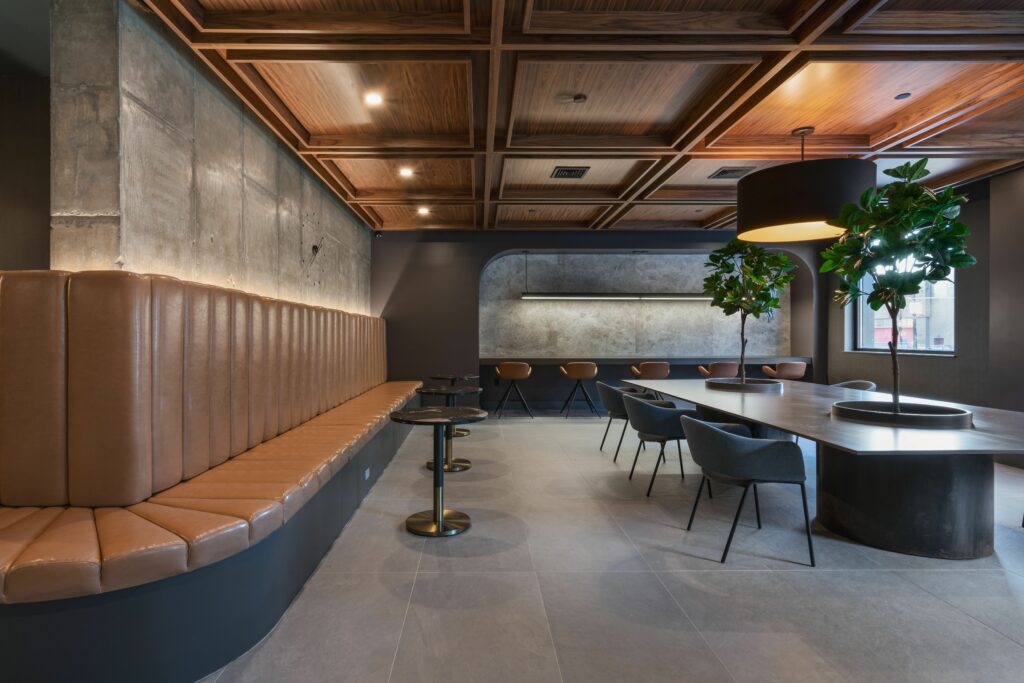 Firm: StudioSC
Project: 250-260 Gold Street
Location: Brooklyn, NY
Tile Manufacturers: Italgraniti Group, Lea Ceramiche
Distributor: Highstyle Stone & Tile
Contractor: Key Developers
Located in downtown Brooklyn, 250-260 Gold Street is a large, multi-family residential building that expresses luxury design through an elegant material palette and varying spatial experiences. The design team at StudioSC wanted to achieve a consistent look throughout the project without using the same tile in every space. They selected gray, marble-look porcelain tiles from Italgraniti for the lobby floor; slate-inspired tiles in a silver colorway from Lea Ceramiche for the hallway, work room and cellar; and wood-look plank tiles from Lea Ceramiche for the spa. In addition to being extremely durable, the variety and elegance of Italian tile highlights each space in a unique way while contributing to an overarching harmonious design.
SINGLE-FAMILY RESIDENTIAL WINNER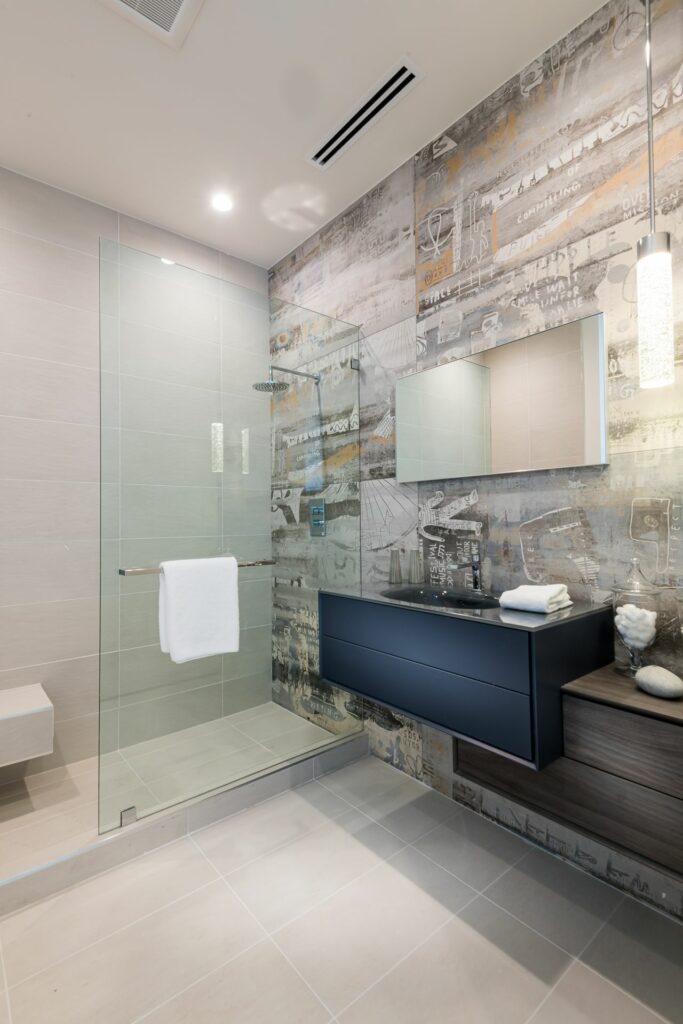 Firm: DI Group
Project: Stradella | Academia | Tigertail
Location: Bel Air, CA | Encino, CA | Bel Air, CA
Tile Manufacturers: Refin Ceramiche, Supergres, Imola Ceramica, Sant'Agostino |Refin Ceramiche, Florim, Supergres | Refin Ceramiche, Supergres, Imola Ceramica, Sant'Agostino, Laminam, Infinity
Distributor: DI Group
Contractor: 1640 Development| SG Construction | TT Investment Group
Stradella, Academia and Tigertail are three high-end single-family residential projects in Los Angeles. Designed by DI Group as speculative homes for its clients, the buildings posed a unique challenge: being appealing to a wide range of potential buyers while presenting original concepts in design. The vast variety of looks and surface applications offered by Italian ceramic tile manufacturers helped to make the designers' vision a reality. In Stradella, DI Group used tiles from Refin Ceramiche, Supergres, Imola Ceramica, and Sant'Agostino to create a level of luxury and elegance that raises the bar to new heights. For Academia, tiles from Refin Ceramiche, Florim, and Supergres helped emphasize the home's scenic views. Meanwhile for Tigertail, DI Group specified tiles from Refin Ceramiche, Supergres, Imola Ceramica, Sant'Agostino, Laminam, and Infinity to formulate a dark, masculine look for the client. In each of the projects, thousands of square feet of Italian tile was used in a wide variety of applications throughout the homes including for the interior and exterior floors, interior walls, external cladding, bars, fireplaces, kitchen islands, and more.
SINGLE-FAMILY RESIDENTIAL HONORABLE MENTION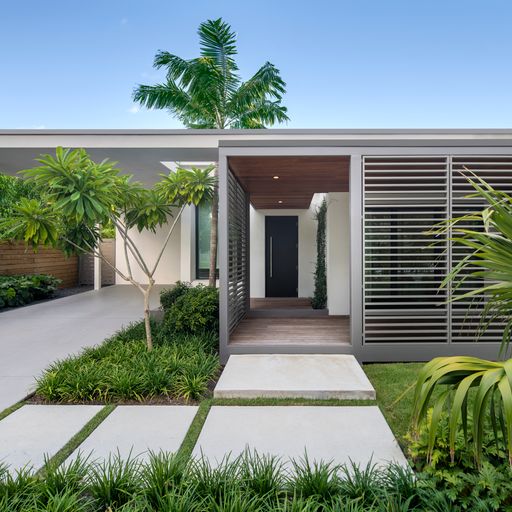 Firm: DEN Architecture
Project: Portico House
Location: Miami, FL
Tile Manufacturers: Lea Ceramiche
Distributor: Valencia Coverings
Contractor: Caribbean Construction Inc.
At 2,166 square feet, Portico House is a modern bungalow in Miami that seamlessly coexists with nature as well as the older homes in the neighborhood. DEN Architecture oriented the single-story house to take advantage of natural breezes and passive solar orientation while constructing a super insulated envelope and installing high-performance doors and windows. Porches, verandas, courtyards, gardens, and decks surround and permeate the space, allowing social activities to breathe life into the house. The porous character of the design required an extremely durable and low maintenance material for the flooring. The architects selected porcelain tiles inspired by lava rock from Lea Ceramiche's Basaltina Stone Project line to complete the organic design and material palette of the house.
COMMERCIAL WINNER
Firm: GH+A design studios
Project: American Dream
Location: East Rutherford, NJ
Tile Manufacturers: Atlas Concorde, Lea Ceramiche, Imola Ceramica
Distributor: Ciot
Contractor: Kris Stone, Berardi, Sesso
Located in the New York Metropolitan area, American Dream is a 3.2 million-square-foot property that combines shopping, entertainment, and family attractions under one roof. Within a sleek and texturally designed environment, more than 450 retailers and dining destinations are complemented by the ultimate leisure experiences including a water park, NHL-sized ice rink, and 300-foot-tall Observation Wheel. The plethora of patterns and colors that characterized the building from its original construction in the early 2000's have been transformed by GH+A design studios into a cohesive palette of chic, white tone-on-tone finishes with black framing details. This was accomplished with elegant, marble-inspired porcelain tile from Atlas Concorde, which was used as flooring throughout the "Main Street" common corridors as well as for some of the walls, columns and accent pieces. The firm also specified gauged porcelain panels from Lea's Slimtech Absolute line for the columns and white glossy tiles from Imola's Recolour collection for the restroom walls.
COMMERCIAL HONORABLE MENTION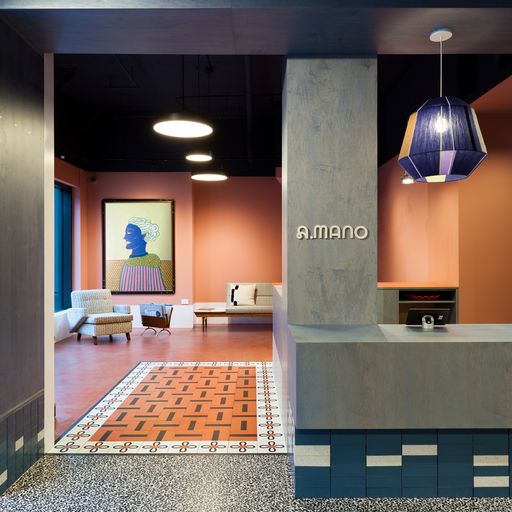 Firm: Sergio Mannino Studio
Project: A.MANO Brooklyn
Location: Brooklyn, NY
Tile Manufacturers: Florim
Distributor: Stone Source
Contractor: Minas Construction
A.MANO is a modern home goods store in Brooklyn with an interior program that reflects Sergio Mannino's dual heritage: Italian radical design and American minimalism. The space is divided into three distinct areas, each with its own look and feel. The main gallery is an eye-catching space featuring blue-stained plywood shelving sitting on a base of blue and white glazed bricks with a black and white terrazzo-look floor. Meanwhile, the coffee area has a more intimate and homey feeling, with a bolder terracotta tone on the floor and walls. The design team selected porcelain tile from Florim's Artwork collection for its bold aesthetic, which is also carried throughout the store's branding elements.
INSTITUTIONAL WINNER
Firm: Gow Hastings Architects in association with Moriyama & Teshima Architects
Project: Conestoga College Centre for Culinary and Hospitality Innovation
Location: Waterloo, ON
Tile Manufacturers: CE.SI Ceramica
Distributor: Stone Tile International
Contractor: Collaborative Structures Limited
The Centre for Culinary and Hospitality Innovation is part of a major renovation and expansion of Conestoga College's North Campus in Waterloo, Ontario. The design of the school, led by Gow Hastings in association with Moriyama & Teshima Architects, extends beyond typical mandates for durability, flexibility, and universal access: Bake, Culinary, Mixology and Butchery Labs, a 99-seat lecture theater, and demonstration cooking space are fully adaptable for classroom instruction or formal events. With a desire to make each culinary space easily identifiable, the designers created colorful, herringbone-patterned backsplashes to add interest to an otherwise technical, utilitarian space. The extensive color range of I Colori by CE.SI allowed for the creation of separate aesthetics while the tiles' fire-resistant, stain-resistant, and easy-to-clean traits made them a sustainable surface material for hard-wearing culinary labs.
STUDENT WINNER
Entrants: Korina Athanasiadou and Francene Roberts
University:New York School of Interior Design
Declared Major: Sustainable Interior Design
Project: Sustainable Townhouse in Seattle
Tiles Used: FAP Ceramiche, Vallelunga, Florim, Laminam, Saime
Interior design students Korina Athanasiadou and Francene Roberts designed the Sustainable Townhouse in Seattle as a sustainable, open space, allowing light to infiltrate all areas of the home -a contrast to the city's typically cloudy atmosphere. The design is largely guided by organic shapes, natural colors, textures and curved elements with Italian tile woven throughout the project for its exceptionally long-lasting qualities and uncanny appearance to a range of natural materials. On the main floor of the house, the gallery's white walls create a striking contrast to the warmer aesthetic of FAP Ceramiche's porcelain tile flooring mimicking oak wood. Meanwhile, tiles from Vallelunga's Luce collection and Florim's Match-Up collection were used on the countertop, island, and cabinets of the kitchen, transforming it into a workof art and highlighting the vast potential of ceramic tile. Upstairs, large-format porcelain slabs from Laminam and Saime were used to create a dramatic accent to the space's otherwise minimalist style.