Back in April, TileLetter, Contemporary Stone & Tile Design and Tile magazine presented the Coverings Installation & Design Awards (CID) at the Coverings show in Orlando. Many outstanding and stunning tile and stone projects were recognized.
Among them were two mosaic projects, which received Special Recognition honors. The first, "Fractured Fantasies" by Philadelphia-based Trish Metzner and collaborator Oscar Sosa, was awarded in the Mosaic category, celebrating a successful intercultural artistic exchange between creative professionals on both sides of the U.S.-Mexico border. The second award was in the Education category, this time for a set of murals made for P.S. 19 in Queens, N.Y., by Andru Eron and NY Tilemakers, then based in Brooklyn, N.Y. (and now based in Long Island City, N.Y.). These murals included elements from the 1964 World's Fair, held nearby in Flushing Meadows Park, Queens, N.Y. 
For this feature, we look at these two award-winning projects in more depth, championing the vision, artistry and craftsmanship that brought them to fruition. 
---
Fractured Fantasies,
Puebla, Mexico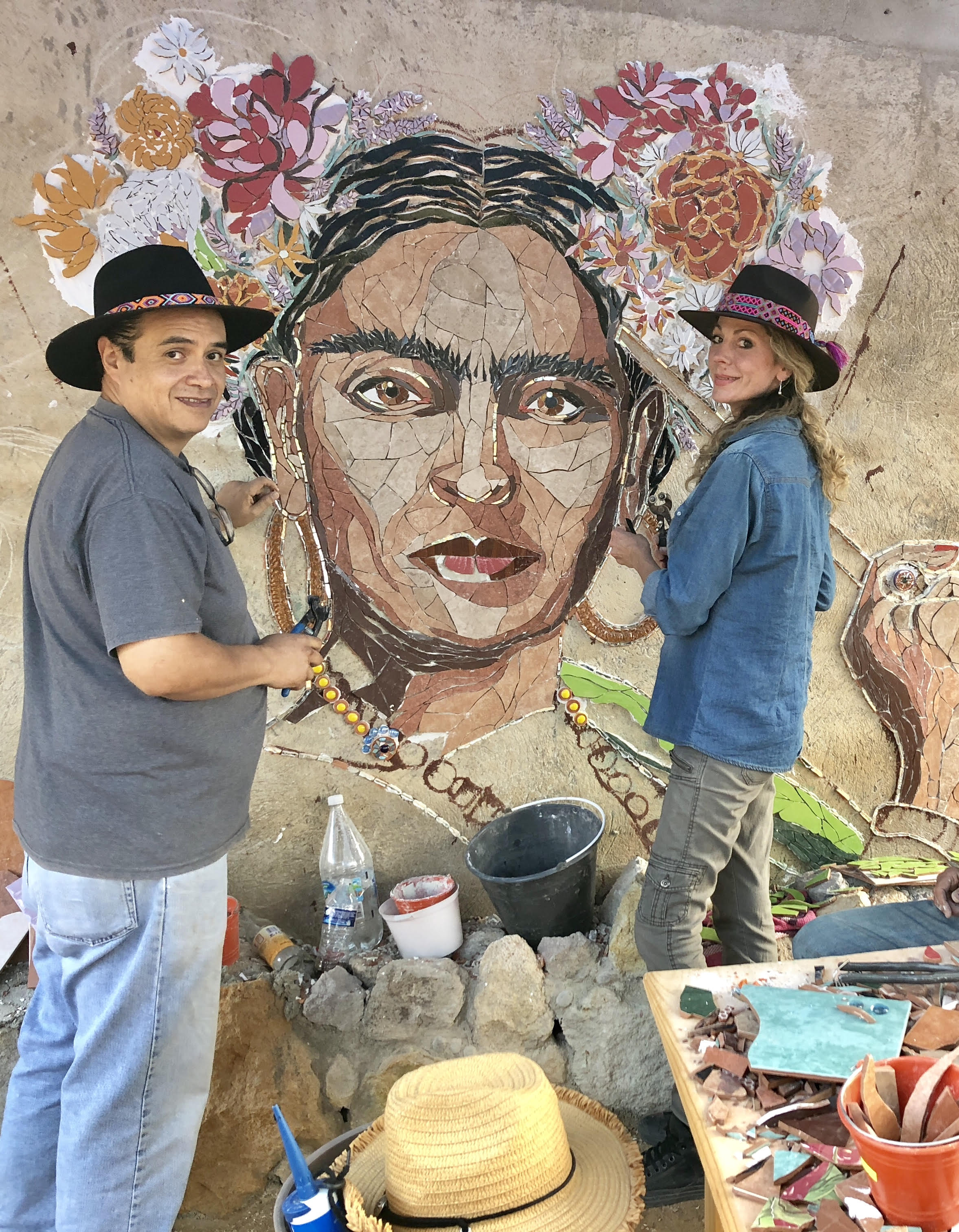 The Fractured Fantasies mural adorns the main entrance wall at the Luchita Mia Eco-Cabin Resort in a stylish, sustainably-constructed cabin resort property tucked away in the mountains of Puebla, Mexico. Designed and executed by Trish Metzner, owner of Made in Mosaic (madeinmosaic.com), and co-designer Oscar Sosa, an independent mixed media artist and designer who installed the mural, it aims to provide a relaxing, covered outdoor lounge area for guests. 
The mosaic honors renowned Mexican painter Frida Kahlo, to whom one of the cabins is dedicated. It combines tile mosaic, a painted background, cast concrete agave leaves and a natural stone retention wall to support the mosaic. Natural and chemical sealants on both the wall and in the artist's paint mixture itself addressed the challenge of combating moisture in the rainy region. A lightweight roof provided protection for the mural and a cool oasis for guests.
Paint, stone, and ceramic tile resulted in an interesting contrast of materials, and prompted creative ways for the artists to incorporate the materials into the visual narrative. 
"Here is Frida, painting her own fractured reality, the blue tile at the tip of the paintbrush becoming a blue painted line, swirling outward from the heart, communicating interactions between materials, subject, and creation," Metzner said. The work embodies sensitivity to the original construction methods and the natural surroundings while highlighting the bold, colorful, complex personality being depicted with flowing lines and repeated leaf imagery in the concrete agave leaves and seats.
No power tools were used in this entire project, artists opting instead for nippers and hand tools.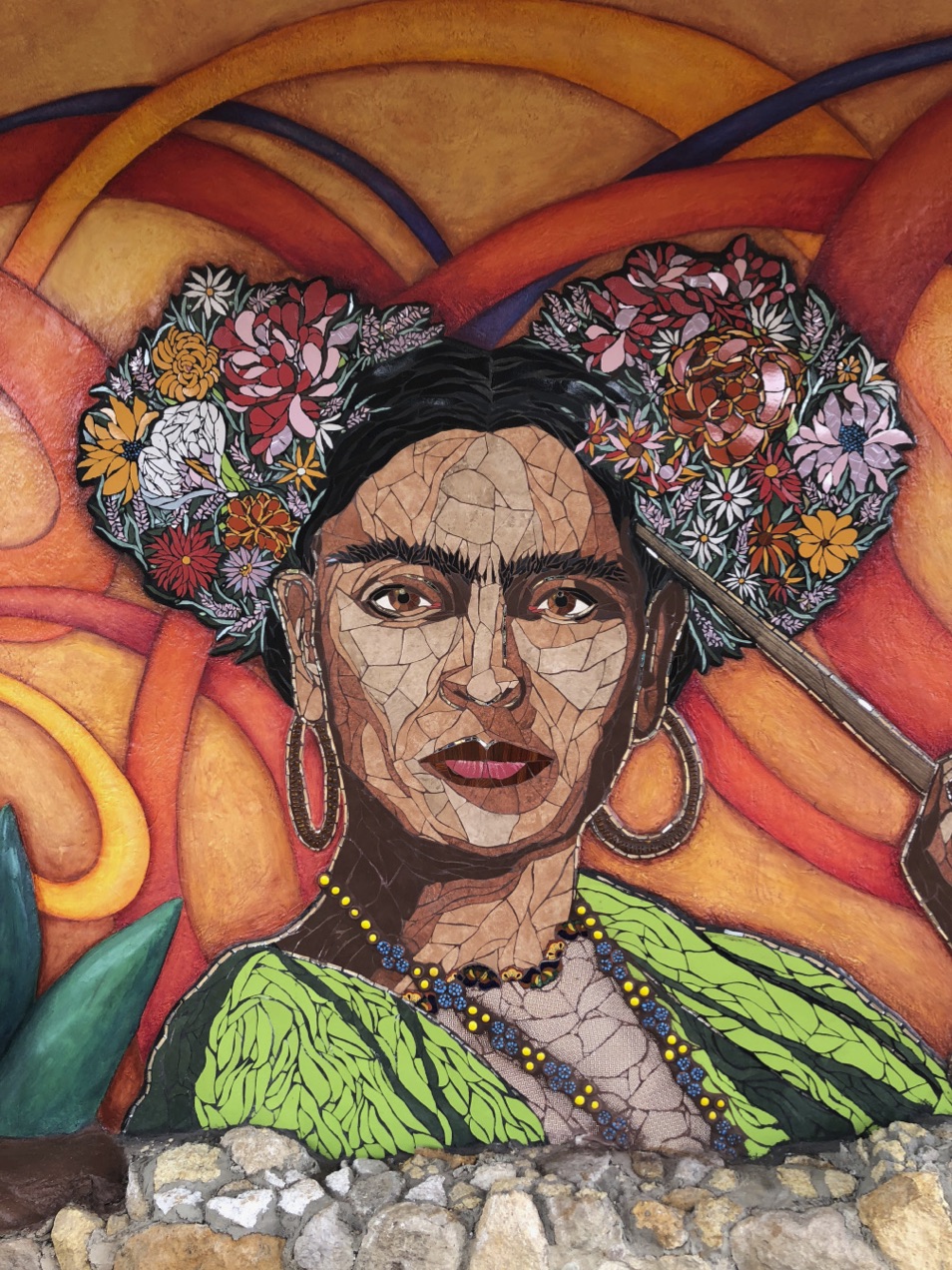 "Sometimes to innovate, you need to go back to the basics," Metzner said. "Everything was carved, cut, created and carried by hand. In fact, many hands, including those of local residents who participated by making mosaic flowers and sharing unconventional building techniques."
Tiles used were ceramic and porcelain floor and wall tile mainly from two manufacturers: Mexican Porcelainite and Italica tile from India, chosen for color, durability, and availability in the small region. The tiles, all broken, are located in the portrait section of the mural. Some tiles were recycled and donated since they could not be sold due to damage or chipping, saving them from winding up in a landfill.
The tiles were set with fortified thinset mortar. For grout, the artists used a ratio of 3:1 Portland cement and ground marble (sand was not available in the region) dyed with masonry pigments to create the desired colors: reddish brown for the face and skin, and black for the hair and clothing. Two distributors in the town center – Pisos y Azulejos la Bodega and Materiales La Bodega de Zacatlan – supplied all the purchased materials. The project was completed in October 2018.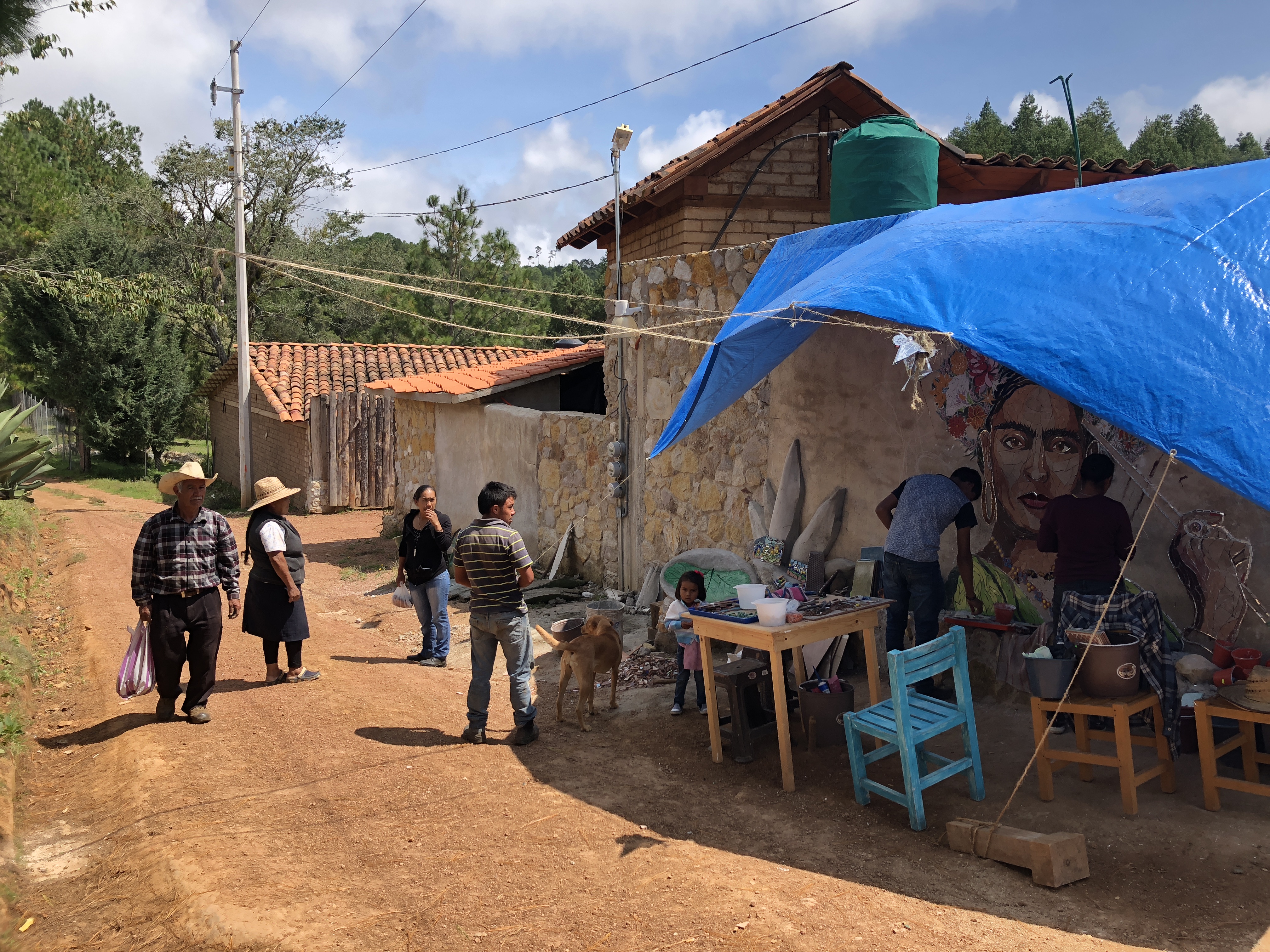 The resort itself was built with minimal harmful impact to the natural environment, and the artists were sensitive to this. They took care to prevent toxic chemicals from entering the nearby water supply and produced only one trash bag full of waste shards, which were combined with excess cement to produce stepping stones in the garden. The cabins were built with a process known as Bio Construction, using adobe and cob, locally-sourced natural stone, packed earth, and clay roof tile.
Metzner said, "While tile is an international industry, it also embodies an international cultural heritage whose value is not only evident as a product, but also as an innovative process with purpose. As a tile artist in 2019, it is worth noting that this project exemplifies a successful intercultural artistic exchange between creative professionals on both sides of the U.S.-Mexico border. That's not only real news; it's something worth firing up the kiln and tiling about!"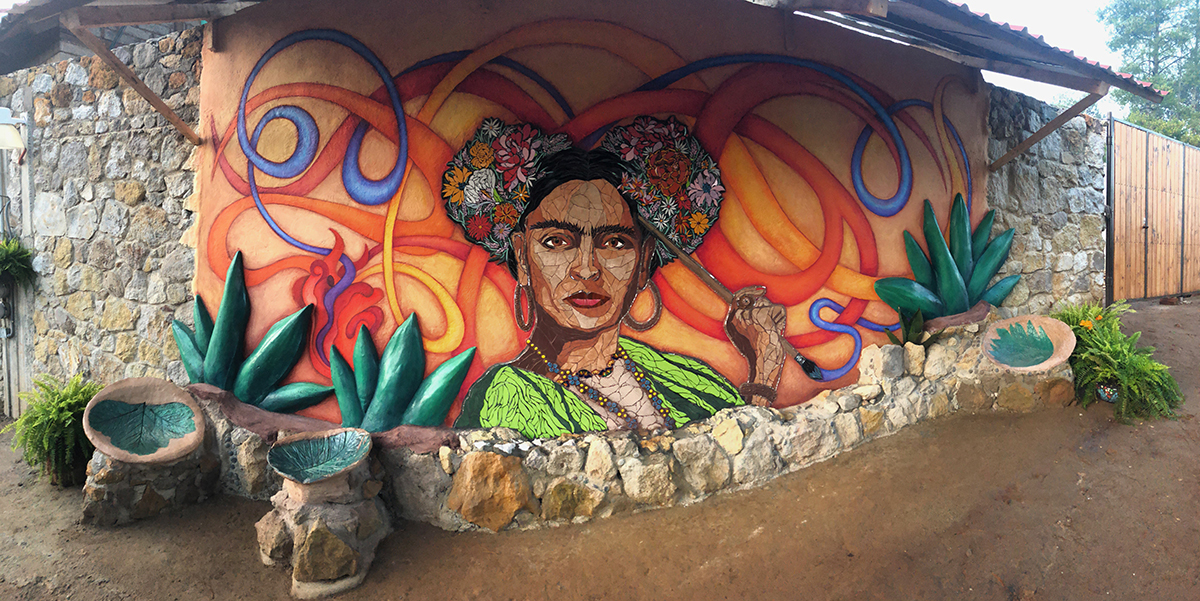 World's Fair mural: P.S. 19, Queens, N.Y.
N.Y. Tilemakers (NYT), founded by Andru Eron, has been has been based in New York City for 18 years. This year, N.Y. Tilemakers relocated to Long Island City, in the borough of Queens. It started out designing and fabricating art tiles for residential projects, but it's now focused on mural making. All tiles are crafted in The Arts and Crafts tradition, a movement in the decorative and fine arts that flourished in Europe and North America between 1880 and 1910. It stood for traditional craftsmanship using simple forms, and often used medieval, romantic or folk styles of decoration. 
N.Y. Tilemakers (nytilemakers.com) has completed two large murals for the School Construction Authority, an agency of the City of New York, with additional murals scheduled for this year and 2020.
The award-winning mural is permanently installed in Public School 19, in Corona, Queens. Work began in January 2018 when artist Cheryl Molnar won a competition to design the mural for a new lobby at the school. She was inspired by the architecture of the 1964 New York World's Fair, held in Flushing Meadows Park, which borders the neighborhood where P.S. 19 is.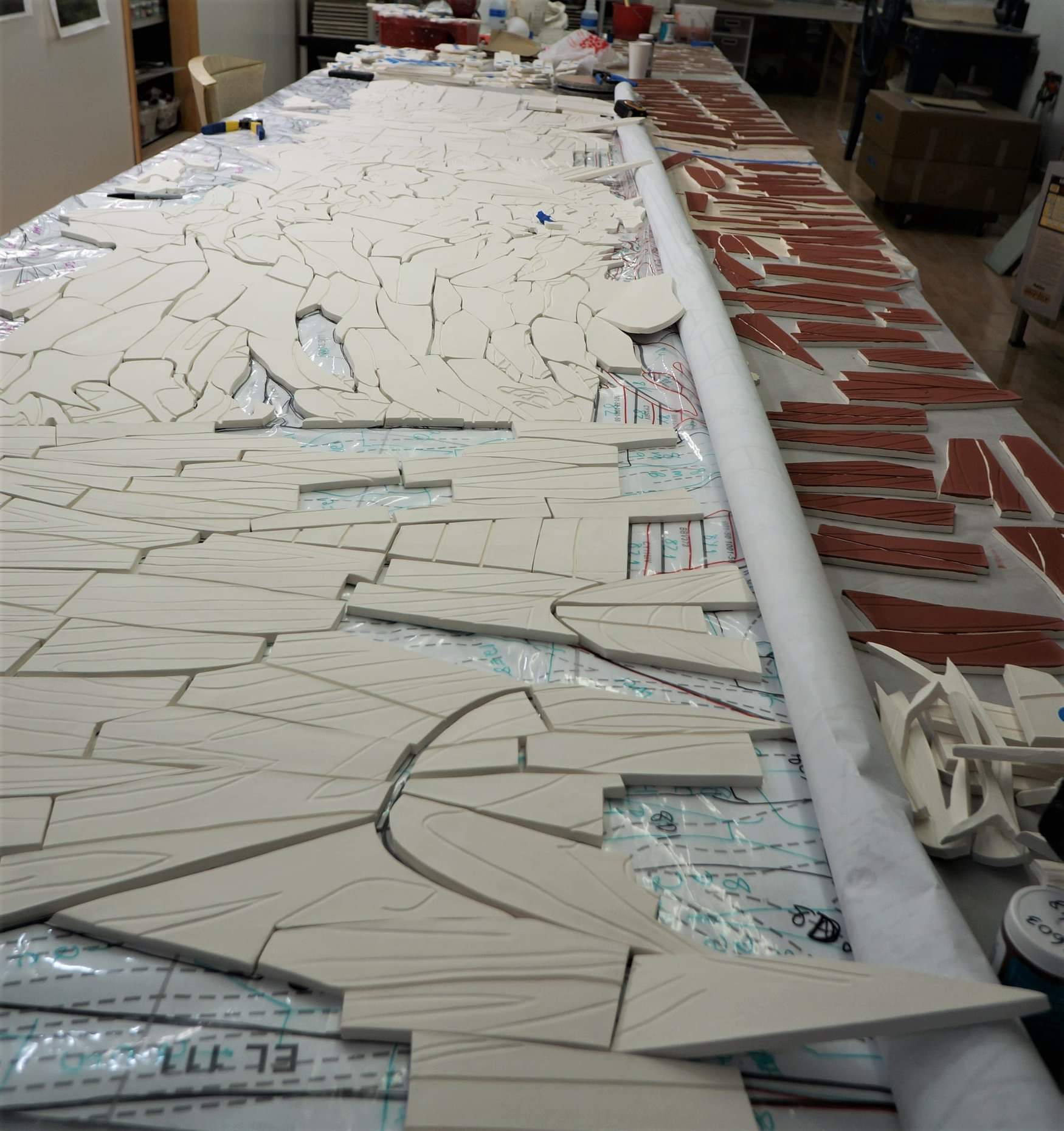 "The composition uses the central motif of the N.Y. State Pavilion and the Unisphere," Eron said. "Elements of both of these structures are still in the park."
Molnar hired N.Y. Tilemakers to do the work. Fabrication was done in N.Y. Tilemakers' 1,100-sq. ft. workspace, then based in Williamsburg, Brooklyn. The entire project took about seven months, and involved about 60 different glazes. 
Six helpers created numbering systems for the more than 2,600 ceramic pieces needed, created templates, fabricated the tiles, and oversaw the drying, glazing, loading and unloading of kilns. All tiles were fabricated from moist clay, which is low-fire white earthenware. The sky elements are Italian glass mosaic, 1" square format from Bisazza. All glass mosaics had to be cut to fit amongst the crafted tiles. 
The overall length of the mural is 44 feet, and the height is 10 feet, which created a challenge in not being able to see the mural in a vertical and complete layout until the jobsite."We built a platform so that we could dry-fit and inspect a 10' x 10' section," Eron said.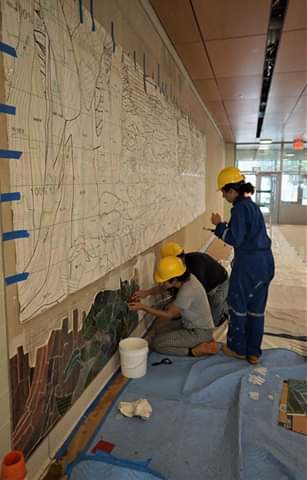 Another challenge is that there was only about one week to install the mural. To expedite this process, Eron said, "When we are sure that the pieces all fit together, and are the correct colors, etc., clear plastic mosaic film is applied to the working area of the mural. That section is cut into (roughly) 24' x 24' modules. Everything is boxed up for transport to the school."
Four people were onsite for the actual installation. "Our regional rep from Custom Building Products consulted with us during the fabrication and installation. We used their appropriate products: ProLite Mortar in white, non-sanded grout in platinum and sanded grout in pewter, AcrylPro adhesive, and PolyBlend sanded caulk in platinum and pewter. We requested that the builders used Hardibacker for the substrate. They did that, which is our preferred backer board because it is smooth (without being slippy) and has an embossed grid pattern."

"While much has changed since 2003, some important elements have not changed, (and never will)," Eron said. "All of our products are handmade by skilled artisans in small quantities. We make tiles-to-order; choose a color, choose a pattern, and we'll put your order into production. Our products are not factory tile – their unique handcrafted characteristics have character and variety. Our tile is handmade. Our tile is handled, cared-for and finished by real people – no two tiles are alike. We think that's pretty cool."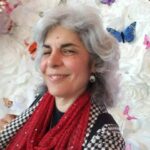 Editorial Director and Senior Writer for TileLetter and TileLetter ARTISAN
Lesley Goddin has been writing and journaling since her first diary at age 11. Her journey has taken her through a career in publishing and publicity, landing her the editor position of TileLetter and its special publications in 2006. Her goal is to educate, inspire, recognize and encourage those in the tile industry -- especially the tile and stone contractor. Other interests include the soft, purring marvels known as cats, labyrinth walking, drumming and percussion, and a range of spiritual, musical and artistic pursuits.