Those familiar with tile recognize that stunning tile installations have stood the test of time and endured as practical works of art for generations and generations.
Today's tile setters participate in that tradition of precision and artistry with every job. And there are some techniques that take tile craftsmanship to the next level. Scribing is one such technique.
"Scribing is an art form," said NTCA member Joshua Nordstrom, of Tierra Tile in Homer, Alaska. "It highlights the level of skill, detail, and abilities that you're capable of."
Scribing "gives an install a more artistic feel – it's more personal – which is great for our industry because as tile setters, we are artists, and it's nice to be able to do something creative to showcase that fact," agreed Jason McDaniel, NTCA member of Stoneman Construction, LLC, in Tualatin, Ore.
Scribing is done "when a factory tile meets an organic shape such as pebbles, natural stone, or around an irregular shape," Nordstrom explained. "Pebble scribing is very common because cutting pebbles in a straight line doesn't look or feel like a natural transition," McDaniel added. "Over the past few years, it has become more common to see a pebble scribe.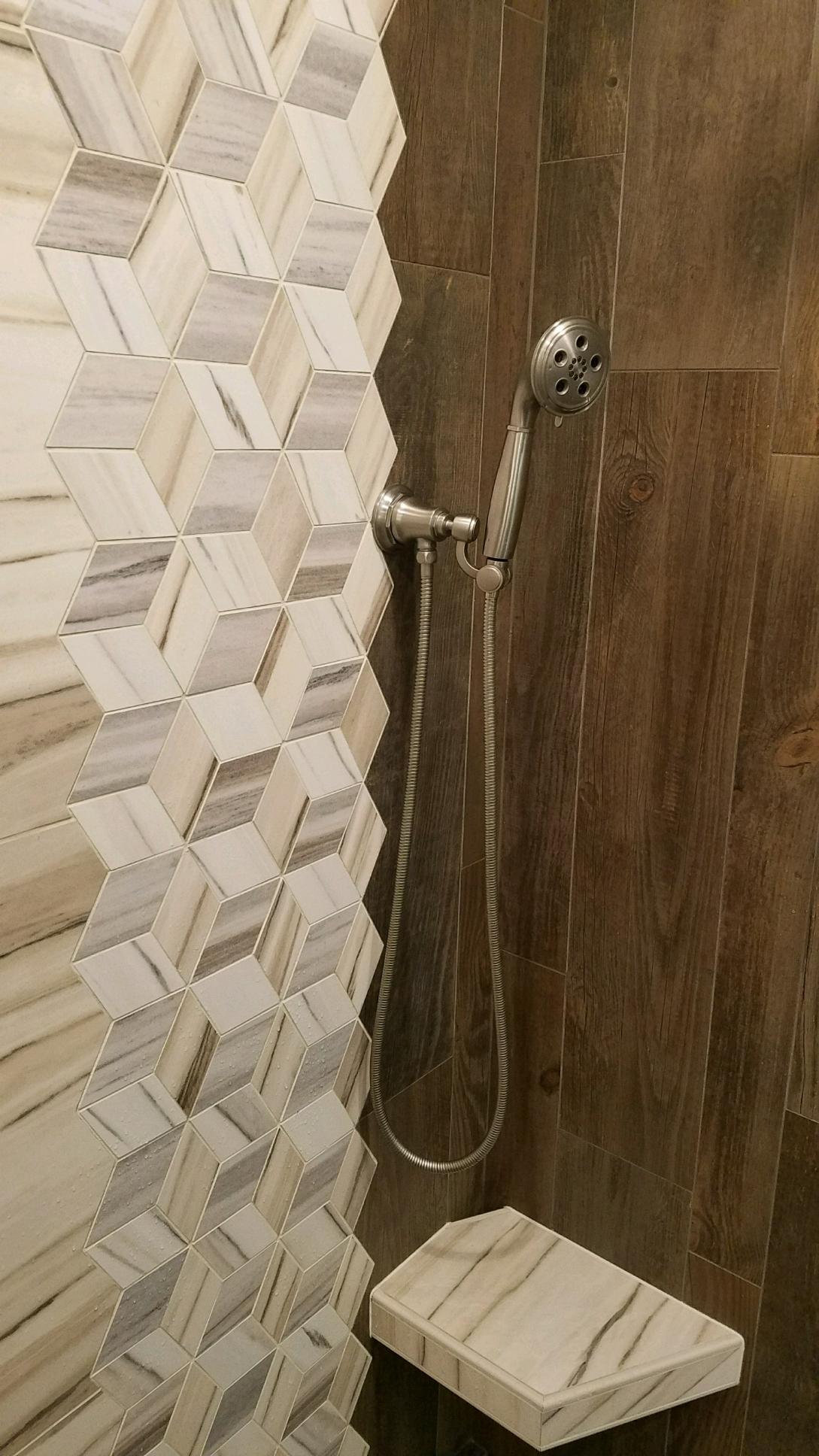 "Personally, because I like to scribe, I decided to do a mosaic hex scribe and see how that would look," McDaniel continued. "It looked amazing and now we scribe everything." 
While there are many ways to customize a project, scribing can make the job truly original. Nordstrom says in his Alaskan community, his clients like to incorporate nature endemic to the area into their tile designs, often in bathrooms and entryways. "I offer my clients a personal touch for their tile install, from an elaborate mural to a simple medallion, he said. "I find that I can sell a scribed mosaic in about six out of 10 jobs. Most people like to add just that little touch to set their home apart from the rest."
Scribing takes a combination of skills, all of which begin with PATIENCE. "Scribing is a game of patience that requires time and experience to master," Nordstrom pointed out. "It takes as long as it takes," said Kyle Gaudet of Flawless Floorz, a NTCA member in Brentwood, N.H., "Take your time – even extra time – until you're comfortable with what you're doing."
The essential skill of templating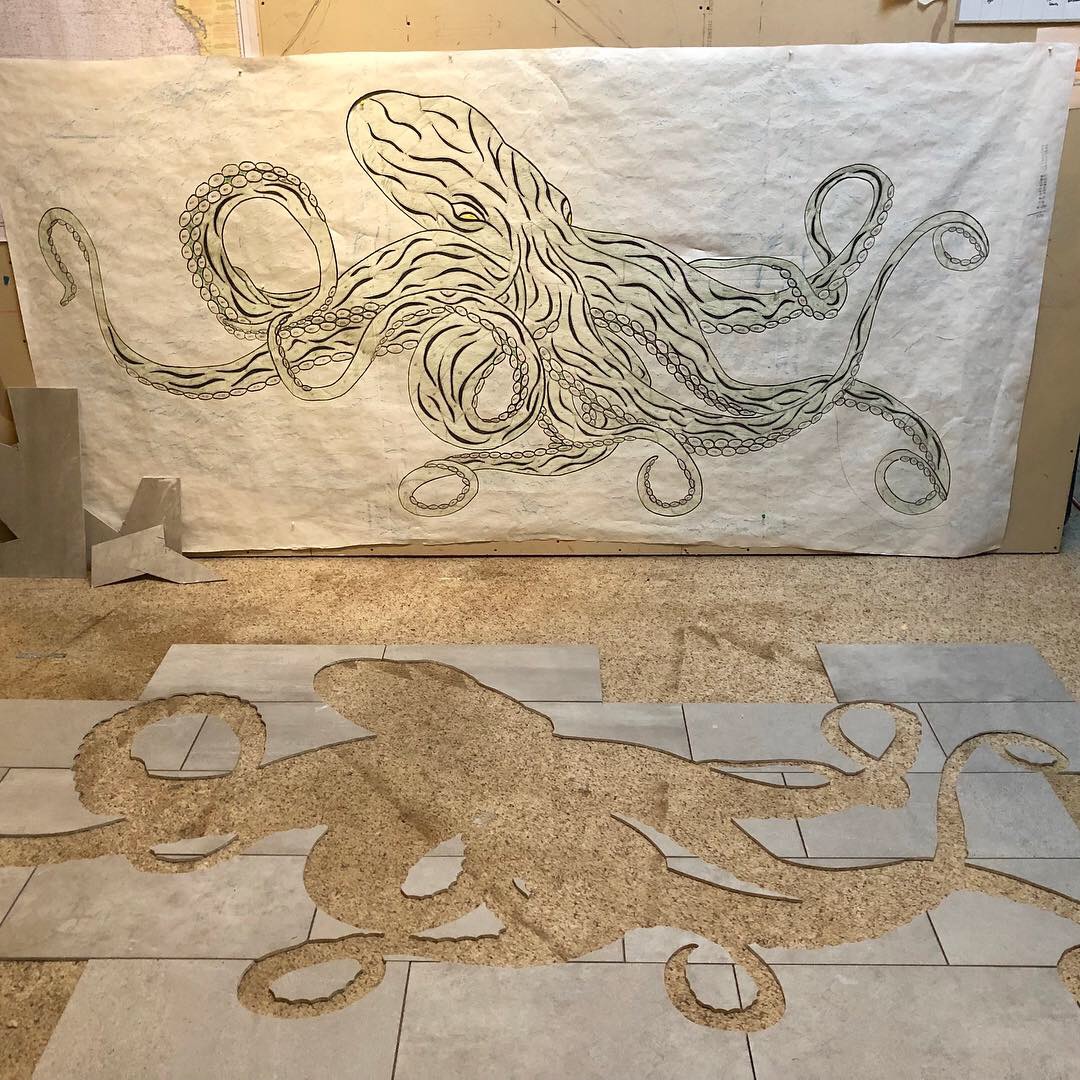 An essential skill to clean scribing is templating. "I template everything when it comes to scribing a mosaic," Nordstrom said. "It all starts with a scaled drawing that gets blown up with a overhead projector and traced life size on a Tyvek 'canvas.' Once it's all colored and labeled, I go over it with tracing paper creating each individual template. Once everything is cut and installed on a fiberglass mesh, I lay the mosaic over the field tile, trace it out and scribe it in."
McDaniel's first step is templating as well. "I precut all of my tiles for the floor or wall and then I overlay the pebbles or mosaic that I am going to scribe," he explained. "I trace the outside of the tile with a sharpie and then use a grinder and remove the sharpie mark. Once the scribe is completed I take a diamond pad or sanding disc to ease over the cuts and make them look smooth and finished, taking all of the chips out of the scribed area. I have found that precutting the area and overlaying is by far the easiest method to use when scribing."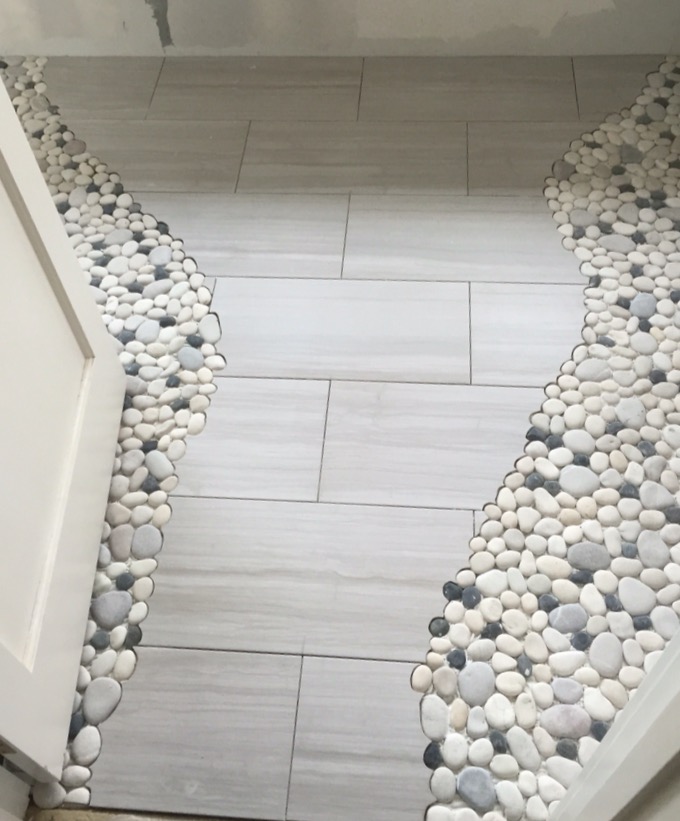 McDaniel didn't always use this method. "The first scribe I ever did was a pebble scribe," he said. "I made templates using wax paper, which was grueling and time consuming, and not as accurate as overlaying and tracing. Overlaying and tracing allows you to set the field tile first, letting that area dry. Coming back in the next day and setting your scribe mosaic allows you to make the transition between field tile and mosaic tile perfectly flush, as it should be."
Gaudet uses a "traditional" 2" piece of the tile for a scribing piece, marking every piece contour by contour. "I also use a 5" and 4" angle grinder, nippers and dry polishing pads," he said.
Scribing tools; dealing with varying thicknesses
In terms of tools, McDaniel scribes everything with a grinder with a 6" turbo mesh blade, which gives him the best accuracy given the amount of plunge cutting necessary in scribing. "The larger blade allows you to go deeper into the tile before you hit your grinder. Saw horses and clamps are a must have to hold the pieces in place. After I finish my scribe, I ease all of my edges with a 100 grit sanding disc, or a Dremel tool for tighter corners. I am aware that Joshua Nordstrom does all of his scribing with a tile saw and I find that to be absolutely amazing!"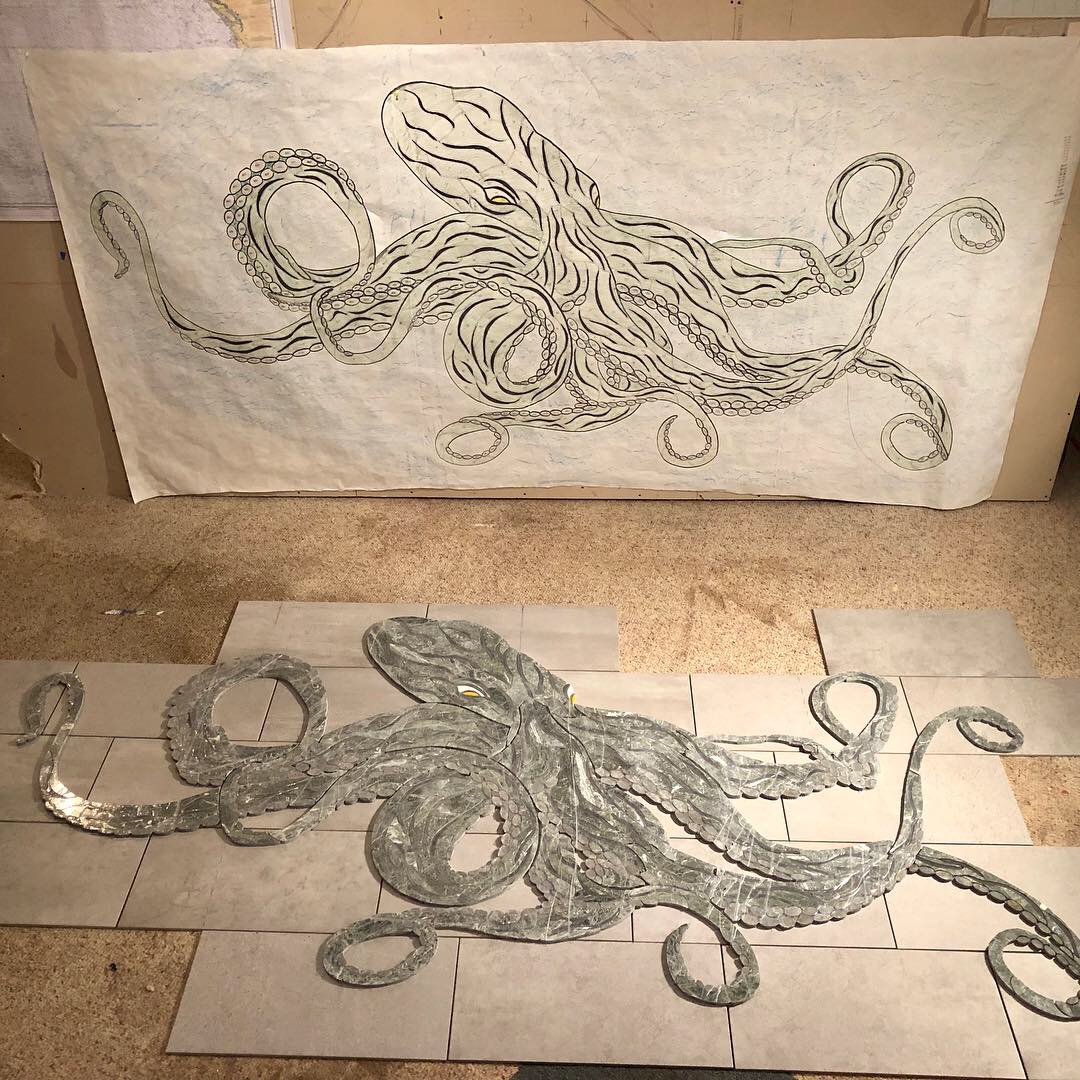 In fact, Nordstrom uses a 10" wet saw, resorting to a grinder only if it's necessary to remove some material from the tile back to achieve the same thickness between different tiles. "I have learned over the years that installing a fiberglass mesh on the backs of my mosaics really simplifies the installation," he said.
McDaniel said scribes can be mounted on membranes or thin backer board, though he prefers to "screed my scribed area with thinset so that I can adjust each piece meticulously, insuring that I have a consistent grout line that matches the rest of my install. It also depends on what you are scribing. Sometimes glass mosaics can be difficult to deal with, so pre-mounting them is a worthwhile step."
Considering thickness is key when scribing, and matching the tiles or grinding the tile backs is sometimes necessary to achieve the proper thickness. "Sometimes when installing you may need to use different trowel sizes to accommodate the height difference in the tile," Nordstrom said.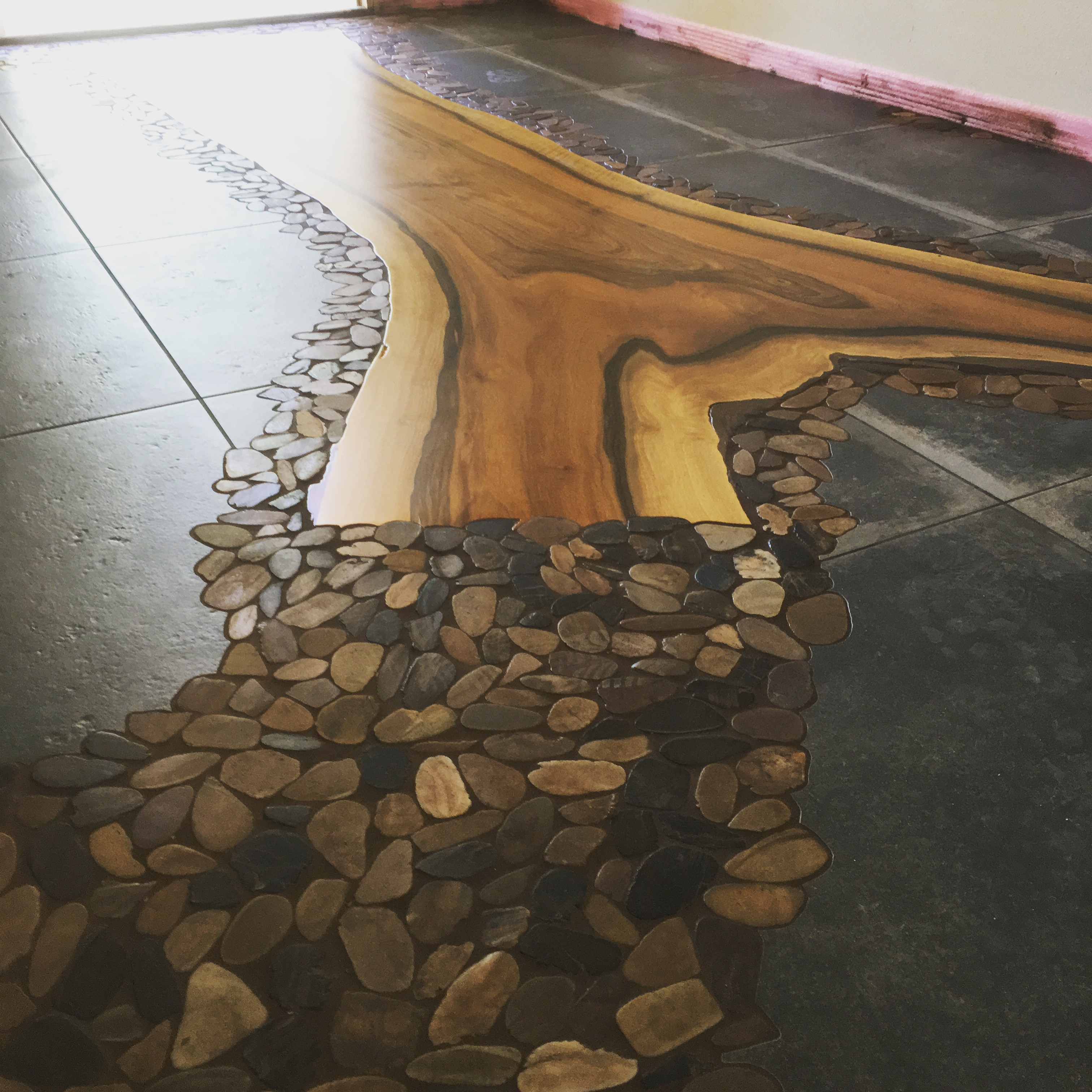 McDaniel tells about his most challenging scribing task – installing pebble mosaics around a large piece of walnut in an entryway. Engineering expansion and elevations among the four surfaces and four thicknesses was tricky, he said. "With anything tile, planning ahead and having a game plan going in is essential to being successful," he said. "Having a start and stop point, keeping your area clean, making sure you have expansion, using anti-fracture membranes, uncoupling membranes, better setting materials, non-sag thinsets; all of these things make your job easier."
Pricing the job is personal. Nordstrom figures out how many hours it will take him to cut and install, price it on an hourly or date rate, and figure in a little extra for margin of error. Gaudet, whose company is new to scribing, said his client was initially resistant to scribing and the associated upcharge. But "after showing him a few of the pieces, he was in total agreement with my opinion to scribe that wall," and to agree to pay the upcharge due to the look.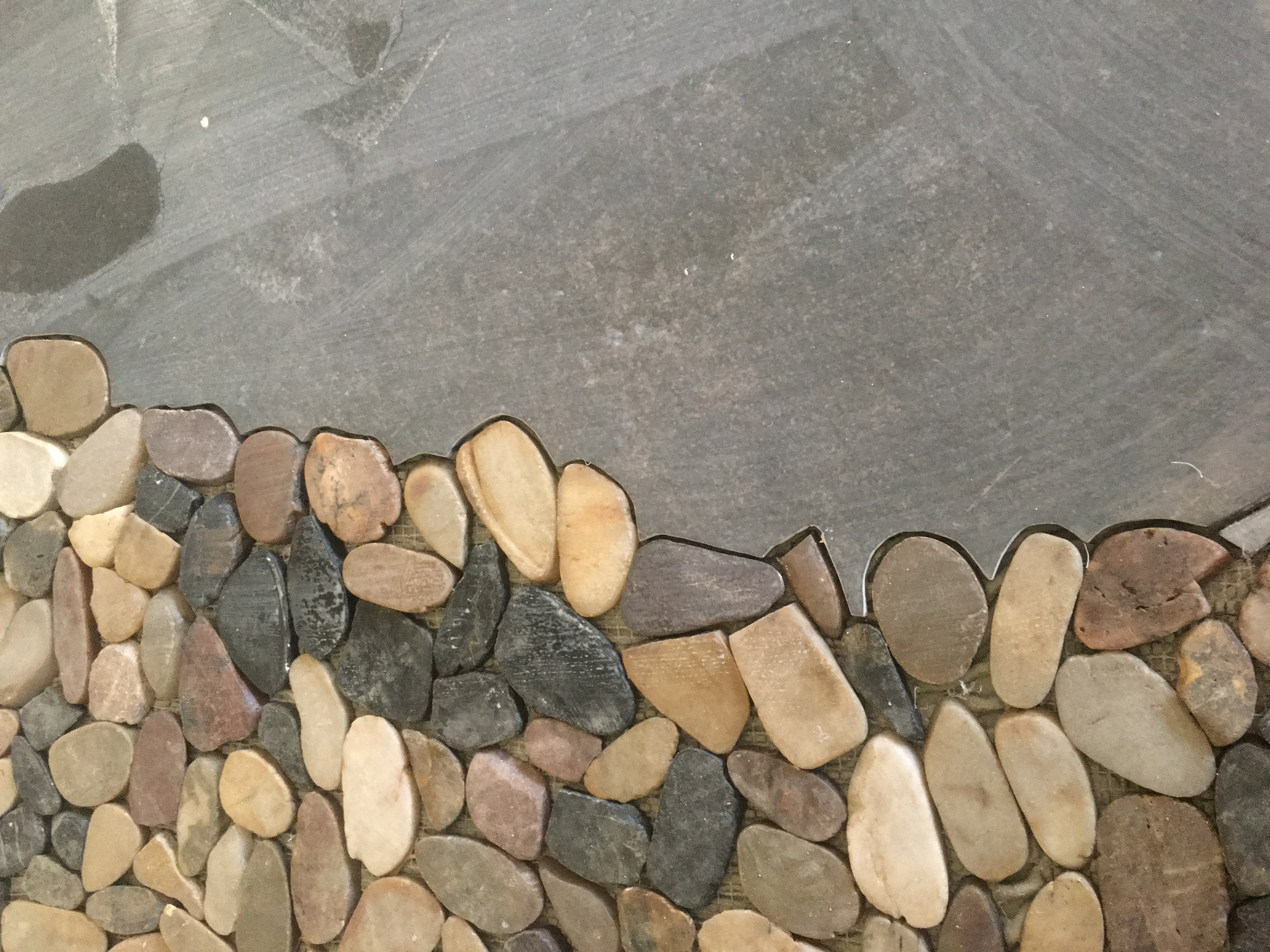 McDaniel, though, doesn't charge extra for scribing. "I have never made money on a scribe," he said. "I do it because I want my work to stand out. I want to be known as an artist and a craftsman. Maybe someday I will make money from my scribing ability, but for now I am okay with being considered a 'Tile Badass'."
In addition to taking your time, starting small and having patience, McDaniel said the most important thing when scribing is to have confidence. "Know that you can do it; know that you are doing something different that is going to stand out when seen." He also recommended following the work of several tile setters who have been successful with scribing – and reaching out to them for advice: Robert Davis, Mike Soho, Zack Bonfilio, Tom Habelt, Carl Leonard, and Hawthorne Tile. In addition, he recommended viewing the videos and pictures posted in several tile-centric Facebook groups: Global Tile Posse, Tile Geeks, Tile Love 2.0, The Misfit Tilers, and Tilers Talk to get more information and inspiration.
If you are looking to give it a try, here is the first video in a series Nordstrom created on scribing. The remaining videos are available on the NTCA YouTube channel.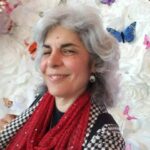 Editorial Director and Senior Writer for TileLetter and TileLetter ARTISAN
Lesley Goddin has been writing and journaling since her first diary at age 11. Her journey has taken her through a career in publishing and publicity, landing her the editor position of TileLetter and its special publications in 2006. Her goal is to educate, inspire, recognize and encourage those in the tile industry -- especially the tile and stone contractor. Other interests include the soft, purring marvels known as cats, labyrinth walking, drumming and percussion, and a range of spiritual, musical and artistic pursuits.