Well, we did it! A significant portion of the tile and stone industry gathered together in person at our first industry trade show, in steamy Orlando in early July. Though Coverings was a scaled back to encompass only the North Hall of the gigantic Orange County Convention Center, you'd never know it from the activity on the floor and the smiles on the faces of the attendees and exhibitors. Add to that the virtual event that streamed out to those who couldn't make the trip, and we'd have what I'd call a success on our hands.
It was a Hero's Journey of sorts, after a year of anxiety and loss, and seeing each other only in 2D on the flat screens of our computers and phones for many months. Although in my experience, the travel and lodging particulars are not quite up to par yet, the invitation to attend an event of thousands face to face was enticing nectar of camaraderie for three days in tropical Florida.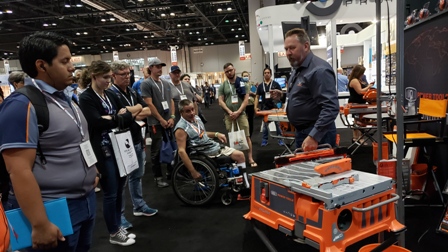 The show – which crammed 4 days of educational sessions, demos, exhibitor visits, tours, announcements and events into 3 – was bustling with excitement and activity. Programming included live demos conducted by National Tile Contractors Association (NTCA) and manufacturers on the Tile Council of North America (TCNA) Live Demonstration Stage, the educational sessions and panels, press conferences and tours to tile exhibitors by Ceramics of Italy, Tiles of Spain, and TCNA. NTCA ran Contractor Tours packing 12 visits to setting materials and sundry manufacturer exhibits in just one hour.  
Buzz in the Coverings Lounge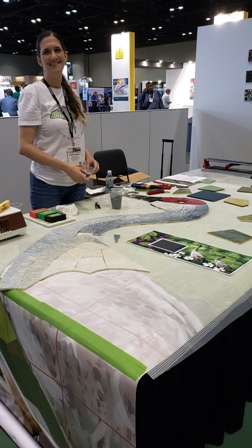 In the Coverings Lounge – a hub for all things Coverings, was the Society of American Mosaic Artists' (SAMA) One Hundred Moments in Mosaic exhibit (and the Annual Mosaic Arts International Exhibit on the show floor) and artist Cherie Bosela of Orlando's Luna Mosaics worked live on a mural she is doing for Bomberos Park in Orlando.
The Coverings Lounge also hosted daily live streams from the Dragonfly Tile & Stone Works studios in Milwaukee, Wis., where tile artists Lee Callewaert of Dragonfly, Joshua Nordstrom of Tierra Tile, assisted by Seth Ready of Broomfield, Colo.'s  Ready Set Tile & Mosaic, Dragonfly's own Maria Meyer and Jane Calleweart (with Shae Callewaert behind the camera!) assembled a 6' x 4' custom mosaic of "Wally the Gator" inspired by Covering's Florida locale. Attendees got to watch the mosaic take shape and learn about the intricacies of this kind of installation, right down to the white onyx teeth that added an extra dimension to the piece when they were aglow with a 15' of LED strip backlighting at the final reveal! The finished piece, which also features a rare Avodire exotic hardwood frame with walnut corner ties and solid brass molding, programmable remote and alternate lighting and dim features will be made available through auction to benefit the Ceramic Tile Education Foundation (CTEF). Stay tuned for details!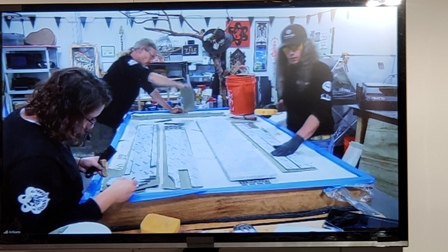 Exhibitor and attendee reactions to the show
Exhibitors were overjoyed at the "quality" of attendees, noting over and over that those who made the trip were engaged and intent on doing business.
"My dealers all bought my new collection," said Allison Eden, of Brooklyn-based Allison Eden Studios, who unveiled a colorful new line that conveyed her hopeful wishes for a "sweet year."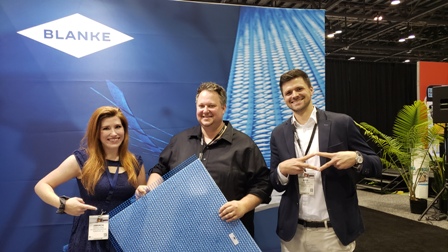 Amanda Henke, at Blanke, said the show was "better than we expected, with good quality" visitors at the booth.
Steve Sprung of Tile Tools said, "I was surprised at how many people were there [the last day]. Obviously, people were committed.  This show is about the installer, with education, hand-on demonstrations, newest equipment, and finding ways to increase their value."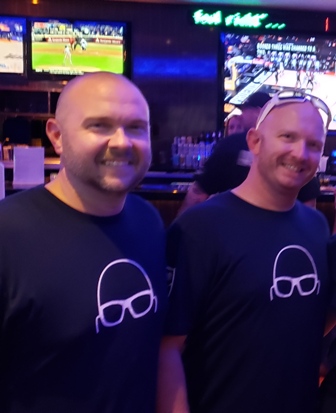 Ron Nash, LATICRETE North America president called Coverings, "Old home week. It was much much better than I anticipated," he said. "I believe in the mission of Coverings – we'll always be there."
Attendee Rod Owen of C.C. Owen Tile called the show, "very productive." He attended to help guide several clients to vendors that carried products they were trying to find. "It's always educational," he said, sharing that he found time to attend a "couple of seminars."
Lisa Bustamante owner of Custom Mosaic Creations in Portland-area Troutland, Ore., said, "My first impression of Coverings was before I ever left home. The Coverings app was very helpful for planning our time at the event. I was very impressed with how beautiful the vendors booths were. They looked like showrooms! We enjoyed the live classes and seeing Dragonfly studio and Josh Nordstorm streaming live.The awards ceremony was amazing from the food, drinks, and meeting people you only see on social media, and seeing the joy of everyone being recognized.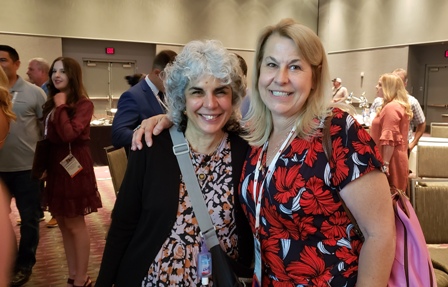 Bustamante had a special take-away from the show, "The best part is I became a member of NTCA and look forward to learning more and getting to know more people in the industry. Coverings22 is a must!"
Camaraderie, awards abound
There was also a great sense of connection and celebration, not limited to the many awards ceremonies for the Coverings Rock Stars, the Coverings Installation & Design winners and the NTCA, CTEF and TCNA awards (see related stories on tileletter.com). Truly there was a sense of gladness of heart, and of old friends reuniting and new friends being made, on the show floor, at exhibitor booths, at the Coverings lounge – and even at the airport!
The next Coverings reunion will take place April 5-8 at the Las Vegas Convention Center in Las Vegas, Nevada – but if you want some good Florida-based industry juju before then, mark Total Solutions Plus on your calendar for October 24-26 at the Hyatt Regency in Jacksonville, Fla.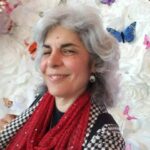 Editorial Director and Senior Writer for TileLetter and TileLetter ARTISAN
Lesley Goddin has been writing and journaling since her first diary at age 11. Her journey has taken her through a career in publishing and publicity, landing her the editor position of TileLetter and its special publications in 2006. Her goal is to educate, inspire, recognize and encourage those in the tile industry -- especially the tile and stone contractor. Other interests include the soft, purring marvels known as cats, labyrinth walking, drumming and percussion, and a range of spiritual, musical and artistic pursuits.