April 20, 2023 – ARLINGTON, Va. – Coverings (coverings.com), the preeminent event for the ceramic tile and natural stone industry in North America, today announced the winners of its 2023 Best Booth Awards. The program recognized exceptional exhibitor booths across Coverings' primary sponsors' pavilions, Ceramics of Italy, Tile Council of North America (TCNA) and Tile of Spain. An esteemed panel of tile and stone industry judges selected three Best in Show booth displays to bestow the coveted awards and recognition.
"The innovation and creativity our exhibitors display at Coverings never ceases to amaze us, and this year is no different," said Jenn Heinold, president of Taffy Event Strategies, the show management company for Coverings. "We see breathtaking tile and stone inspiration not only through their talents in manufacturing products, but also in the unique booth designs they create on the show floor. All exhibits this year are worthy of recognition, however, Coverings is honored to celebrate the three superlative tile and stone booth displays as the 2023 Best Booth Award winners."
The Best in Showhonor in the Ceramics of Italy pavilion was presented to EDIMAX ASTOR CERAMICHE (Booth 811), which showcased tile applications in various residential settings, giving rise to a host of tile design setting possibilities for specifiers. The booth's swoon-worthy quarters included displays creatively crafted of porcelain ceramic tile in a variety of colors proper to nature. Each of the rooms throughout the booth blend into any environment, thanks in part to the materials and soft colors that recall various natural elements.
EDIMAX ASTOR CERAMICHE's vast array of inspired displays included Symphony and Nuances porcelain ceramic tile collections, offered in small, medium and large-scale formats. The theme of EDIMAX ASTOR CERAMICHE's booth display represented the modern luxury of residential building, drawing its inspiration from linear and modern architecture with monumental and sometimes sculptural forms. Coverings 2023 attendees touring the booth had an eye-opening experience that reminded them of the diversity of tile and its multitude of applications.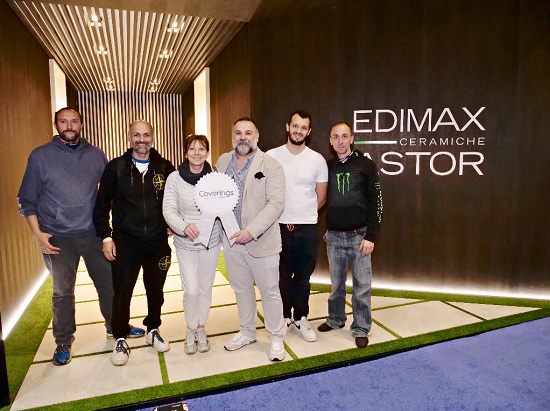 Iris Ceramica Group (Booth 2619) received Best in Show in TCNA's pavilion for its collective booth design, showcasing Iris Ceramica Group's various companies and brands. The booth was designed with a circular center area to represent the relationship between humanity, the environment and the company's long-standing commitment to quality and sustainability. The booth's theme was inspired by the central and vital role of nature, symbolized by a tree at the center of the exhibit space. The booth was designed with a spacious display that connected four corner sections or viewing areas, all filled with large, artful wall panels that exuded the beauty and luxury of tile.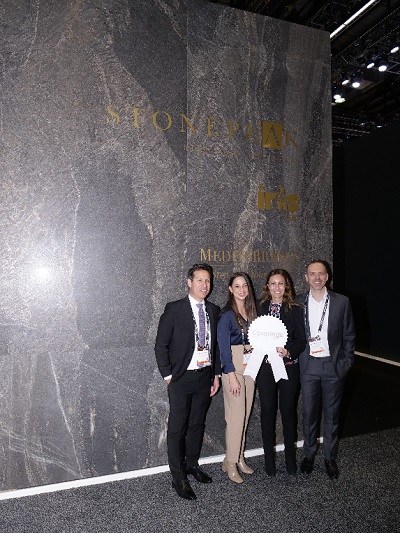 Judges were impressed by all statement tile options that displayed a mixed variety of captivating colors, patterns and sizes. Two of the booth's product heroes showcased in Iris Ceramica Group's booth were Terre Cotte Oro, made of ceramic tile and Kuroca porcelain tile. Both standout products complemented the overall elegance that the booth emanated throughout the entirety of its space.
The Best in Show booth award in the Tile of Spain Pavilion went to WOW Design (Booth 4855), where ceramic tile selections in a variety of patterns and combinations were featured throughout the numerous semi-oval alcoves of the exhibition space, stimulating the senses of booth visitors. Two of the noteworthy collections in the booth were the Abbey Stone collection with square- and rectangular-shaped porcelain tile options in a variety of sizes and colors, and the Aquarelle collection, consisting of smooth-contoured and rectangular product choices available in gloss finishes of many superb colors.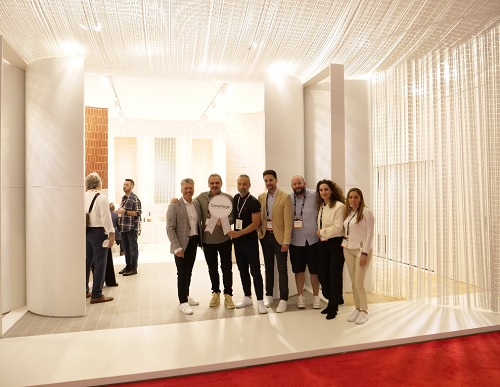 The creative concept of WOW Design's award-winning booth contextualized the Mediterranean style through a space of ephemeral architecture designed to envelope booth visitors in an immersive atmosphere. The exhibit space was created from a "living" façade that reveals a space where light and matter sculpt the ceramic essence.
Learn more: www.coverings.com.
---
About Coverings: Coverings is the largest and preeminent ceramic tile and natural stone trade fair and exposition in the United States and North America. It features exhibitors from 40 countries and is the stage for introducing some of the most innovative tile and stone products in the world, with more than 1,000 exhibitors.
The exposition and conference, with more than 30 years of successful history, serve as a valuable and complimentary continuing education resource for all segments of the industry, with dozens of educational opportunities throughout the show. Coverings attracts thousands of distributors, retailers, fabricators, contractors, specifiers, architectural and design professionals, builders, real estate developers, as well as journalists, reporters and bloggers who cover the vital tile and stone industry.
Key sponsors of the show are Ceramics of Italy/Confindustria Ceramica, Ceramic Tile Manufacturers Association of Spain (ASCER)/Tile of Spain, Tile Council of North America (TCNA), National Tile Contractors Association (NTCA), and Ceramic Tile Distributors Association (CTDA).
The show is managed by Taffy Event Strategies.
For more information about attending, sponsoring or exhibiting at Coverings 2023, contact Taffy Event Strategies at 571-313-5801 or [email protected].
For press registration, photos, content, and interviews, contact Eberly & Collard Public Relations at 404-574-2900 or the email addresses at the top of this release.