Students put lessons and training into action with design-built benches
Earlier this year, we reported on an unfolding project in collaboration with Coverings, industry supporters and School of Architecture students at the University of Nevada at Las Vegas (UNLV). This project – actually course AAE 495/695: Furniture Design-Build – would engage students in the design and construction of tile benches to be displayed at Coverings 22 in Las Vegas, and would present them with an opportunity to learn technical aspects of working with the material. It would also help these burgeoning students understand the role of qualified labor and craftsmanship in helping to make their future projects a success.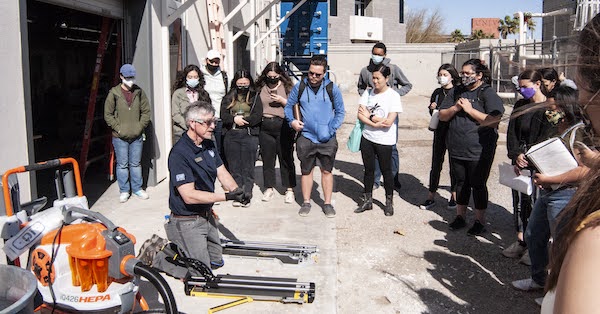 "This course lays out a possible path to combining research and development with materials, community and industry engagement, economic development, and active, project-based learning, all-in-one," explained Associate Professor, UNLV School of Architecture Josh Vermillion. "This is something that architecture schools around the country are good at doing, and we are uniquely positioned to do more projects like these given our location in Las Vegas and the number of trade shows and conventions that meet here every year."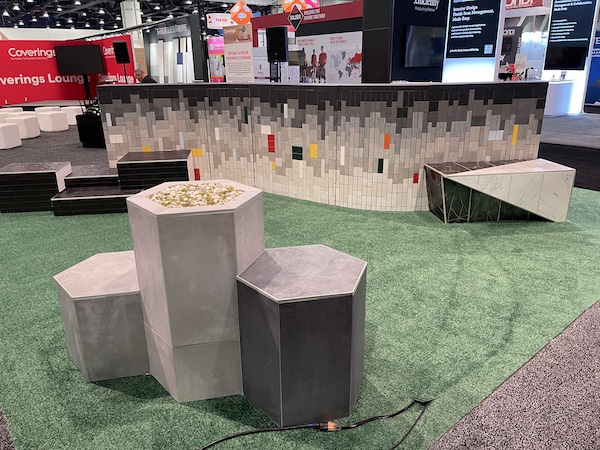 The goals of the program, developed by the UNLV School of Architecture staff were as follows:
Learn from and collaborate with industry professionals.
Manage time, develop leadership skills, and work within teams in order to accomplish a series of tasks with a tangible outcome.
Better understand the relationship between design decision-making and material, production, and budget constraints.
Learn and practice some practical skills from the tile and coverings industry.
Prototype ideas, work out detailing, and manage quality control within the development of a working furniture piece.
The technical training program was spearheaded by NTCA Training Director Mark Heinlein, who together with support from Coverings and industry partners worked along with the students in the design and construction of the eight benches. Read about origins of the program, program partners and the initial outlook here: https://bit.ly/3aEnV6w
Immediately before Coverings, The April TileLetter reported on the status of the initiative going into the show. Read that update here: https://bit.ly/3PaaWIC
Bench project reveal
This story is the "reveal-in-print" for the bench project. Following are the project teams, most pictured with NTCA's Heinlein, with comments from Professor Vermillion.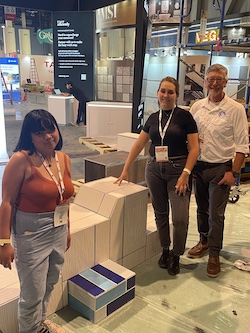 Team 1
Klaire Viduya, Mirella Garcia, Whitney Meltz
This team's goals transcended traditional benches or chairs, focusing on rectangular modules that could accommodate multiple postures, poses, and sitting positions.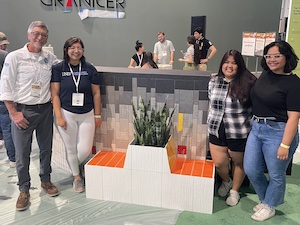 Team 2
Gabi Fernandez, Diane Arista, Jazmin Navarro
This group incorporated a planter from the very beginning—with warm colors and simple forms.
Team 3
Dillon Denig, Edward Oakes, Andrew Wonnacott-Yahnke, Janie Sonson, Mia Mackovski, Irene Nguyen, Sara Baragas Villa
This group included members who originally formed Team 3 and those who signed on to tackle the serpentine wall. This curved wall was the largest and most complex project. It ran 15' feet in length and was composed from 1,600 uniquely-cut tiles that formed a gray scale gradient pattern. This wall also served as a "site" and provided structural support for some of the other bench projects.
Team 4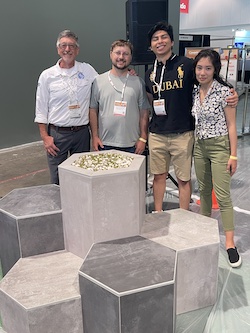 Cesar Sigala-Salazar, Christian Anderson, Jamie Centeno
This team had some pre-existing tiling experience and was really interested in the hexagon-shaped tiles, back miter cuts, and doing everything really clean.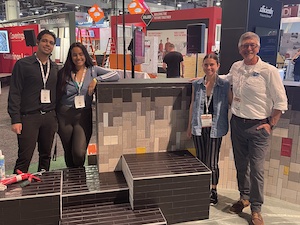 Team 5
Kaylee Barnett, Andrya Mojena Cutie, Antonio Trejo
This team wanted to use "risers" or series of platforms for informal seating, and liked strong black and white contrasting subway tile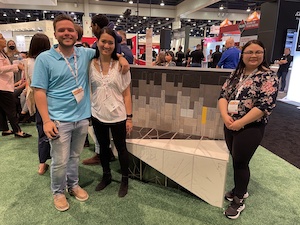 Team 6
Joshua Bombala, Joan Barlongo, Deidra Smoak
This team went above and beyond. They smashed large tiles into smaller pieces to form mosaics that were stitched back together with gold-colored grout. The shape is deceptively simple with several hard angles to negotiate
Team 7
Michelle Tapia, Edith Alvarez, Cindy Pavon
This group wanted their seat to look like a simple rectangular block held up and cantilevered on two sides from the vertical mass so the seat appeared to be hovering above the floor.
A video of the bench installation at the Coverings Furniture Pavilion can be viewed here: https://bit.ly/3aEdXSF
"I think students would be surprised that the instructors learn just as much as the students during these sorts of courses," Vermillion said. "There is a steep learning curve anyway, but more so in trying to stay a step or two ahead of the students."
Lessons learned
Speaking of learning, students spoke out about what they learned from the process. Students were pleasantly surprised with how well their teams worked together and enjoyed working with their hands to actually build the benches. Several students noted that communication was key, and being flexible and adaptable to changes in design or materials or unexpected obstacles was a necessary part of being effective on a project.
Team 1's Mirella Garcia explained: "One of the biggest things I learned was to be prepared to change your design on the fly and work with what you have. Do not fall in love with your design, things happen that change. In the end, the little surprises turn out to be the best. Lastly, strong and consistent communication is vital."
Jazmin Navarro from Team 2 added, "I really enjoyed the workshops from professionals like Mark. They really helped to make it seem a lot more manageable and helped to get rid of fear of messing things up. Their enthusiasm was also greatly appreciated."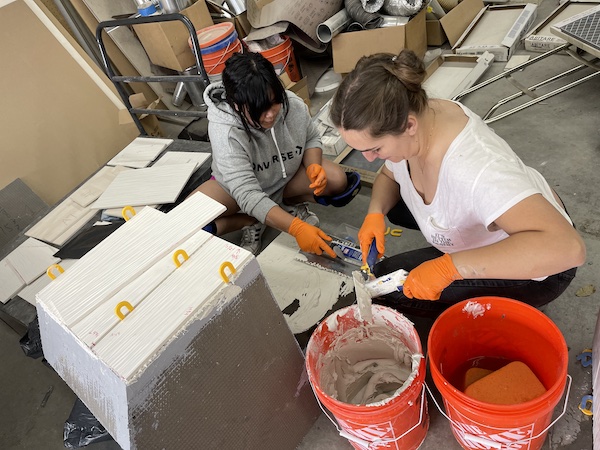 The experience opened up future architects' eyes to design possibilities they'd never considered before.
Team 5's Dillon Dening had never worked with tile before this class or considered using tile in any of his projects. "There's a common saying that architects must know a little about everything and engineers need to know everything about one thing, but in this course I needed to know almost everything about the tile I was working with," he said. This included hardness and softness of different tile types, height variances, avoiding lippage and what tools to use to cut the tiles.
"I learned there is a world of tile design I was formerly unaware of," he added. "I have only ever seen tile projects in the most boring sense such as a homeowner's bathroom, basic floor tile patterns and kitchen backsplashes. I had no idea you could tile around a curved form simply because I have never seen it done before."
Team 5 teammate Kaylee Barnett was impressed by Coverings itself. "I did not expect the tile and stone expo to be so interesting," she said. "Without having attended before or known anything about Coverings, I did not expect to see such a variety of products and some really great craftmanship in the stone and tile community."
Heinlein summed up the experience in an introduction he gave as the benches were revealed on the show floor.
"It has been a really amazing experience for me to come out here and do a workshop together with Josh, Paul (Morrison, UNLV School of Architecture Craft Studio Principal), and all of our incredible students," he said. "The project you see here in front of you first began as a sprout in the minds of these amazing people. Their instructors walked them through all of the technical aspects, through all of the math and the renderings, and all of the programs they knew, and along the way we discussed it over some Zoom meetings, and you know what? They applied their knowledge, learned new skills and worked many long, hard hours to create this creative and beautiful project you see here today. I congratulate all of them for the success of their efforts.
"On behalf of the tile industry, we look forward to the specifications for amazing tile installations they will create as professional architects throughout what will surely be long and illustrious careers," he concluded. "Thank you!"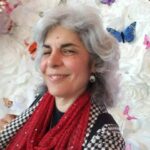 Editorial Director and Senior Writer for TileLetter and TileLetter ARTISAN
Lesley Goddin has been writing and journaling since her first diary at age 11. Her journey has taken her through a career in publishing and publicity, landing her the editor position of TileLetter and its special publications in 2006. Her goal is to educate, inspire, recognize and encourage those in the tile industry -- especially the tile and stone contractor. Other interests include the soft, purring marvels known as cats, labyrinth walking, drumming and percussion, and a range of spiritual, musical and artistic pursuits.