Scarves In Production Now, Proceeds from Sales to Support Common Thread for the Cure
Crossville, Tennessee – Crossville Inc. has announced Shelby Ferriter as creator of the winning design for the company's biennial Common Thread for the Cure Scarf Design Contest. Ferriter's scarf concept, one of five designs that made it to the final round of online voting, garnered the most votes to earn the honored recognition. Her original pattern is being used to produce scarves that will be made available for purchase later this year, with proceeds going to fund Helping Hands grants through Common Thread for the Cure Foundation.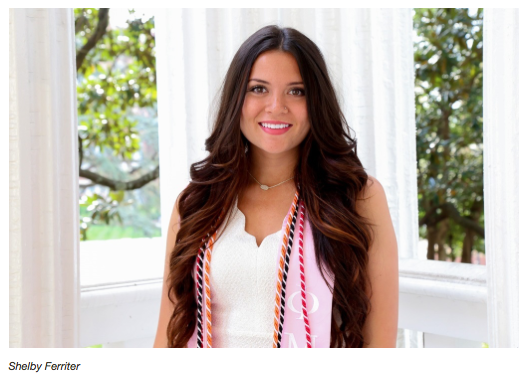 Ferriter is a recent graduate of the University of Tennessee with a Bachelor of Science in Interior Architecture and will soon begin her career at Looney Ricks Kiss, an architecture and interior design firm in Memphis, Tennessee. In addition to seeing her design produced on this year's scarf, she will receive a Crossville prize pack valued at $200, and a $3,500 tax deductible donation to Common Thread for the Cure foundation will be made in her name.

In describing the inspiration behind her scarf design, Ferriter explains that she focused on empowering individuals battling breast cancer. Each element in her original pattern supports the idea of empowerment.
"The mountains are not only part of Crossville's logo, but also a symbol of the climb that individuals with breast cancer are going to face. With each step, with each day, with each dollar raised, we get closer to the top of the mountain and closer to finding a cure," Ferriter shares. "The mountains are wrapped in a pink ribbon, which is an international symbol for breast cancer awareness. My hope is that when those battling cancer wear this scarf they are reminded of the strength they hold and are encouraged to keep fighting, everyday, because slowly but surely, we will climb to a cure."
"We're excited for Shelby and for the chance to see her winning design come to life on this year's scarves," says Lindsey Waldrep, Crossville's vice president of marketing. "As she launches her professional career in interior design, we hope she shares the message of Common Thread for the Cure with her colleagues and leads the next generation of designers to join in supporting this worthwhile cause."
In addition to the biennial scarf contest and annual programs to raise awareness during October, Breast Cancer Awareness Month, Crossville contributes a portion of the proceeds from the sale of select glass mosaic collections to support Common Thread for the Cure's Helping Hands grants. For more information, visit crossvilleinc.com.